Ik zal maar meteen met de deur in huis vallen… Hallo allemaal, Ik ben Gwen en ik ben verslaafd.
Ah dat lucht op!
Naast een sneaker addict ben ik ook nog eens een sneaker journalist! Via mijn blog www.kickoutofthebox.com vertel ik mijn eigen sneakerverhalen en sneakerliefde en die van velen andere sneakerheads van over de hele wereld.
Sneakerjagers is ook een groot voorstander van het delen van sneakerliefde, dus vanaf nu kunnen jullie de komende weken weer elke vrijdag genieten van één van mijn blogposts op sneakerjagers.nl.
Wij Nederlanders zijn een heel werelds volk, dus dat de posts in het Engels zijn is vast geen probleem! Mocht het toch niet helemaal lukken is er een dikke vriend die je vast wel wil helpen… dan ga je gewoon voor quality time met mr. van Dalen.
Elke 1ste woensdag van de maand publiceer ik op www.kickoutofthebox.com een interview met een sneakerhead. Sneakerheads kunnen zo hun sneakerliefde delen en een kijkje in elkaars sneakerkast nemen.  Deze week wil ik een Kick in the closet door delen waar de passie voor sneakers vanaf druipt…
---
Like most people I'm very curious. I love to take a sneak peek in the sneaker collection of others. To share this guilty pleasure, I'm going to kick in some closet doors. "kick in the closet door" invades the sneaker closet of a different sneakerhead every first Wednesday of the month. This month's sneaker closet belongs to:
Rosu Andrei // Years collecting: approx. 3 // Number of pairs: approx. 50
Okay so I met this passionate sneakerhead at Solemart Amsterdam earlier this year. I can still remember his scream from when he won the raffle for the Air Max 1/97 "Sean Wotherspoon" vividly. He was so incredibly happy! That's what I like to see when someone wins a raffle!!! True sneakerlove!
Hear the sneakerlove from 13:45 minutes or just watch the whole shebang.
Right then and there I knew I wanted to take a look in his sneaker closet and hear those sneaker stories… So here we go!
"I've always had a passion for footwear, but I can say that I seriously started to collect "sneakerhead style" in 2015. I'd given myself a target then, I wanted to buy myself a new pair every month. It escalated very quickly into a proper addiction.
For a few years I was a Converse only kinda of guy. That changed when I understood that because of my foot structure (semi-platfus), the flat sole would be very harmful to my body. At that moment I decided that the best and most important investment that I could do is to have comfortable sneakers. The thing was that Converse is a classic silhouette that can be matched with anything. Now that I'd moved away from that, my sneakers could only be matched with a limited range of styles due to their specific shape and colorway.
That's why I decided to build a whole collection that would constantly match my style. From there I easily learned more and more about the other sides of sneakers: the community, the history behind them, the culture and the power that comes with that. I was 100% hooked.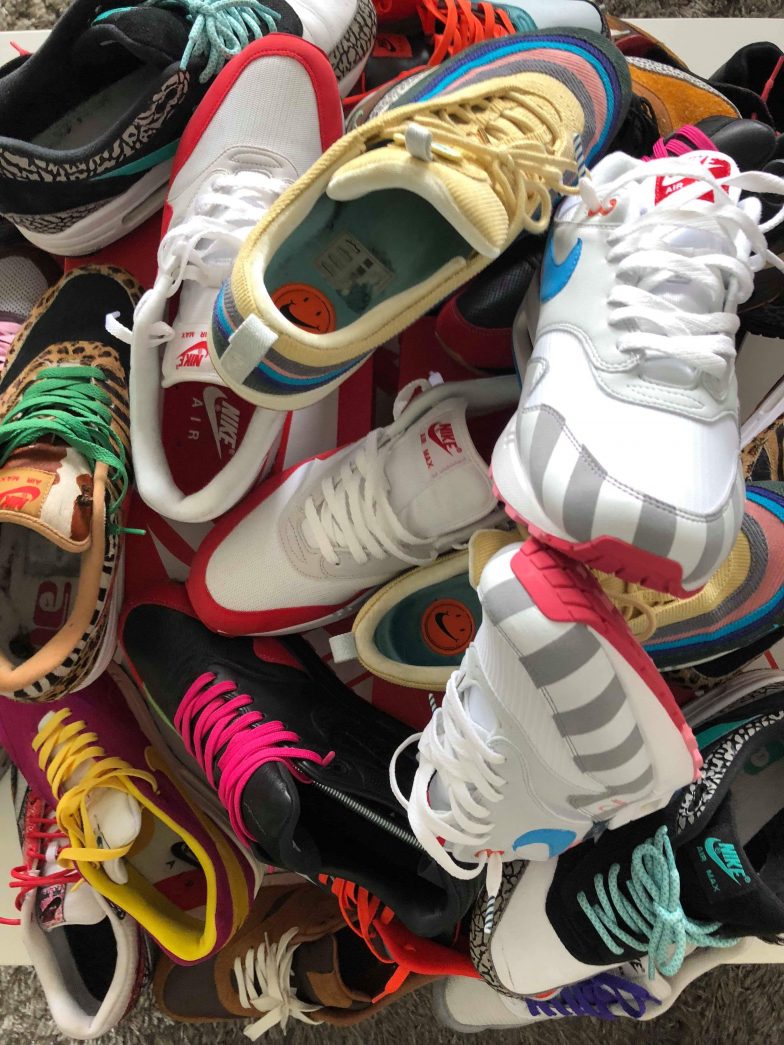 Compared to other people out there I'm still a Noob, or definitely not a pro, but I am extremely proud of my collection which holds over 50 carefully (most of them) selected pairs."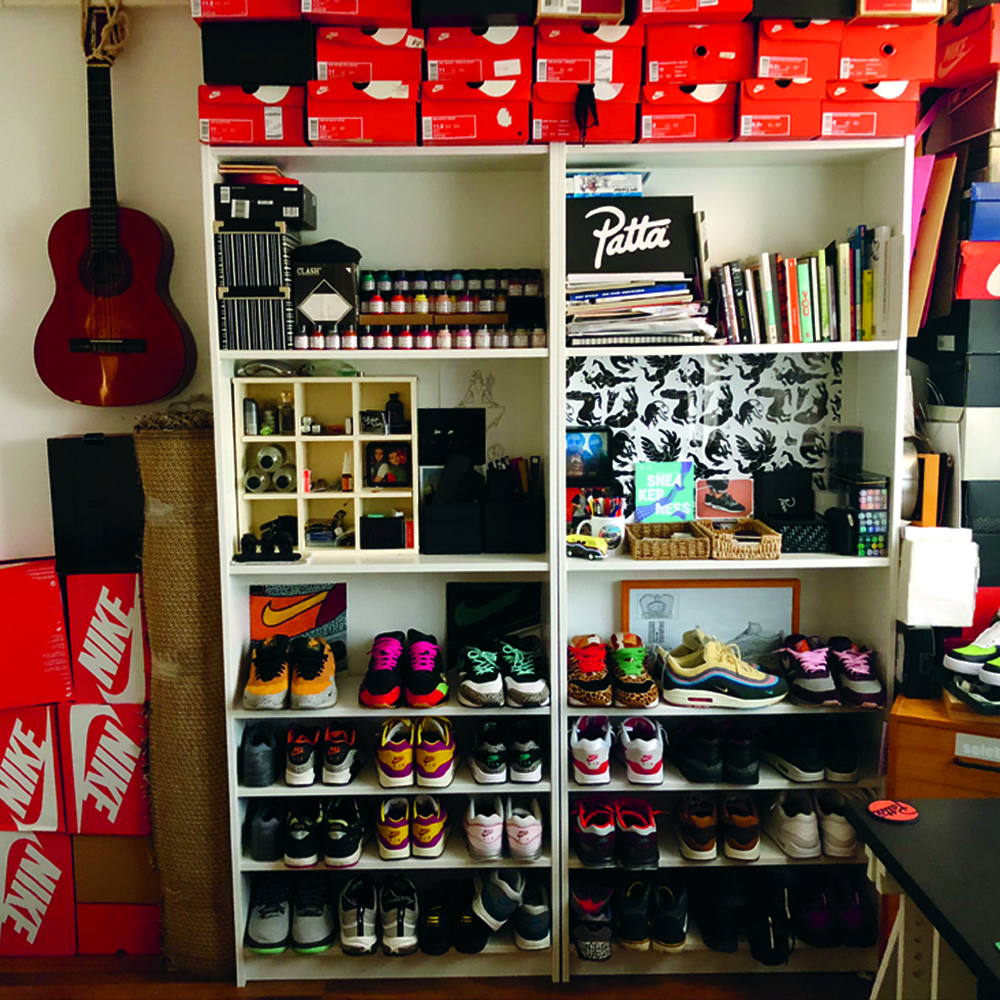 Which pair in your collection brings you the best memories? Why?
Every true sneakerhead knows that huge rush that comes from the hunt. That's one of the reasons most of the sneakers have their own unique story. For me the Air Max 1 Master has given me the best memories.
I've loved them since the first moment that the pictures were launched on the internet. It really was love at first sight! I decided that no matter what I had to do, I would get them! I'd do anything!
Months later, in March 2017, Patta Amsterdam and Nike opened the pop-up release shop Patta ON AIR for Air Max Month. In my opinion one of the biggest highlights of this store were the Masters! The dream got closer to reality!
Before this I'd heard about the concept of camping for a pair, but I'd never done it. Now the time had arrived for me to camp! Luckily this was before the in-store raffle hype, it was first come first serve. I went to the store to ask more information about the camping rules, logistics and so on and then I put it all in action. I started camping at 8 PM for the 2 PM release the next day. Soon a few people joined me. One of them had a lot more knowledge and experience in the camping game, but because of my outgoing and energetic nature and social skills, I was delegated the "list maker". The experienced sneakerhead I just talked about is now a true "sneaker-brother" of mine.
From being the first person there and having a list of a few people in my hand, the list eventually ended with 300+ people on it plus 150+ others that hoped that they would get their chance outside of the list. It was the most meaningful sneaker experience that I ever had in my life. Organizing such an amount of people and doing crowd control over 500 souls. After an 18 hours camp session in the cold and wind, I finally entered the shop. I got the first pair and my satisfaction was doubled if not tripled because of all the challenge that came with this pick up, the friendships which were started, the connections which were made and the happiness that I was able bring to the others behind me! This pair will always be the closest to my heart as it brought me way more than just a pair of sneakers… it brought me a different perspective on life! Masters for life!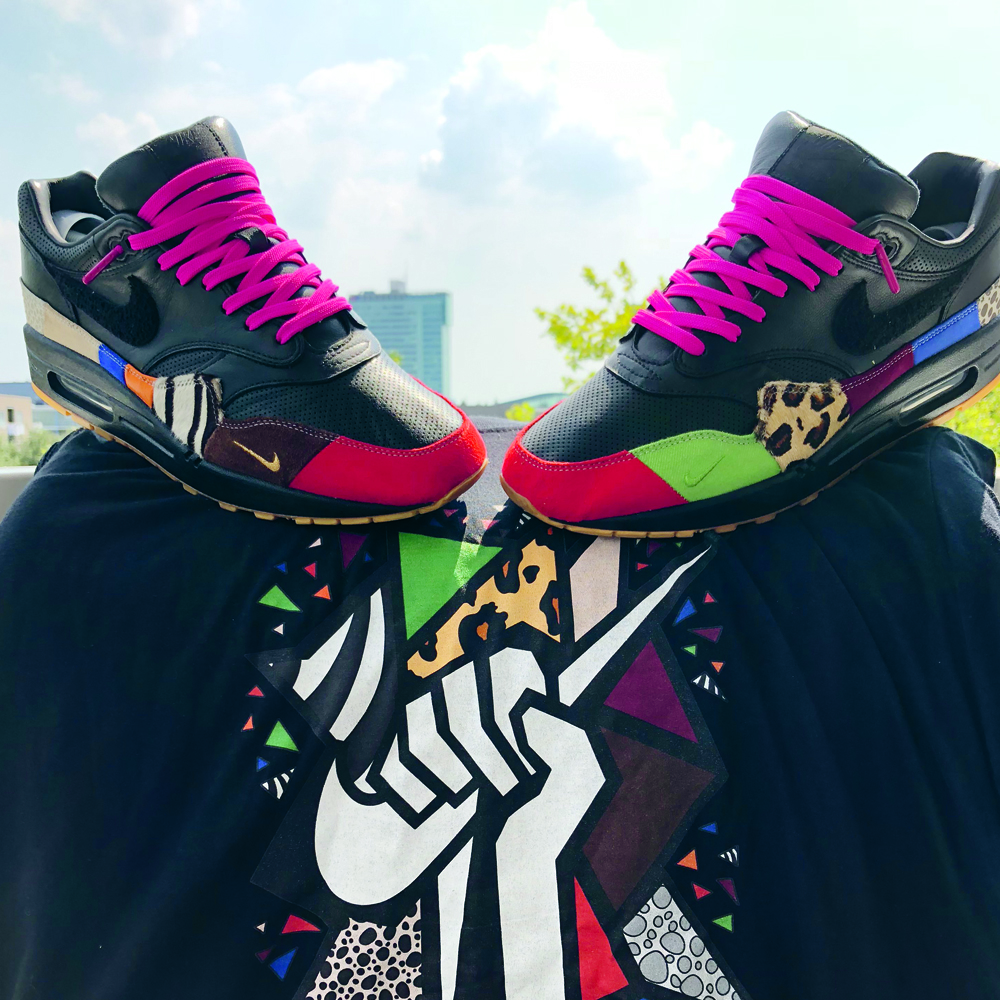 Which pair of kicks in your closet matches your personality best? Why?
The Air Max 1/97 "Sean Wotherspoon".
It is a pair that is out of the norm. It's a combination of two of the most iconic Nikes out there. They are made from a material that ages well and they have a colorway that shouts happiness! Just like me 🙂 Plus I had the luck to win the raffle at Solemart. It was a live "sealed" raffle; my card was the first one that was picked out of 500+ cards. It was picked after a proper shuffle and presented on tv! Luckiness is one of my trademarks for sure!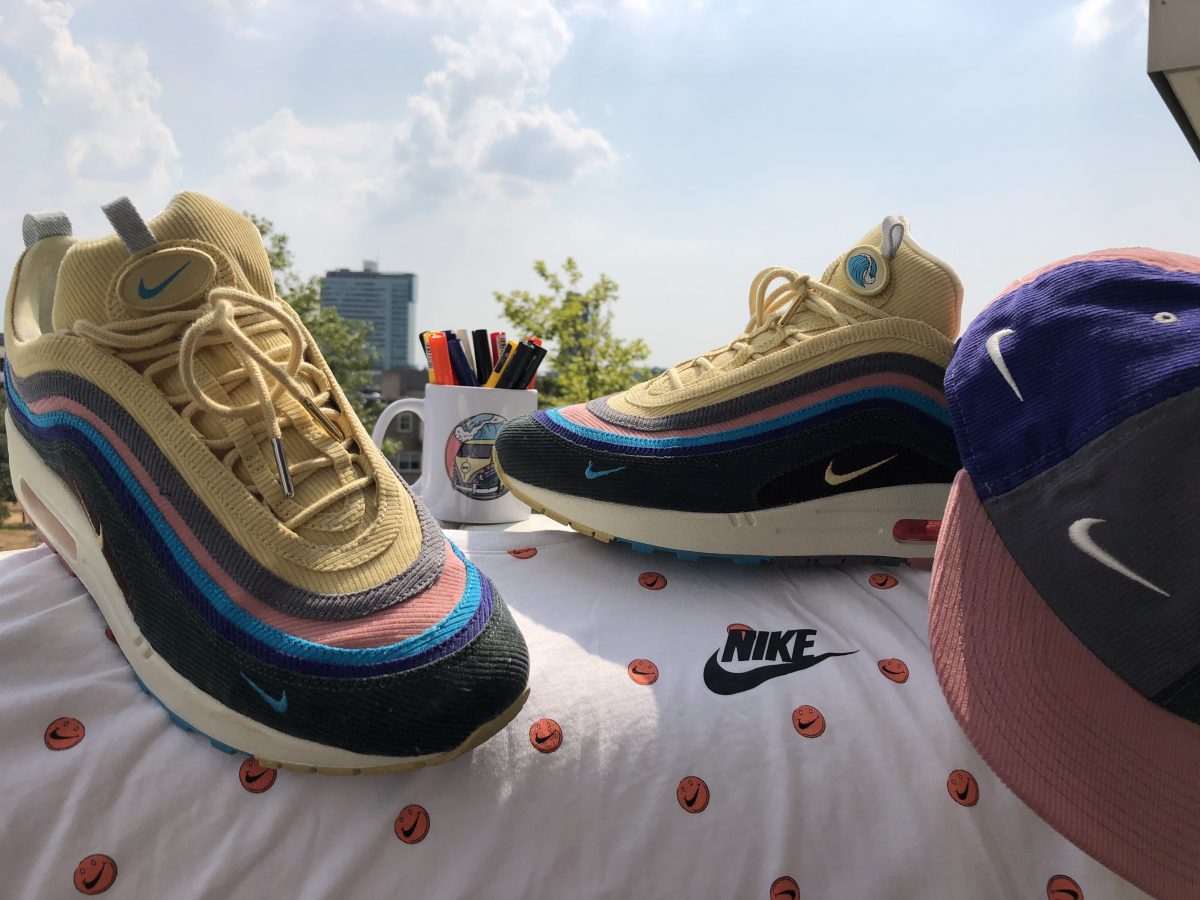 Which kicks in your collection are your guilty pleasure? Why?
I guess out of all of the pairs from my collection the biggest guilty pleasure comes from The Elephants (Nike Air Max 1 – Atmos – Retro Elephants). First of all because it has been a whole journey to get them! The weekend after the "AM 1 Master" release I had the camping experience again, also as the "List maker" and in addition to the 18+ hours of cold weather during my first camp session, I now had to go through a whole night of insanely pouring rain and an unlimited amount of anger and frustration from the community. Because when the moment of glory arrived we all had been confronted with the fact that somehow the list was not valid anymore and a new one was going to be made. The amount of disappointment and sadness that I felt was indescribable, but in the end a compromise had been made and the new list was constructed by mostly the old one that I'd done and some of the names of the new one that the others had made in the meantime. I couldn't make everyone happy, but I managed to make most of them smile luckily. It was chaos. A lot of pain and suffering, because of all the complications. It wasn't as enjoyable as my first camping experience, but an unforgettable one nevertheless. Because of all this I decided that this pair deserves to be used and enjoyed to the max, without any holding back what so ever. Therefore they became one of my "beaters" which I enjoy as much as possible. I do feel guilty that I didn't give them the "only on special occasions " treatment, but what can you do? Rock, don't stock!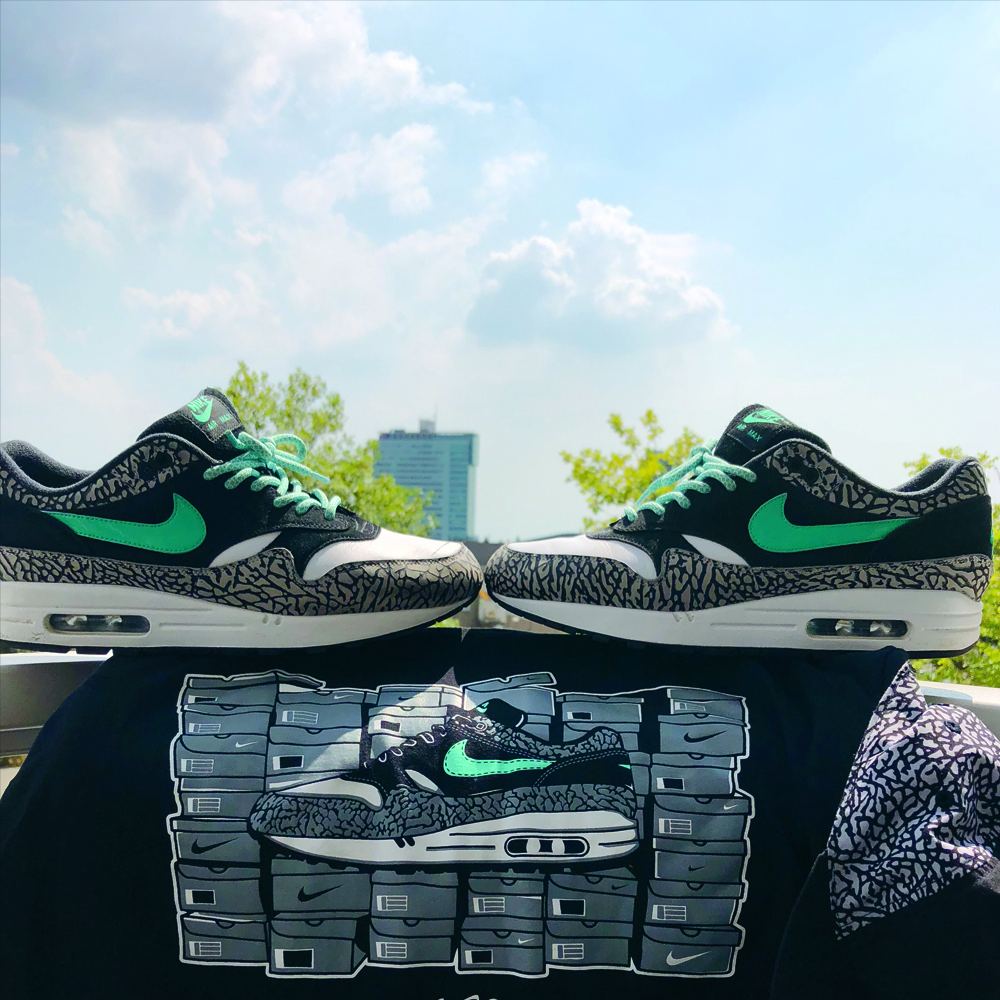 What's your biggest sneaker boo-boo?
That's an easy one! Adidas X Undefeated Prophere Collaboration.
I was amazed by the colorway and silhouette; on the pictures it looked spotless so I hunted the release and by excessive refreshing I managed to get them. But when I had them in hand, respectively on foot, I understood that they came with an outstanding unnecessary weight attached to them! I wear sneakers for the comfortability not for working out with weights strapped to my feet. Big disappointment but what can you do…. you learn and you move forward.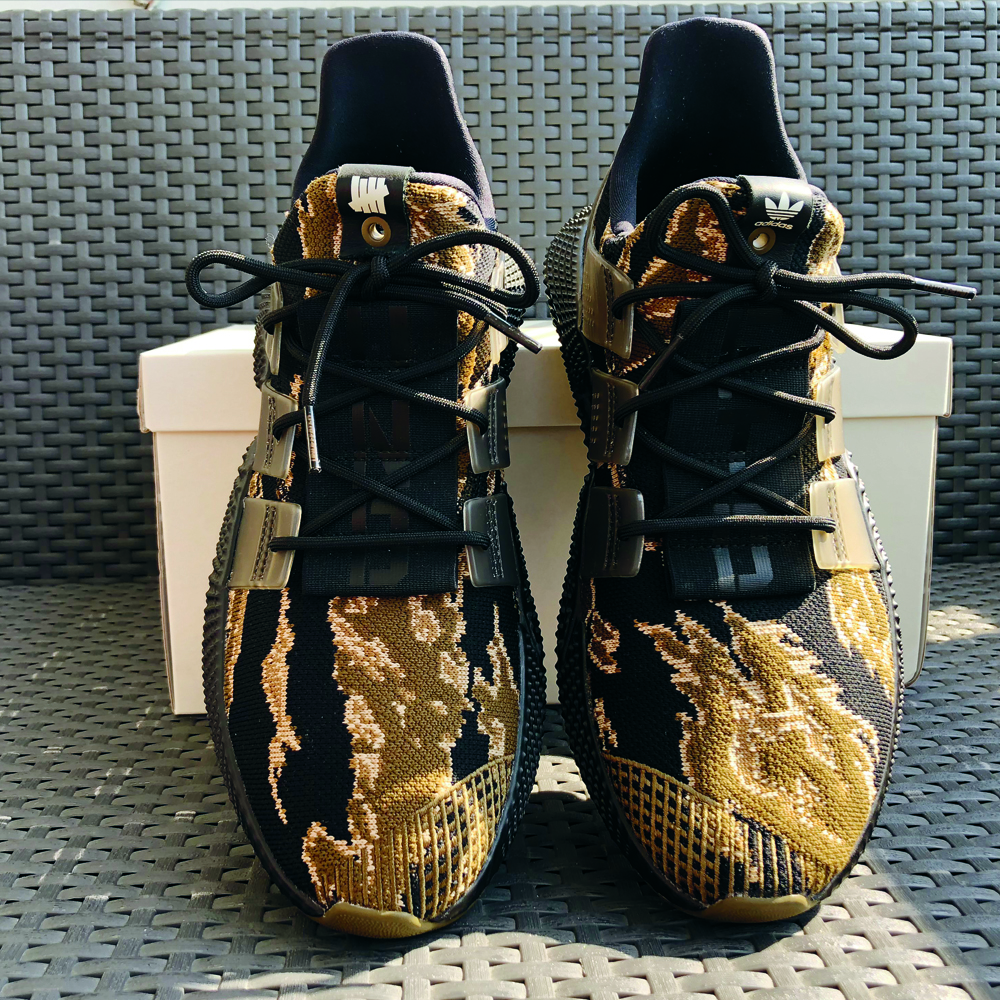 Do you want to know more about Kick in the closet door and how it all started? Check out the clip below!