Hyprints biedt de nieuwste trends in mode en sneakers op hoge kwaliteit prints voor u om op te hangen in huis. Waarom je stijl beperking in kleding en sneakers als het ook in kunst kan? Hieronder kun je weer een nieuwe blog lezen wat gaat over een van de nieuwste producten van Hyprints! Vergeet niet een kijkje te nemen op de website van Hyprints. Veel leesplezier!
---
This Sunday – June 3rd – the very first Hyprints sneaker coloring book will be available to buy! I got inspired by my niece a couple of weeks ago, who just loves to color. This weekend is her birthday and I wanted to surprise her with a coloring book I made myself – and what is more awesome to color than sneakers? Yeah, nothing. So I contacted my go to printing company, selected a bunch of my sneaker prints, turned them into black and white coloring pages, made a badass cover and voila the first 'Hyprints Sneaker Coloring Book' was born!
The coloring book consists of ten unique coloring pages, all made out of previous Hyprints designs, ranging from Nike Air Max 1's to Nike x Supreme 'Suptempo's'. Because this is a pilot, a limited run of five books is produced (of which one is reserved for my niece <3). The book will be made available June 3rd. Depending on its success, a second batch might be produced. The cover is printed on 170 grams recycled paper and the inside on 115 grams recycled paper, making it as sustainable as possible.
The book is not just made for kids, did you know there's a whole market for adult coloring books? You might wonder why grown-up men and women are coloring all different kinds of coloring images. The answer is quiet simple – coloring works stress relieving, reduces anxiety and allows us to find tranquility and mindfulness. So look up your old crayons and coloring pencils and start coloring your favourite things in the world: Sneakers! Check out the list below for all images in the coloring book and check out the pictures for an impression.
Pagina 1: Nike Air Max 1
Pagina 2: Nike Air Jordan 1
Pagina 3: Adidas Powerphase 'Calabasas'
Pagina 4: Adidas Yeezy 700 'Wave Runner'
Pagina 5: Nike Air Max 97
Pagina 6: Nike Air Max 1/97
Pagina 7: Nike x Supreme Air Force 1
Pagina 8: Nike x Supreme Air Max 98
Pagina 9: Nike x Supreme 'Suptempo'
Pagina 10: Bonus – 3 [email protected]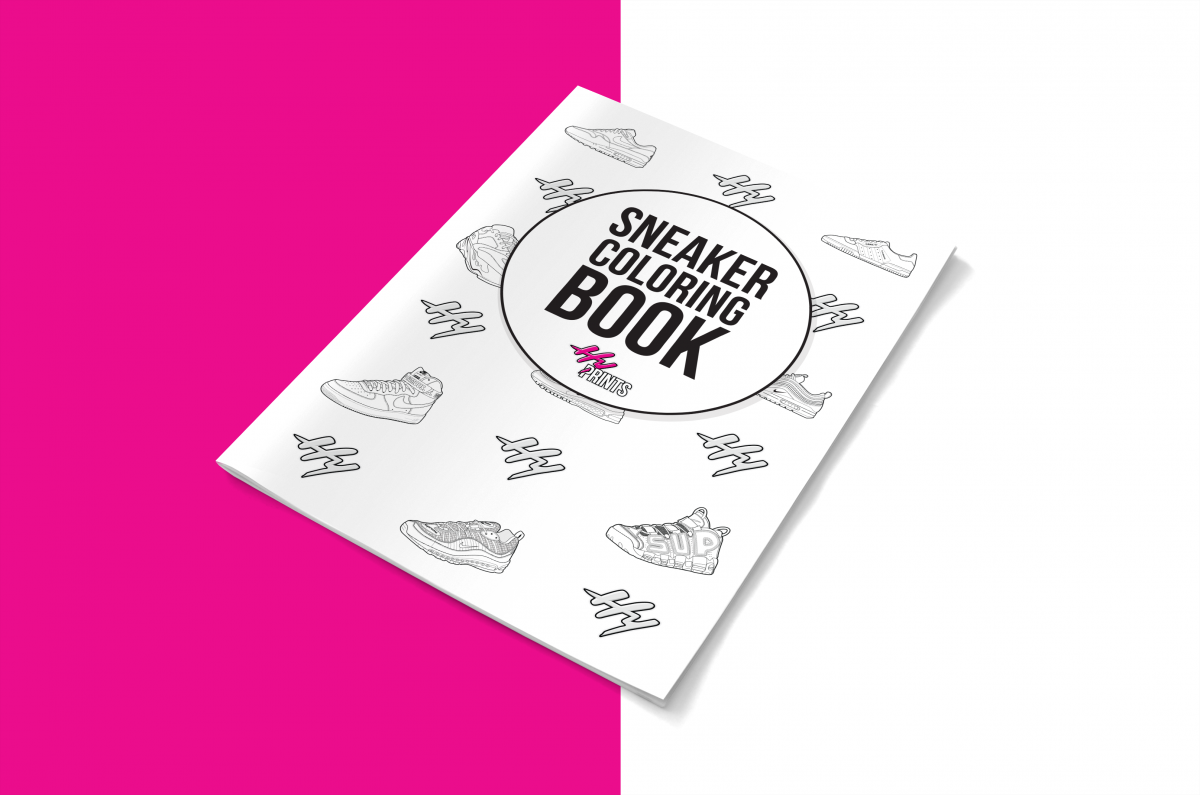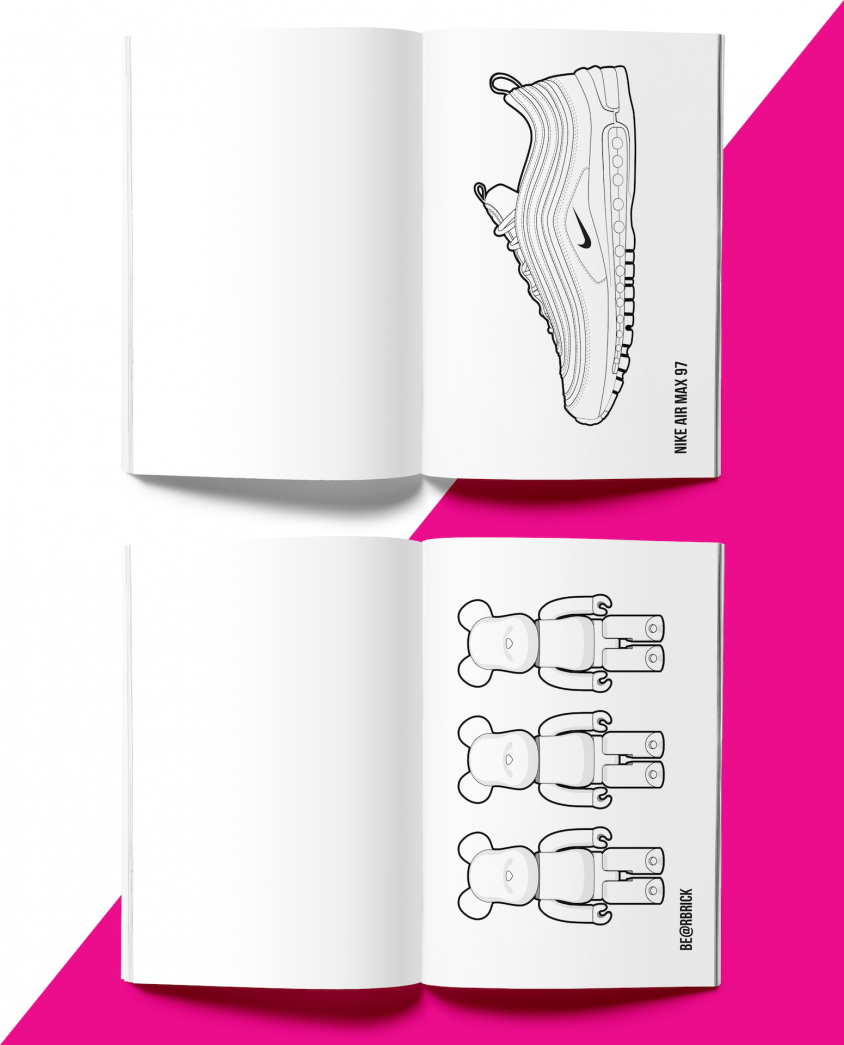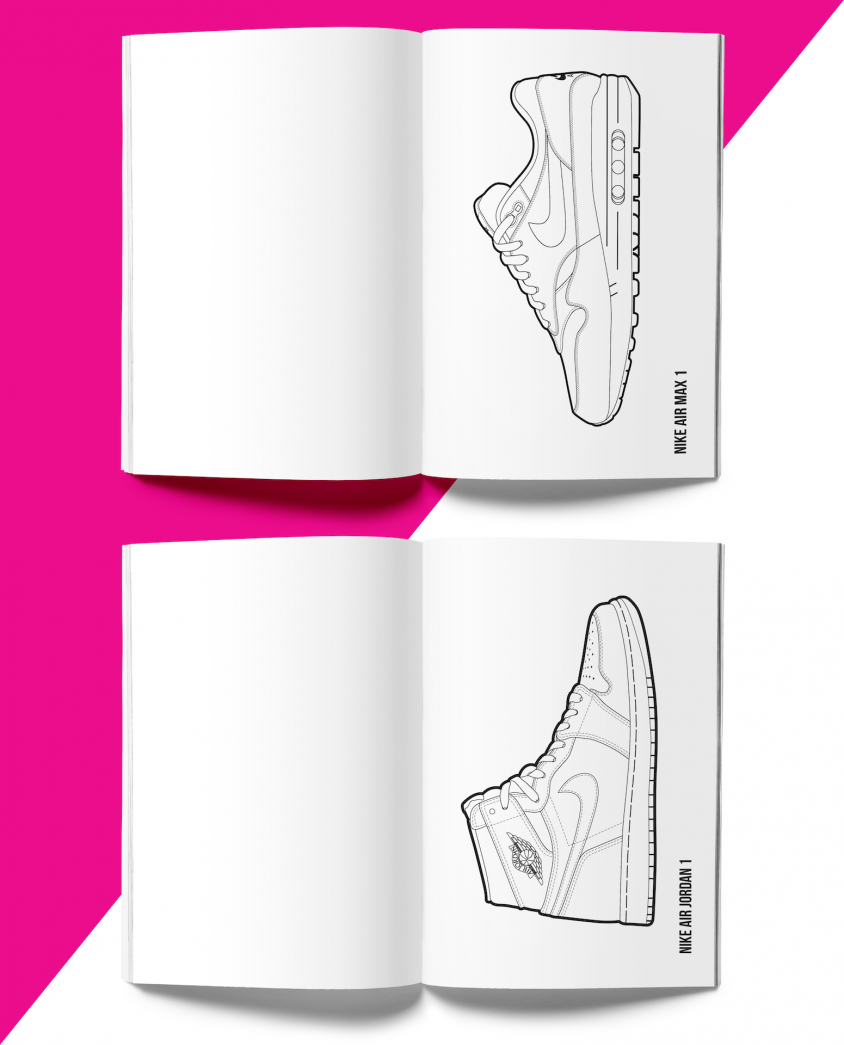 Cool right? A musthave for every sneakerhead! Vergeet niet om even een kijkje te nemen op de website en social media van hyprints!