Travis Scott has once again taken on a Nike silhouette and as usual gives it a very special look! The Travis Scott x Nike Air Max 270 React 'Cactus Trails' will be released on May 1, 2020 at 09:00 am. The sneaker will be available for €170. Already in the past, the rapper created together with Nike eye-catching and cool styles, which decorate and even upgrade different Nike models. In this blog, we will find out what the new look of the collab is all about!
Travis Scott and Nike
As we already know from the collaboration, the rapper from Houston can't help but gives his Nike sneakers some very special details. And that's exactly what fans, sneakerheads and fashion enthusiasts love about his shoes. The collaboration also included projects with Virgil Abloh, Air Jordan and many versions of sneakers that tell us all their own story.
After the Air Force 1 'Cactus' - now comes another sneaker in Cactus Jack style from the musicians tableau. Optically the shoe looks great, but it is also very individual in its look. The typical React 270 silhouette appears here in a washed out, slightly dirty white. At the toe of the shoe, there is an element of nubuck leather in grey-brown.
The sole is particularly striking: Not only because of its functionality, the large Air element at the heel and its so popular, good cushioning. In terms of color, it shines in a golden brush look, as if poorly applied with paint, which also stretches over the Air unit in parts. The lacing system and the shoe tongue are also very unusual here. And on closer inspection shows us, that there are many more special details to discover. But you better have a look at it yourself: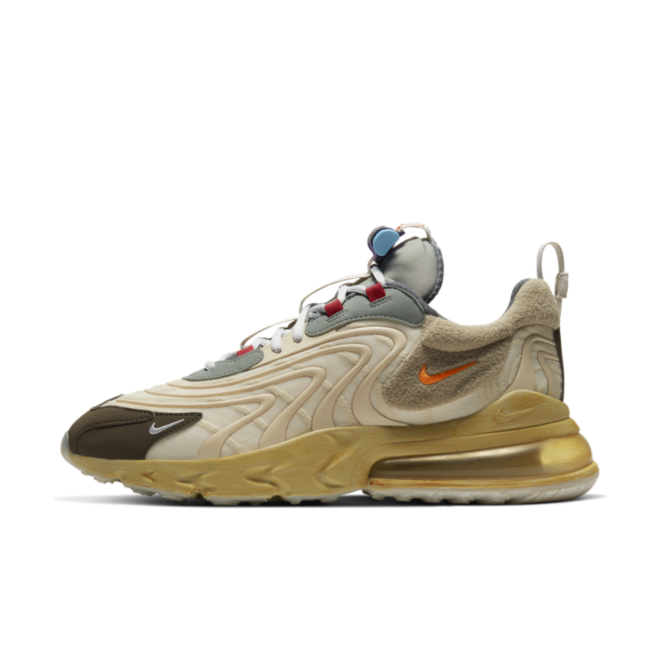 Travis Scott x Nike Air Max 270 React 'Cactus Trails'
The Travis Scott x Nike Air Max 270 React 'Cactus Trails': Is a special sneaker, we agree. The used look, or the shabby shic style of the shoe makes it visually so special. At the heel we find the writing: Cactus Jack. Also on the insole we find it again and there is also a funny smiley. The React 270 model is known and loved for its special silhouette and excellent wearing comfort. It is currently one of the most popular sneakers and with Travis Scott hands on, it can hardly be better.
Nobody would have expected this look as it is now, after all. So, even cooler that Travis Scott came up with it. A lot happens on the upper of the sneaker and yet the look is very coherent. The rapper is on everybody's minds at the moment and even has his own documentary on Netflix. Blatant guy - blatant styles and an end is not yet in sight.
Travis Scott is rightly so successful not only in the music scene, but also in the sneaker business. His styles are always special and he just chooses what he likes from the Nike range and makes it even better. You can do it like this! With the React silhouette, he has chosen a model that is not just for a certain group of people, as it is perhaps the case with his Jordans or the Dunk Low. Here we have a few more photos for you to see how the style looks like on the foot.
This is not enough for you? Have a closer look in our Release Calender to get a whole overview of all upcoming releases. Additionally, have a look in our Newsblog, there we give you a lot information all around the sneakers world. Have fun!