You are also not the absolute sneakerhead and you still lack the certain sneaker knowledge? Just because you are interested in sneakers, you do not have to know everything about the world of sneakers. Nevertheless, there are some useful information - and that's why you have us! Today it's all about sneaker collaborations and its characteristics. What are they and how do I recognize them? You can find it all here in this blog:
What are sneaker collaborations?
Let's start at zero. Before we show you the characteristics of sneaker collaborations, we want to shed some light on what a collaboration actually is. The free encyclopedia Wikipedia defines the word collaboration as follows: "Collaboration is the process of two or more people or organizations working together to complete a task or achieve a goal." The difference between cooperation and collaboration here is that the different people work together on a part of the end result and the work is not shared.
In the sneaker world, this means that often a brand like Nike or adidas will collaborate with a designer, an influencer, a musician or another public figure. However, it can also happen that the brand is combined with a shop, such as SNIPES.
The term 'sneaker' is of course in the foreground here. So the collaborators grab a silhouette of the brand and design it to stand out from the standard colorways. Often there are not only the brightest colors, but also the most diverse patterns on the sneakers. But it always depends on who the brand works with, because the designers, influencers and celebrities all have their own ideas.
How do I recognize a sneaker collab?
A what? Collab is the abbreviation for a collaboration. But how do I know now that my shoe comes from a collaboration? From time to time, the collaborators immortalize themselves on the upper with initials, their own logo, a certain pattern or a kind of signature. If this is not the case, then you should pay attention to the full name of the shoe. If there is an 'x' in it, then this is a collaboration.
Collaboration designer and sneaker
Not that long ago, two collaborations came onto the market those collaboration really had it all. On the one hand, adidas designed a sneaker together with Prada. And on the other hand there is a collab between Nike and Dior. Luxury designer meets sneaker - it's clear that they don't come off particularly well. But maybe you can understand that now.
Here we have selected both sneakers from the collabs for you. Click on the pictures to get to the shoe:
Of course not just any silhouettes were chosen for this collaboration. adidas and Prada present their joint work on a true sneaker icon - the adidas Superstar. Meanwhile, the Dior design shines on a popular Nike Air Jordan.
Another famous shoe and apparel designer, named Ronnie Fieg, took on several Asics silhouettes, including the Gel Lyte III, so check out one of the sneakers.
Cooperation influencer and sneaker
More collab sneakers come from influencers, musicians and other celebrities. The German twins Lisa and Lena became famous worldwide with their little videos through the app 'Musically' a few years ago. Since then they are also very active on Instagram and are considered influencers. Together with the brand Buffalo they even designed a sneaker. Have a look at the fancy part: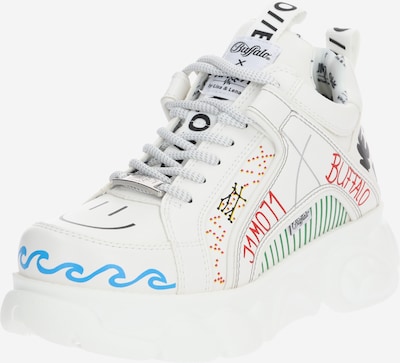 What do influencers do? Influencers are often part of various affiliate marketing programs and are very involved in digital marketing. Through their social media channels they advertise for products (Influencer Marketing). What do they get in return? Commissions paid for purchases made through their links to retailer websites. However, the editorial content is not influenced by any commissions.
How do I recognize hyped sneaker collaborations?
Actually a difficult question, but there are a few clues. On the one hand it depends on who is collaborating with whom. The bigger the brand and the better known the designer, influencer or musician, the more hyped the collaboration is. Another important point is the silhouette of the sneaker. On a not so modern or popular silhouette it can be a very cool collab, but the hype is then much less than on a popular silhouette.
It also often depends on the type of print or pattern on the upper. For example, an animal print on a Nike Air Max is always a good choice!
So dear girls, I hope that I could enlighten you a little bit about the characteristics of sneaker collaborations. I'm already curious what we can expect from the sneaker collaborations 2020. Until then, I can recommend you to continue visiting our Newsblog in the next few days. Because here I will go a little bit further into the depths of sneaker collabs and show you the most amazing collaborations. There will also be an extra blogpost where you can read all about female sneaker collabs. Have fun and see you later!