Tommy Triggah, aka Tom Römer, is not only a sneakerjager and our brand manager, he is also a blogger and now a shoe designer! Together with Morgan from Morprime Industries, the two sneakerheads have designed a KangaROOS Racer Hybrid with the exciting name 'Inside Job'. In our exclusive interview, Tommy tells us more about the design process of his own sneaker and we also chat about style and passion.
As part of the European CONNECT Project, the brand asked eight European sneakerheads if they would each like to design a shoe in pairs. The project aims to bring the European sneaker scene together despite physical distance, primarily because of their love for shoes. The influencers were also allowed to choose MiG silhouettes from the exclusive line, i.e. the Made in Germany line.
The Morprime X Tommy Triggah X KangaROOS 'Inside Job' is the first collab to be released. It dropped on Saturday, 10 July 2021, and you can buy it for €250 at selected retailers. As the shoe is limited to 500 pairs, it's worth being quick!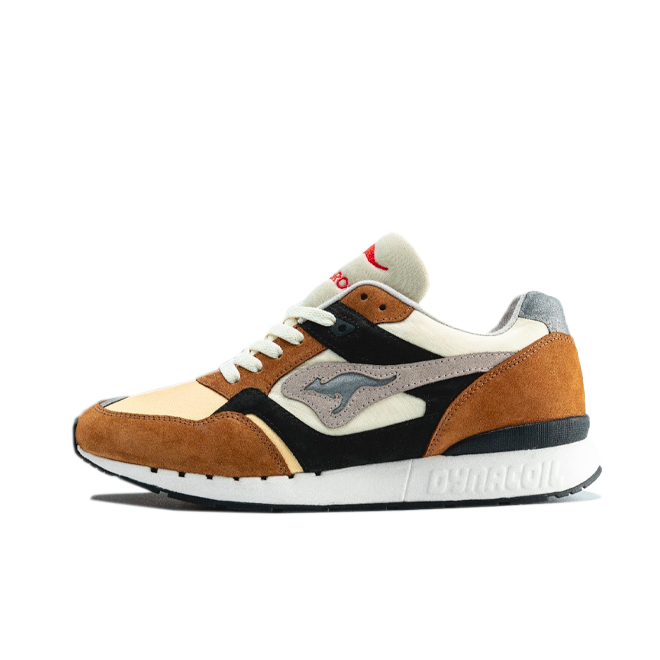 How did it come about that Morgan from Morprime Industries and you should work together?
"Morgan and I have known each other for a long time and have the same background. Although he is a bit younger than me, we grew up with the same influences. We are kids from the 80s and 90s, this time has extremely shaped our character and taste.
So we were no strangers and we were also already connected with the people from KangaROOS. People feel it when you fit together well. That's also the case with our shoe, it just feels organic."
By the way, Morgan was the face of Grabcity, which is the UK version of Sneakerness. He then worked at SneakerFreaker, and now he manages and implements his own projects with his agency.
What was your inspiration for the design of your shoe?
"Our taste was the biggest motive for the design and also for the name. At first we thought about incorporating our origins, i.e. England for Morgan and the Netherlands for me. But we decided against it. Often shoes are inspired by a certain part of a big city or the underground line you used to ride. But that was not what we were looking for."
"The focus should be on the shoe and not on the story."
"It was and is important to us that many people find the sneaker beautiful. Design, colour, comfort, quality and authenticity are important to us. We are part of the community and have, so to speak, made a shoe by the community for the community. An 'inside job'. Ultimately, we just wanted to make a good shoe!"
What, then, makes the 'Inside Job' a good shoe?
"'Inside Job' is new, unprecedented and yet familiar at the same time. Its colours are very unconventional and KangaROOS has also never used some of the materials before. For example, the tongue is made of Newgreen, a sock material more familiar from the Nike Huarache.
In addition, we and KangaROOS placed great emphasis on sustainable production. This means that as little waste as possible is produced. We discussed all this in many Zoom meetings. Of course, there were also limits to what was possible, the shoe also had to have a reasonable price."
"A lot of work and quality went into the shoe, and you should see that. That's why the premium look is also supported by the special packaging. Buyers get a dustbag, a certificate, a little back story, extra laces and a special box. Actually, we wanted to have pins with our three logos, but unfortunately they were not finished in time.
To collectors who want to support the European CONNECT Project, I would also like to say that all the shoeboxes of the four collabs end up fitting together to make a special picture."
Why did you choose the silhouette of the Race Hybrid?
"That was immediately clear to me when KangaROOS asked me if I wanted to design a shoe. I think it was a general release when the Racer Hybrid 'Black Purple' was launched in 2018. The colorway was so strong and convinced me to choose this silhouette right away."
"Morgan then immediately agreed with the choice from the brand's archive. Besides, the Racer Hybrid is not used that often, which was another reason for me to choose it. Our 'Inside Job' is handmade in the Hummel & Hummel shoe factory in Germany, which again reflects our demands on the quality of the shoe."
Every shoe in the Blackline by KangaROOS is handmade in Germany. This is the exclusive line for premium sneakers, while general releases are called Redline. Tommy Triggah himself spent two days in the production halls to follow the creation process of the shoes. The pictures below are examples of the production.
What were the (emotional) ups and downs for you?
"It just got really exciting at the end, as I only got the shoe a good week ago. Even Morgan in the UK had it earlier, despite the import duties and everything. And as I said, we also wanted to deliver pins with it, but that didn't work out in the end.
Besides, 'limited to 500' doesn't sound like much, but for the MiG models it's a lot. We also have the risk that the shoe will end up on sale. It's always best when it's sold out.
I was really happy when I saw the reactions after the first promos. That was a real moment of happiness, because only then could I realise that a dream had just come true. A dream that I had on my bucket list for a long time, but that seemed so far away and unattainable at the same time. A dream that many fans of footwear have."
Tommy has always done his thing. Of course, you can't compare the time of his youth with today. There was no internet, there weren't so many shops, but there were many more local trends. Today, sneakers are mainstream, but in the past, people still wore them for their original function, which was sport. Back then, young people started a revolution by breaking expectations and prevailing styles. Of course, the brands have also noticed this shift and are pushing it more and more. For example, Tommy Hilfiger, once an 'elitist' brand, is now launching sportswear and retro collections.
You did it and proved once again that you follow your own style and achieve goals through your authenticity. How do you find your identity and what can we learn from you?
"For today's generation of young people, a sneaker has a completely different meaning than it did for us back then. For me, it's pure sentiment. I 'relive' my youth with my passion. So I have seen the originals of most kicks, but back then I could only languish. The shoes left a big impression and the feeling of unattainability. I'm still in it today because of the magic I felt as a 12 or 13-year-old."
"That's why I'm also convinced that passion must go further than trends. And that will continue in the scene today, probably in a different way. Maybe in 20 years the Yeezy will be for the current generation what the Air Max 90 is for us. Sentiment, nostalgia, memory - united in a shoe that has long been more than just that. Namely a symbol for a time.
We at Sneakerjagers are also such a mixed team and we talk about the same things across generations. I like people with passion, because you need passion for life."
Do your thing, follow your taste and stay true to yourself. That's what Tommy recommends and at the same time shows us how it's done. The Sneakerjagers crew congratulates on a wonderful shoe and hopes for great success with Tommy Triggah. Thanks for the interview!
Read more about the whole project in our Sneaker News.