In the past week, the Paris Fashion Week officially started and we have already seen some shows. The Japanese company UNDERCOVER presented the Fall/Winter collection of 2021. In it, they revealed an upcoming collaboration with Nike. UNDERCOVER has teamed up with Nike to unleash creativity on the beloved Dunk High model, which looks set to appear in two colorways.
UNDERCOVER is a unique Japanese brand founded by fashion designer Jun Takahasi. The brand is highly appreciated in the streetwear world as well as in the high-end fashion world. You could call it a combination of Supreme and Louis Vuitton, but with a touch of the Japanese underground. Jun Takahasi gets his inspiration mainly from punk and American streetwear. He was also a big fan of the British punk rock band 'The Sex Pistols', which strongly influenced his style.
Incidentally, this is not the first time that the brands UNDERCOVER and Nike have joined forces. In 2017, the two also released a collaboration using the popular Dunk High model. Nike's Daybreak model has also popped up several times in different colorways created by UNDERCOVER. Now, the two decided it was time to take the Nike Dunk to the next level. In addition, some models have been used in the long-standing collaboration between the two, such as the Air Max 720 and the React Presto.
UNDERCOVER x Nike Dunk High 'Chaos'
As we mentioned, the upcoming Dunk High collab was presented during the presentation of the Fall/Winter 2021 collection of UNDERCOVER. The presentation happened online in a setting with an inverted canvas in the background. In total, two colorways will appear that are very contrasting from each other.
The silhouette appears in 'Triple White' and 'Triple Black' colorways. The Nike Dunk retains its full leather base with some details on top. On the back of the sneakers are words in contrasting colours. The left shoe features the word 'CHAOS', while the right heel features the German word 'GLEICHGEWICHT', which literally translates to 'balance'. Next, running underneath the upper is a speckled midsole that we have seen before in the UNDERCOVER x Nike collaboration.
Unfortunately, apart from the unveiling, we no nothing more about the upcoming UNDERCOVER x Nike Dunk High 'Chaos' collab. Curious to see pictures of both colorways? Scroll down quickly! Check our release calendar daily for all upcoming releases. Don't forget to follow our socials for the latest sneaker news!
---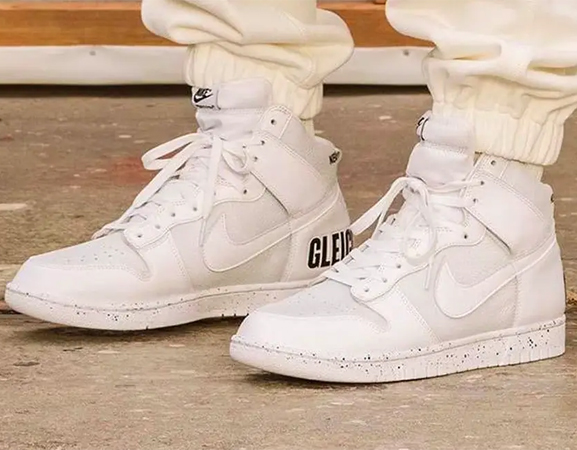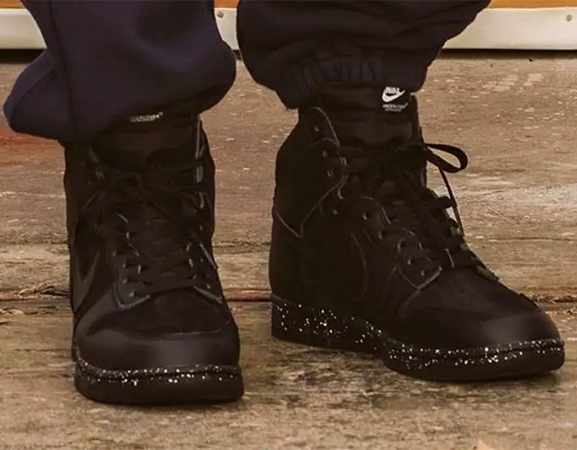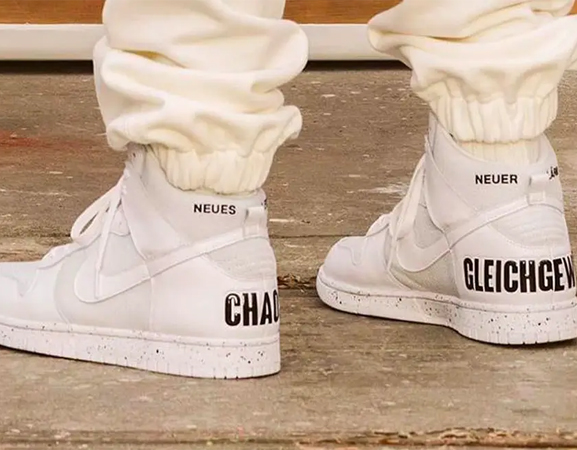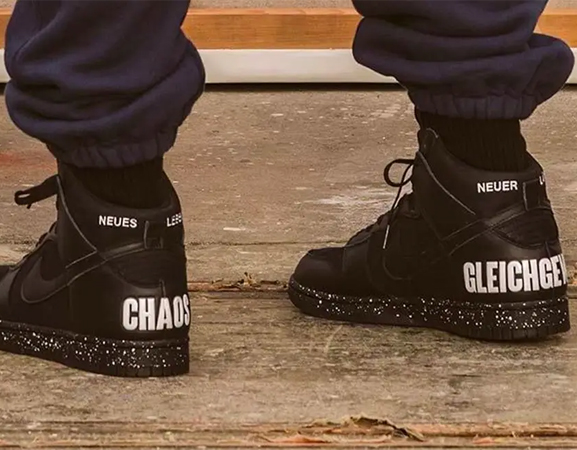 ---