What's up Community, the long wait is finally over! The Off-White x Nike Rubber Dunk 'University Blue' finally has a release date 😍😍.
October starts of with this banger, as the release of the Off White Nike Dunk is scheduled for October 1st, 2020 at 9am. Find out, which retailers will have the shoe for the retail price of 180€, by clicking the button here ⬇️⬇️⬇️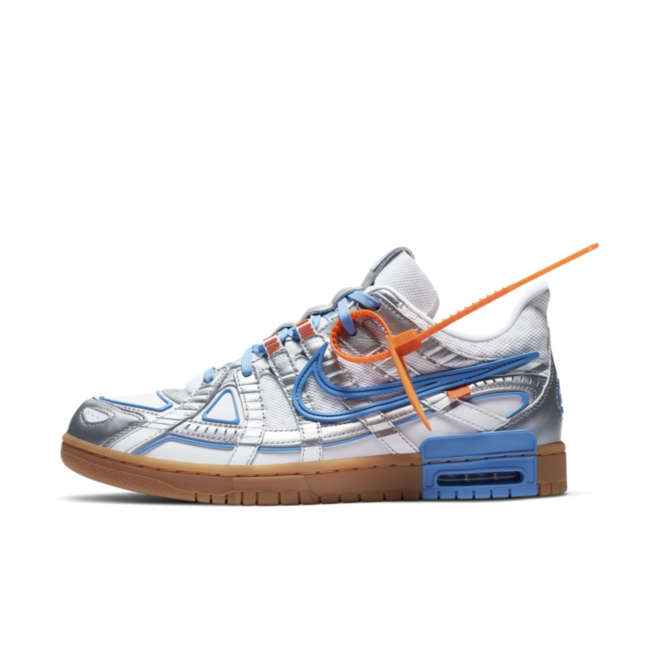 The Off-White x Nike Rubber Dunk 'University Blue' is the first release of the leaked Off White Rubber Dunk Pack. The others will be released in the near future. Unfortunately detailed release info for the 'University Gold' and the 'striking green' Colorway are not yet known. However Le has summarized everything about the two Colorways for you, click the link and get all infos for the two colorways.
University Blue
The new Off White Dunk was first seen at New York Fashion Week and since then, its release is eagerly awaited. Virgil Abloh has once again changed the classic dunk and transferred his own design ideas onto the sneaker, just like he did with some Air Max and Air Jordan models before. The result of this upcoming Off White x Nike Air Rubber Dunk is a super clean Colorway. I got to give Virgil and the Off White design team a big compliment 👏👏. The shoe features a white mesh upper adorned with metallic silver and blue details. It also features a striking rubber sole with an air bubble, which is in a different colour than the rubber sole. As with the upper, the extra detail is blue.
Under the Swoosh then the classic feature of the Off White Nike. The writing "Off White for Nike…" All in all the University Blue Colorway is my favorite out of the three Off White x Nike rubber Dunks. Anyway have a look yourself to get an own opinion.