One of the most hyped silhouettes of the year goes into the final round with the 'Team-Tones'-pack! Tomorrow will knock out a champ in two-tone gear! We're talking about the new Nike Dunk Low SP 'Champ Colors'!
And exactly because this release is so close and some raffle lists will close their registrations soon, we will give you the exact release info right away. (You want to know more about the 'Team-Tones'-pack? And also more pictures? Then just scroll down for them. ? )
Release infos
As teased for a long time, the Nike Dunk Low SP 'Champ Colors' will celebrate its release tomorrow, June 24, 2020 at 09:00 am at selected retailers, as well as at Nike itself. For only €100 and a little bit of luck, you can have this sneaker-gem delivered to your home. Be quick and register at the raffles immediately.
⬇️ Click here for a list of all raffles ⬇️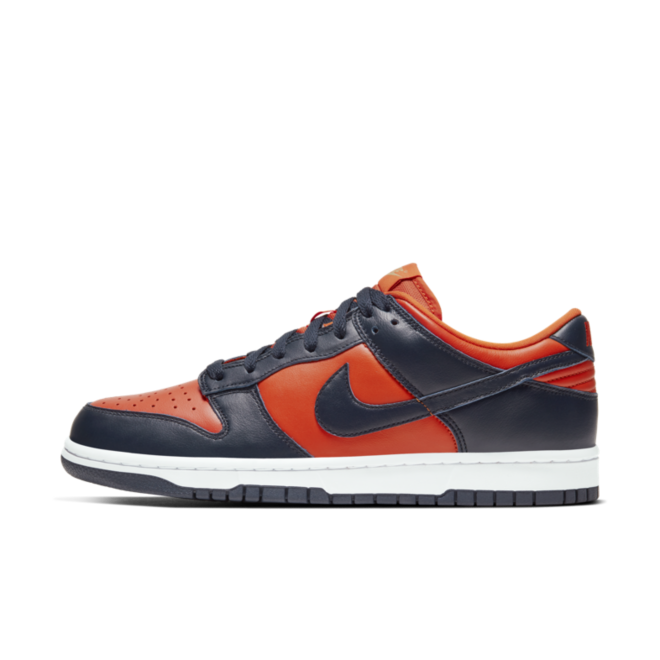 WHAT?! You haven't heard of the Team Tones pack?
So you don't have to be THE sneakerhead to know about this pack. Besides the 'Syracuse' and the 'Kentucky', the 3 Dunk Low's of the 'Team-Tones'-pack are the most popular general-releases Nike has made on this silhouette so far this year. [General-Releases??? - Short explanation: Sneaker releases are called general-releases when the producing brand releases a shoe without any collaboration or cooperation with other players].
On the picture above, you were able to see which 3 kickz belong to this nice pack. Extremely good colorways, right? In my previous blog posts I have gone into every single dunk low in detail. Enjoy! ⬇️
Let's get back to the champ:
Our new colorway of this gem continues the two-tone design of the pack. The upper of the Nike Dunk Low SP 'Champ Colors' is made of high-quality leather. The base has a bright orange colorway, which has been given a harmonic color-combo by contrasting dark navy overlays. And the midfoot Swoosh comes in the same color. In my opinion the mix of "University Orange" and "Marine" is extremely good! The design of the shoe is rounded off by matching navy-colored laces, white midsoles & dark rubber outsoles.
By clicking on one of the pictures you will get directly to our raffle list. Sign up quickly so you don't miss this nice pair of sneakers! ⬇️