On Friday 21 May 2021, the new Karhu Summer Colours pack dropped. The Finnish brand has transformed three sneakers into the perfect summer shoes. Each design contains a quiet base with several colourful parts on top.
Synchron Classic Summer Colours 'Dawn Blue'
The Synchron Classic model has been around since 1990, and the latest models still incorporate the classic Synchron Lacing Structure. The 'Dawn Blue' colorway from the Summer Colours pack features a base of white mesh and light grey suede. The tongue and laces are also white, as is the midsole. Noticeable is the characteristic Karhu branding on the sides, one side is coloured purple while the other side is green. Furthermore, above the soles blue parts can be seen and around the heel the same green colour. Finally, the large logo on the tongue is coloured neon yellow.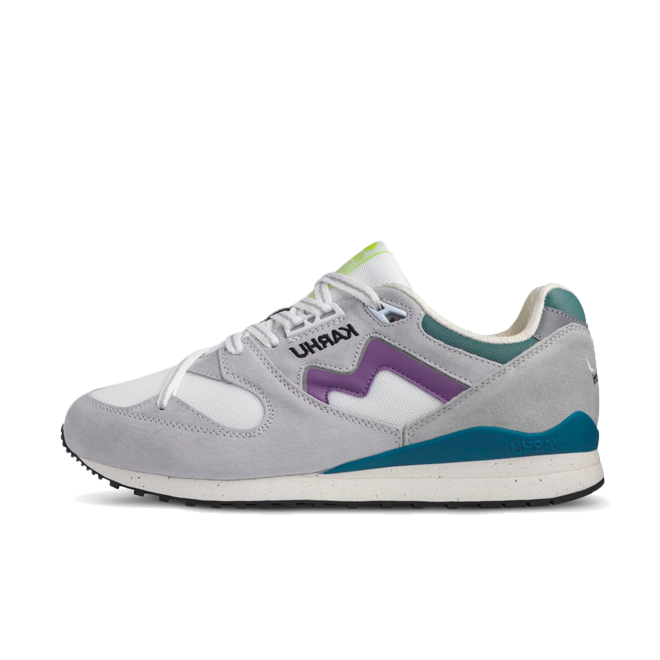 Fusion 2.0 Summer Colours 'Blue Spruce'
Another model from the pack is the popular Fusion 2.0. The sneaker contains the same colours as the Synchron model above, namely green, blue and purple parts. However the placement is different, for example, the purple colour can be seen on the tongue, heel tab and partly on the toe. In addition, the base of the model consists of a white colour and the midsole contains colourful speckles.
Karhu Fusion 2.0 'Tea Rose'
The third and final model of the collection is also a Fusion 2.0. The sneakers are very distinctive though, the 'Tea Rose' colorway contains different colours than the ones above. The heel and toe are covered with a suede pink colour. Also, the blue colour on the sides seems to have a lighter tint. And when you zoom in on the shoe, you can see that mustard yellow details have been added at the upper eyelets and the outsole. Other than that, the Fusion 2.0 has been given a clean white base.
The colourful Karhu Summer Colours pack released on Friday 21 May 2021 at various retailers. Wondering which ones? Check out our release calendar to get an overview. Also download the Sneakerjagers App and turn on your notifications, so you will always get a warning when a sneaker drops! ⏰