It's one of the most important streetwear brands on the world stage; Patta. Founded in 2004 by Edson Sabajo and Guillaume 'Gee' Schmidt, the streetwear brand has grown in recent years into one of the world's biggest streetwear brands. With three branches in Amsterdam, London, and Milan, and major collaborations to its name, everything the brand does is community focused. Edson Sabajo talks about how the community has brought the brand to where it is today.
The Start of Patta
Edson Sabajo, co-founder of Patta and big sneaker lover, started the sneaker store Patta with Guillaume "Gee" Schmidt in 2004. The two met at Fat Beats, a record store in Amsterdam where Sabajo was manager. Their passion for sneakers and hip-hop connected the two, resulting in the Patta brand.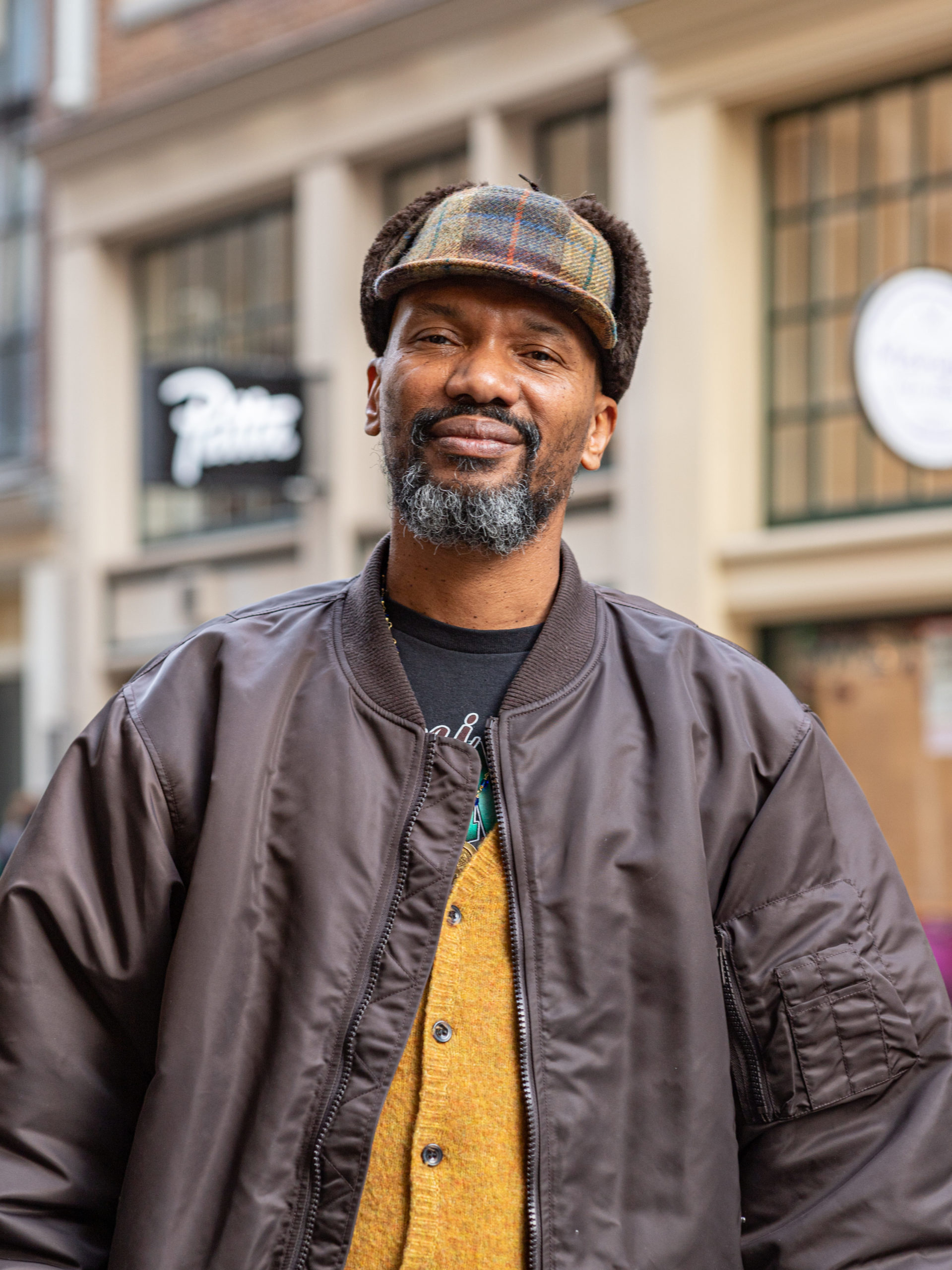 The streetwear brand, known by quotes like "Love for All" and "Out of love and necessity rather than profit and novelty…," as stated on its website, is at home in hip-hop culture. According to Sabajo, hip-hop and Patta go hand in hand.
"Hip-hop is the backbone of Patta. Hip-hop culture is a very peaceful culture that wants to bring people together. Professions, ethnicities etcetera don't matter, this is also the case with Patta."

Sabajo
After Patta's first branch opened its doors in Amsterdam in 2004, the brand now has three stores in Europe. "I think our success lies in the fact that we stay close to ourselves," Sabajo says. "I'm also just a sneaker enthusiast."
Sabajo has been a big sneaker fanatic since the 1980s. With over 2,000 sneakers in his closet, he is always trying to find the latest, rarest sneakers. "You always want to have shit that no one else has," Sabajo says. This was also the attitude when Patta was founded; to bring rare, unknown sneakers to Amsterdam. "At that time, in the early 2000s, we were getting all our sneakers from abroad."
This resulted in a lot of trips to sneaker stores in cities such as New York, Paris, Tokyo, and Los Angeles. "The sneakers they had there were completely unknown in the Netherlands," Sabajo says. "We bought our sneakers there and shipped them to Amsterdam. In our store, during that time on the Nieuwezijds Voorburgwal, we resold these shoes."
Travel and connections
One sneaker that has really stuck with Sabajo all this time is the Reebok Freestyle Hi. "I remember very well, a friend of mine had a store in Philadelphia," Sabajo says. "But in the North end of the city, in the ghetto part where not many men came. I walked in there and stared my eyes out, it was like a candy shop. Sneakers everywhere you looked." This is where Sabajo's eye fell on the Reebok Freestyle Hi, a model that had not been available in the Netherlands for years. "The colorways of the sneakers they had here were insane."
After looking around for a long time, Sabajo asked if he could take the Reeboks with him. "It took a while for the saleswoman to understand that I wanted to bring dozens of pairs, not just one in my size. We then put all those sneakers in the car, a Porsche Cayenne if I remember correctly. How that fit, I still wonder. We drove to FedEx and shipped everything to the Netherlands."
Once they arrived in the Netherlands, the Reebok sneakers sold like hotcakes. "They were gone in one go, that was the moment when it heated up," Sabajo says. The success of the Reebok Freestyle Hi was such that other sneaker stores in the Netherlands called Reebok, asking for that particular model; a silhouette that had not been made since the 1980s. "Reebok then started producing those shoes again," Sabajo says. "Later we got a call from them thanking us, which was bizarre. That's when we knew; we discovered something here."
Community is key
Since then, things have gone fast for Patta. "Every city we went to; Los Angeles, New York, Philly, Tokyo, we combed everything and met a lot of people from the scene," Sabajo says. "We did this I think for about four years, then came the first collaboration with Asics. They also saw; we were unstoppable and we brought something to the table." Later, big brands like Nike followed and Patta played along with the big boys. In 2006 Patta came out with their first collaboration with Nike; the sneaker Air Max 90 'Homegrown'.
Sabajo says, "People started to recognize Patta wherever you walked." Again, he says the connections Sabajo and Schmidt made abroad have been very valuable. "The people I met in the early days, in Japan or in the States, I still talk to. That goes way back." The brand also stays close to itself: "We can think like the customer, but also like the sneaker guys who know how the industry works. I think that's where our strength lies."
In addition to sneakers and its own clothing line, Patta has also founded several initiatives. With these initiatives, the brand wants to pass on its knowledge and experience to the next generations. With initiatives such as Patta Soundsystem, Patta Running Team, Patta Foundation, and recently the Patta Academy, a learning school for young people, Patta is committed to the community.
"The community is key, that's how Patta came to be," he said. The Patta Academy was founded in 2021 and ran its second program in 2022. With the learning school, the Patta brand aims to teach young people about creative entrepreneurship and does so from its own experience. "Each One Teach One," Sabajo said.
Each One Teach One
The "Each One Teach One" mentality is reflected in much that Patta does. The quote, taken from hip-hop culture, was also used in the 'Second Wave', a recent collaboration with Nike. "I just want to educate people, why keep everything to myself? I'm fine, we as Patta are fine. It's incredible what we've built in the last few years as a black-owned company, without investors or education," Sabajo says. "We're in the top five globally in streetwear, which remains bizarre. Now it's up to us to pass on our knowledge and give back to the community - Each One Teach One."
In addition to Patta Academy, Sabajo recently started teaching at the Hogeschool van Amsterdam and helping young people start their own businesses. "Seeing those young people flourish is the best thing there is," he says. With these workshops and classes, Edson wants the next generation to become even better at entrepreneurship than the current generation. "Patta is a learning school for us as well, we are still learning every day," Sabajo said.
Future Patta
Despite Patta's great success, Sabajo remains, in his own words, humble: "It's also just a blessing. You do hope for it, and you work hard and fight for it too, but once it happens, that's a miracle. You just have to embrace it and try to better yourself every day." In recent years, the streetwear brand has led several major projects. With its own documentary "Patta For Life" and collaborations with major sneaker brands, the company has become one of the biggest streetwear brands worldwide.
The year 2022 was another big one for Patta. The company released collections with sneaker brands such as New Balance, Tommy Hilfiger, and Experimental Jetset and came out with the second part of 'The Wave,' a collaboration with Nike that started in 2021. "The Patta x Nike Air Max 1 'Platinum White' was personally my favorite project of 2022," Sabajo says. "This also has to do with my son, which is kind of special."
Sabajo also has big plans for this year. He can not give away much yet, but big things are coming.
"I would like to start a Patta retirement home someday," Sabajo says, chuckling. "Imagine; you have a really big building with like-minded people who all want to create things. That seems really cool to me." According to him, the Patta retirement home should become a place where the elderly can make their last wishes come true; from getting a lap dance to making beats. "That everything is possible within that place before you're dead. Such a concept seems pretty cool to me."
The Patta brand will be expanded in the future. What the company should look like in ten years, Sabajo does not yet dare to say. However, the brand will continue to focus on the community. "I want to help where needed, I already have everything. I don't need three cars, the only thing I want to have a lot of is sneakers," Sabajo said.