Converse and Rick Owens have joined forces. Rick Owens was allowed to design two new Chuck 70s for the brand. Both models have a very unique look.
Rick Owens
Rick Owens is an American fashion designer and was born in 1961. In 1994, he launched his own clothing line. In 2003, he moved to Paris and brought more value to his brand. In fact, his brand became an official company a year later.
Rick Owens' brand has an alternative atmosphere. He has won several awards with his brand. In 2002, he received the Perry Ellis Award. After a few awards from the Council of Fashion Designer in America over the years, Owens received the Menswear Designer of the Year award in 2019.
Over the years, Owens has created five clothing labels under his brand including Rick Owens, DRKSHDW, Rick Owens Lilies, Bib and HUNRICKOWENS. The DRKSHDW line includes sneakers that look very much like Converse sneakers. Of course, these silhouettes have an alternative twist.
Besides designing clothes, Rick Owens has also designed his own line of furniture.
Converse x Rick Owens
Rick Owens chose a high and a low Chuck 70 for the collaboration. With these models he could go wild and clearly leave his signature. For his design he took inspiration from his own DRKSHDW trainers, which are very similar to Converse.
TURBODRK Chuck 70 | 172344C
The high TURBODRK Chuck 70 stands out immediately due to its eccentric details. The tongue is higher and longer than normal, which you can see right away. The label on the tongue is longer, showing the branding of both Converse and Rick Owens.
The rest of the upper is the same as the upper of the classic silhouette we know. The sole and toebox, on the other hand, is not what we are used to. Normally, the toebox was round. This has been modified to a square toe. For the first time in a hundred years, this has been applied to the sneakers of Converse.
The midsole has several layers due to the square nose. This enhances the rugged look of Rick Owens' handwriting.
The TURBODRK Chuck 70 High costs €170.00.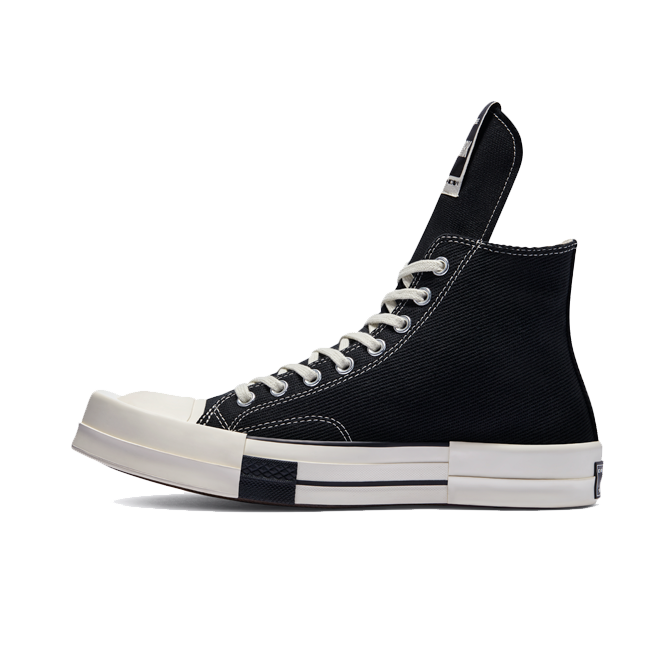 TURBODRK Chuck 70 | 172345C
In contrast to the high version, the low TURBODRK Chuck 70 is in white. The striking details are the same, however. This low Chuck 70 has a long tongue.
The round nose is also transformed into a square nose on this silhouette. The white upper makes this less noticeable. The rubber toe box and sole are in the same colour as the upper.
The heel features both Rick Owens' DRKSHDW and Converse branding.
The TURBODRK Chuck 70 Low costs €165.00.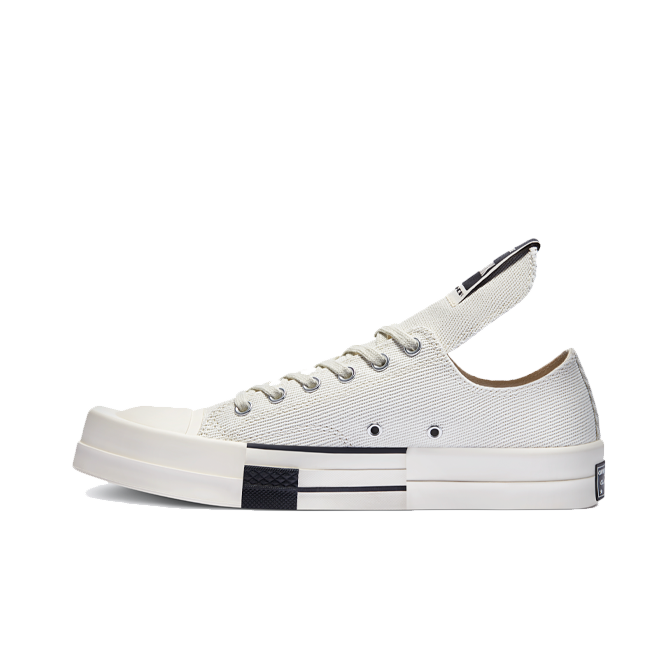 ---
Do you want to stay up to date with the latest sneaker news? Follow us on Instagram and download the Sneakerjagers app. In the app you can turn on notifications for the release calendar, but you can also read our blogs.