Cop or drop? That is the question! Dear community, you know the game: In our Release Calendar you can choose 'Cop or Drop' for every sneaker! So in short: Have! Or rather not! Once a week we present your selection of the top 'Cop Sneakers' to our community and show you which new styles you should not miss in your shoe closet! This week, these new styles from Nike and Air Jordan have convinced you:
100% Cop - this new sneaker is top for the community!
As always, we look at the podium in order. In third place, an Air Force has landed with the 'South Korea' colorway. Visually this means: A white sneaker with pink highlights and a Swoosh in zebra look!
Some time ago a Nike Air Presto South Korea was also released in this style and now the look goes into the second round. What the new sneaker and also the whole South Korea Pack from Nike is about, Le tells you in his blog post.
The Nike Air Force 1 'South Korea' will be released a little later than planned on June 23, 2020 at 09:00 am and will be available for €130 at various retailers. You can find a list of them and all raffle registrations by clicking the link below: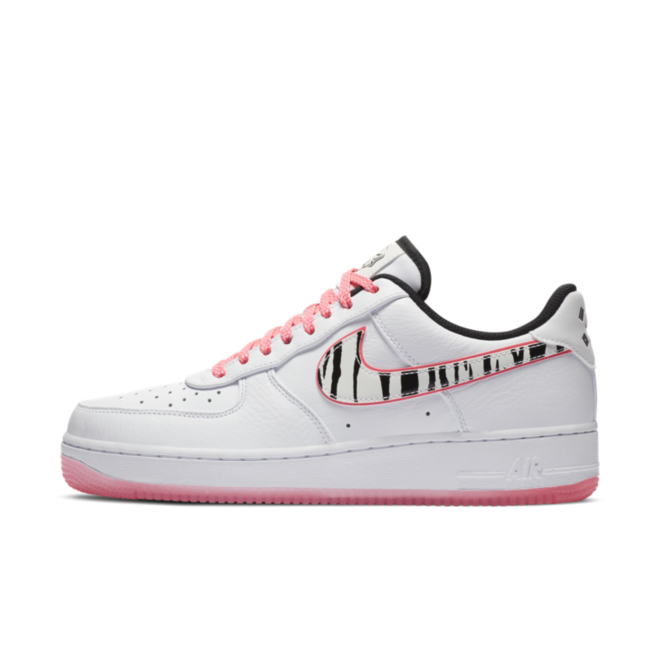 You can also continue directly with your personal 2nd place! The new top 'Cop Sneakers' of the community present the Nike Air Max 90 SP Duck Camo 'Total Orange'. This is the third, but unfortunately also last look in this style we get this year!
Optically the sneaker is built like its two predecessors the Atmos x Nike Air Max 90 'DUCK CAMO' and the Air Max 90 'Ghost Green' DUCK CAMO. Here we get an upper in orange, with a duck camo print in brown. If you didn't have any luck with the raffles, we have linked all the retailers here again - but you also have to be fast!
Because the style does not only please you and the pair is already released today, on June 16, 2020 at 09:00 am. The price for the look is as usual €140.
Your personal favorite for this week
This is the Air Jordan 4 Retro University Red. A special look from Jordan that we have been waiting for for a long time! This week it's finally here, but what makes this sneaker so special?
The silhouette of the Jordan 4 is a welcome sight on the streets of the world anyway. In the beginning, the design was focused on functionality rather than looks. This makes the sneaker a comfortable all-rounder for sports and the road, but also visually we get a highlight here!
The white leather upper is spiced up with a few red details and that makes the style complete! Your top 'Cop Sneaker' of this week will be released on Saturday, June 20, 2020 at 09:00 am and for €190 you can treat yourself to these nice kicks!