An old Nike model has been dusted off from the archives for a special collaboration with the fashion brand COMME des GARÇONS. The brands have designed two colorways on the Nike Air Carnivore. Appropriately for CDG's aesthetic, a black and a white version were created. Check out the COMME des GARÇONS x Nike Air Carnivore collab below, which is expected to release in May 2021!
Nike Air Carnivore
The Nike Air Carnivore was first released in 1993. The sneaker was intended as a hardcore cross shoe and featured the latest Swoosh technology of the time. The high neoprene sneakers, or almost booties, had thick Air soles and no laces. The sneaker also had a striking colour combination, which gives it a unique appearance.
CDG Homme Plus
COMME des GARÇONS is a Japanese brand and was founded in 1973 by Rei Kawakubo. Meanwhile, her brand has grown into a fashion giant. The style of CDG is unique, her designs are known for their avant-garde style. In addition, the brand has several lines, including Homme Plus, which redesigns traditional menswear. With Homme Plus Kawakubo pushes the boundaries and designs radical garments. So you can see below in the Spring Collection of 2021 a few of her special, daring creations.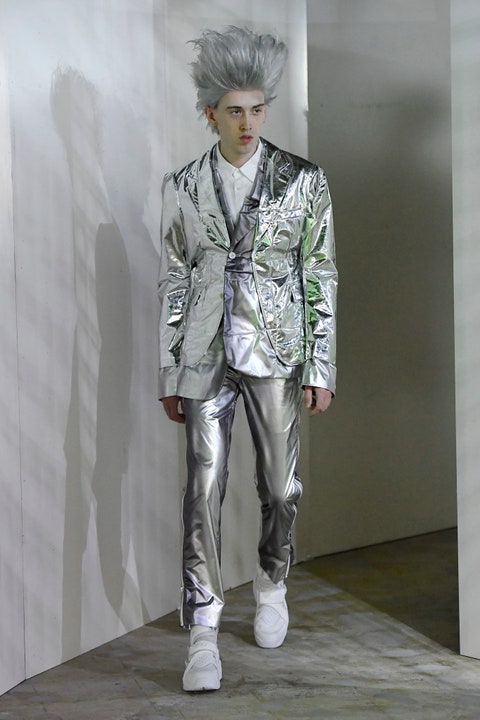 COMME des GARÇONS x Nike Air Carnivore
The designs of the Air Carnivore colorways have been kept fairly quiet. The sneakers have an all-black and an all-white design. This gives them a clean look and all the attention goes to the model. The straps stand out, on the lace-less design. For example, the large strap with the Nike logo attracts a lot of attention. Besides this logo, the COMME des GARÇONS Plus Homme logo is also visible on the heels.
As a surprise, the brands have added a special material. The overlays of the sneakers reflect in the light. As you can see in the pictures below, a silver glow comes off the shoes.
What do you think of this comeback of the Nike Air Carnivore? An official release date has not been announced yet, but the COMME des GARÇONS x Nike Air Carnivore is expected to release as early as May 2021 for €350. Keep an eye on our Release Calendar, so you don't miss the exact date! Also, quickly download the Sneakerjagers App on your phone, to always get a notification when a sneaker drops. 📲