You've participated in dozens of raffles, plus you're ready to buy the sneaker on the release date, but you still grab a big fat L. Then the resell prices are sky-high, but you still want the pair. Do you recognise this frustration? Then renting sneakers might be the thing for you. Several companies have taken up this relatively new concept.
Sneakers for rent at KYX World
KYX World is a sneaker subscription programme with limited releases. At KYX you can choose from more than 275 different hyped sneakers, without having to spend a huge amount of money. You can choose from different subscriptions. There is Level 1 to Level 4 available, with different prices and offers. As you can see, with a higher level you can rent more sneakers at the same time and you have more choice from the KYX offer.
Rent sneakers, then buy them at TENEEZ
Also at TENEEZ you can rent sneakers. If you're not sure whether you want to buy a pair of sneakers or not, TENEEZ lets you try them out for four days. You can also borrow them for a number of days. You can choose to have them for four or eight days. Finally, it is possible to buy the sneakers after your trial period.
Rent designer sneakers at LSWOP
At LSWOP members can borrow designer sneakers for a few days. This makes luxury shoes more affordable and saves you money for other fun things. LSWOP's selection features exclusive designer sneakers, but also includes brands such as Yeezy.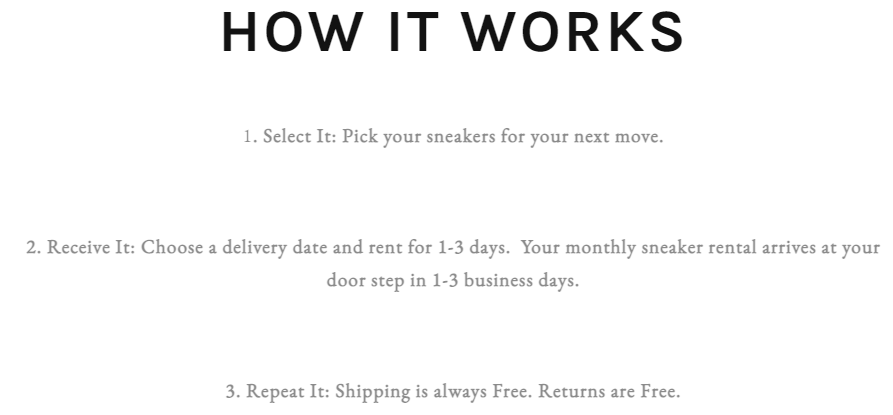 Renting sneakers seems to be an emerging trend. We are very curious what you think about it, and if you plan to start a membership. Let us know via our socials @sneakerjagers & @sneakerjagers_wmns. Finally, download the Sneakerjagers App as well, so that you are always up to date with the latest sneaker news.