Whether in spring or summer, the sneaker trend adidas Ozweego really can't be missed this year - just like the face masks in the Corona era. Absolute must-haves! The adidas Ozweego sneaker manages to look both sporty and unagitated thanks to its subtle design. With each color model, the adidas Ozweego sneaker is a real eye-catcher on your feet and with your outfit! It's up to you whether in simple earth tones, a colorful mix of colors, light colors or the bright neon trends! It's not enough that influencers wear the adidas Ozweego and the shoe goes round and round on Instagram - no, you too should own the shoe for the coming season. ?
Whether in the color white, plain and simple? Besides, white sneakers go with any of your outfits: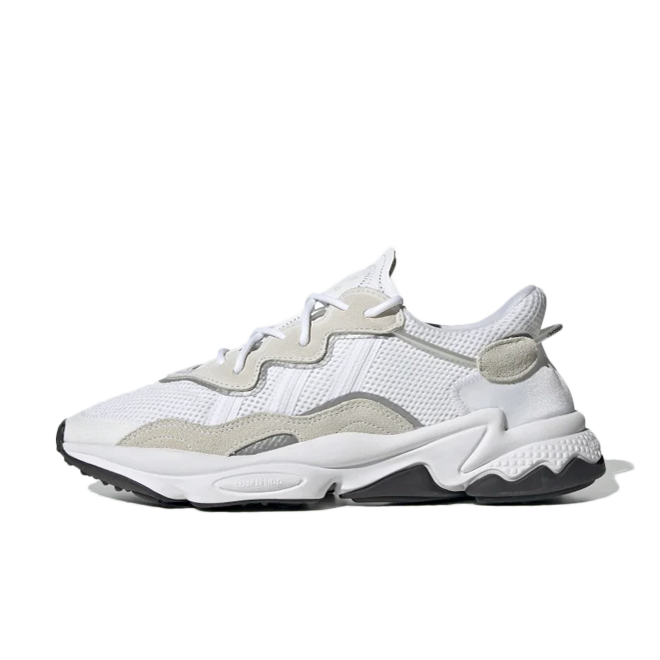 Why are the adidas Ozweego the hottest sneaker trends this summer?
The chunky sneaker optically joins the sneaker series, which is optically only known from Scandinavian fashion professionals. Leather elements meet mesh inserts, which are known from brands like New Balance or ASICS. Inspired by a classic running sneaker, the focus of the sporty kicks is deliberately on functional details, a retro image and a light cut that is no longer clumsy, unlike the current counter movement. The adidas Ozweego is different from the 'High Top sneakers' and also belongs to the 'Dad sneakers'. In addition, the thick soles add a few centimeters to your height and flatter your figure. The good thing about the adidas Ozweego is that despite their eye-catching design they stand on their own way out and don't distract from your outfit.
The color models of the sneaker trend adidas Ozweego
No matter what look you want to wear with your Ozweego. Whether it's boyfriend jeans, your favorite summer dress, a mini skirt or an oversized blazer with a cropped top underneath, it really does go with any outfit. So the shoe is a great addition for a perfect spring and summer! As shown above, if you prefer classics, it is best to choose a plain Ozweego in white, beige or various earth tones. By the way, the sneaker can be perfectly combined with straight cuts. However, those who are a bit bolder and love bright colors should rather choose a neon model. Then your sneakers will even belong to the ugly sneaker trends!
And you know what? The adidas Ozweego in the color Cloud White / Collegiate Royal / Bluebird is even reduced from €119,95/£89.95 to €83,97/£62.97. So you have to go for it. It is also available in the color Cloud White / Collegiate Navy / Scarlet and is even in sale at the moment. Be sure to check it out by clicking on the photo of the shoe!
Good to know...
The most important thing about these shoes is that AdiPrene+ gives you ultimate forefoot cushioning. This allows a soft touch and optimal shock absorption. The sporty sneaker in 90s running look is inspired by the 90s and early 2000s and delivers a very stylish mix of retro elements and futuristic design. A real eye-catcher is definitely the upper material made of mesh, suede and smooth TPU. It also offers targeted support and cushioning in the forefoot and heel area for a super comfortable wearing experience.
The special and characteristic details of the adidas Ozweego speak for itself! You just have to keep in mind that the shoes are on average half a size smaller, so you should buy half a size larger than normal! The laces, lace-up front and heel area feature a circumferential tube detail for even pressure distribution. In addition, the material of the shoes is very soft and light and therefore offers a great wearing comfort.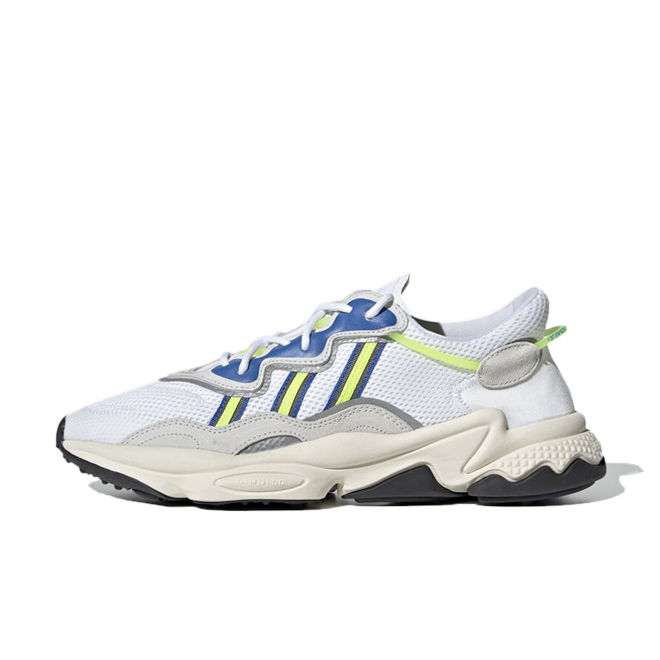 At adidas and also in our Sneaker Collection, you will find many more color models of the Ozweego and you have a huge selection to make your own choice!
As mentioned above, you will find many different adidas Ozweego sneakers in our Sneaker Collection! And of course you'll also find the most popular models of other cool brands, like the Nike Air Max. We also have a huge selection of different models from Vans, Converse, Reebok, ASICS, New Balance, FILA and many more. I think if you are looking for a cool shoe and the adidas Ozweego doesn't fit your style, you will definitely find your favorite in our collection! Our Newsblog should also inspire and support you! So: Have fun browsing, inspiring and of course shopping for your favorite sneakers! ?