The Nike Blazer Mid '77 Next Nature is perfect for autumn. The model has a slightly higher cut and comes in cool-looking faux leather. The shoe is to this part of Nike's Next Nature line. This is the American brand's more sustainable line and part of their larger Move To Zero project.
The clean white look with brown accents fits perfectly into autumn. To give the Nike Blazer design even more character, we show two outfits for men and two for women that go well with this shoe. Do you like the outfits and want to know more about the respective article? Then just click on the picture. Let's get started!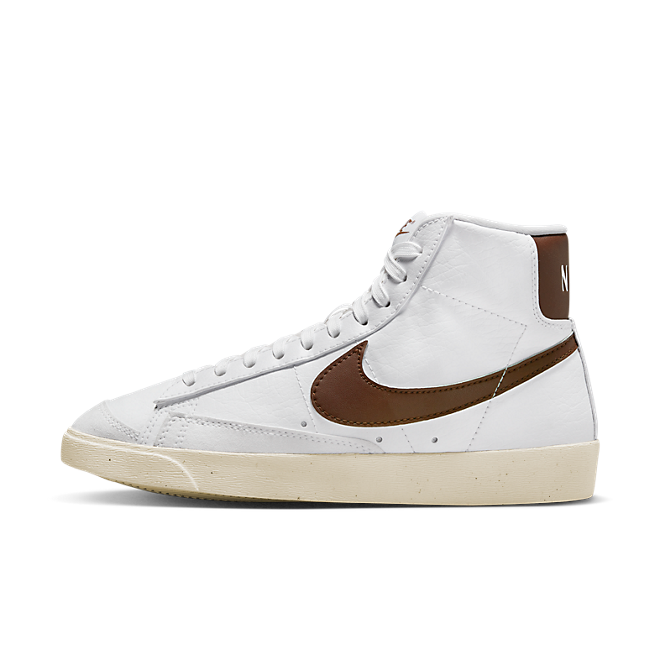 1. Outfit inspo for men
The Palmes Pleasure Crewneck has a simple look. The jumper is oversized and made of cotton. On the left chest is a red graphic with the words 'Palmes with pleasure'. Clean and easy.
The Arte Antwerp Paul Heart Logo Jeans also come in a loose fit. The Arte logo is embroidered on the back pocket. Due to their cut, the trousers fall really nicely on the Nike Blazer '77 Next Nature.
2. Outfit inspo for men
The Levi's Portola Chore Coat is an ideal transitional jacket. The piece can be combined with a white shirt, for example. The brown tones go particularly well with the Nike Blazer '77 Next Nature.
To complete the outfit, you can combine it with the Levi's 501. The jeans are timeless and have a beautiful light blue wash. By the way, at Levi's you always buy trousers according to width and length, so they fit perfectly.
1. Outfit inspo for WMNS
The Stüssy Beach Mob Bing Jacket is a real eye-catcher. The entire jacket features a black and white print of a certain image that is repeated over and over again. There is enough room under the jacket to pull on different jumpers.
The OpéraSPORT Celestine skirt in black is made from recycled silk. The skirt has an elasticated waistband. The skirt does not go all the way to the floor, so it has some space to give the blazer the attention it deserves.
2. Outfit inspo for WMNS
The Nike x Jacquemus Polo comes with brown accents on the back. The top is slightly short but has extra-long sleeves with thumbholes.
The Aries Logo Print Waistband Lilly Jeans have a straight fit and are all black. The Aries logo runs across the waistband in white. The trouser legs of the Nike Blazer Mid '77 Next Nature will fall a little looser and wider.
You can find more Nike Blazer colorways in our search engine in the price comparison! There we show you where to get your size at the best price. For more inspiration like this, check out our Sneaker News.