Happy birthday Nike Air Max 90! The year 2020 promises an incredible number of colorways of the Nike Air Max 90. I now introduce you to one of the gems that could be on your feet on March 25, 2020 at 9:00 am. You can buy the Nike WMNS Air Max 90 LX 'Laser Fuchsia' for €150.
The facts have been told and there is not much left to say about the Nike Air Max 90 itself. The sole with the integrated Air-Unit is a dream for every dancer and raver, especially for long party nights. And that brings us to the subject, because especially in the Hip-Hop scene and Techno culture the sneaker is to be found again. The Colorway of today should fit perfectly in terms of techno and raves. Look forward to a (let's say, discreetly) colorful colorway, with which you will attract attention at the festival.
Closer Look: Nike WMNS Air Max 90 LX 'Laser Fuchsia'
Glamour, glow and especially pink. These three aspects probably describe the sneaker best. While the upper is actually super plain in white, this is not noticeable at all. Thanks to the shimmering silver coating, the concentration falls directly on it. Also the pink is actually not so present, but it still catches the eye, because you can find it everywhere from time to time. And that was by far not all. The Swoosh is in light green, but also with the shimmering effect of silver. So more glow is probably not possible anymore. Take a closer look, there is always something that catches the eye.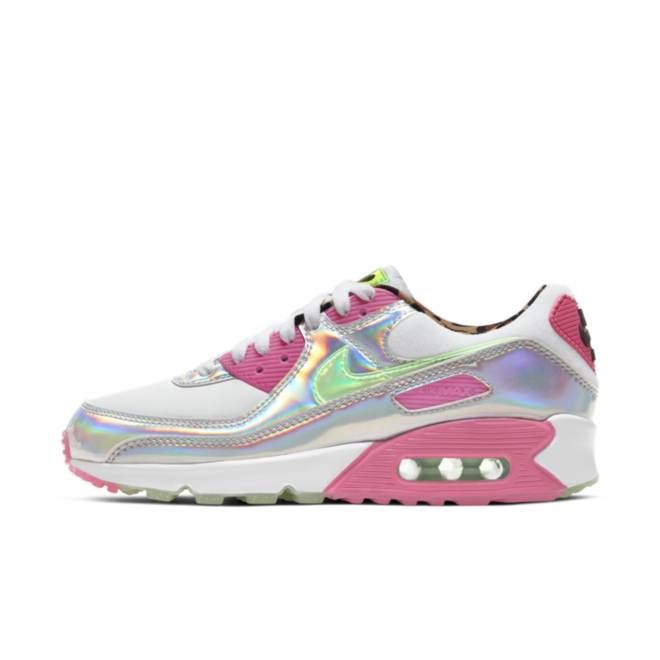 Of course the sole must not get boring either, when stamping it can happen that you can have a look at it. Here too, the motto is green and pink.
The inner lining is also anything but boring. While the foot has leopard patterns all around, the insole is super duper mega pink (yeeeey) with a beautiful flower. If you look closely, you will recognize the swoosh as a mouth.
Why raves are so much fun & the sneaker is perfect for it
Everybody knows them, the raves are known pretty much everywhere. In my circle of friends it is usually the biggest discussion when partying: Hip-Hop or Techno? As a motivated rap fan I always vote for hip-hop, but I still have a lot of fun on the dancefloor at raves. Especially in the summer, all the festivals offer themselves. No matter if they are as big as Tomorrowland or a little bit smaller like Nature One - the people are up for it and above all they are always peaceful.
Here it's just a matter of enjoying the music and hanging in there as long as possible. Especially at the birth time of the Nike Air Max 90, the 90s raves were a dream for all techno lovers. And at the festivals you usually have so many floors, you don't have to concentrate on one music genre. In one tent Deep House is playing, in the bunker someone is playing hardstyle and on the main stage people are even enjoying charts music, which is usually not so popular among the ravers. But there is always something for someone and the best thing is always there: Everyone loves each other and everyone does his thing <3
No matter if Paul Kalkbrenner, Monika Kruse or Aka Aka: The Nike WMNS Air Max 90 LX 'Laser Fuchsia' will find its place everywhere. The sneaker is too colorful for you? Easy. We can't escape from the Nike Air Max 90's, so here's a selection of Nike Air Max 90 models. The selection is in three digits, so everyone should find what they are looking for.
Or would you prefer a completely different Air Max? Then have a look >>here<<, no matter if Air Max 270, Air Max 97 or many others - if you don't find anything here, maybe you are just too picky ?. For fun and games follow us on Instagram, where you can find all new releases and always great finds. And if you don't have an Instagram (which is supposed to exist nowadays), then have a look at the Release Calendar, there you'll find a huge overview of every release.