Dear folks, as you have probably all noticed, the Nike Air Max 90 celebrates its 30th anniversary this year. It's hard to believe how fast time passes by and that it's actually 2020. The Nike Wmns Air Max 90 LX 'Illusion Green' will be available on March 25, 2020 and you can buy it for €150.
The Nike Air Max models, whether it's an Air Max 90, Air Max 1 or any other, hast the sleekest and most fancy colorways at the market. For the basic enthusiast, everything is available in black or white, some have a bit more color on their back and others are completely overdoing it with the colors (in a positive sense, of course). The Nike Wmns Air Max 90 LX 'Illusion Green' is one of them, which is guaranteed to attract attention.
Closer Look: Nike Wmns Air Max 90 LX 'Illusion Green'
The Sneaker speaks it's own language. You can hardly escape from neon colors, whether pink, green or yellow: it will shine enough. Three colors are enough, but that's not all about the colors. Apart from inconspicuous colors like light blue, the leopard print stands out. It all sounds a little too colorful and confused now, but I can tell you that it is! It's always fascinating how you manage to keep your sneaker in order with so many colors.
I can imagine that this colorway looks great with a completely black outfit. The eye-catchers are definitely the sneakers and so the whole outfit looks structured and casual. It is not everybody's favourite but there are some who will be totally enthusiastic about the sneaker! Also on the next Techno Party you will feel much better with those on your feet it's such a gold piece. And now scroll down and have a look at it. ?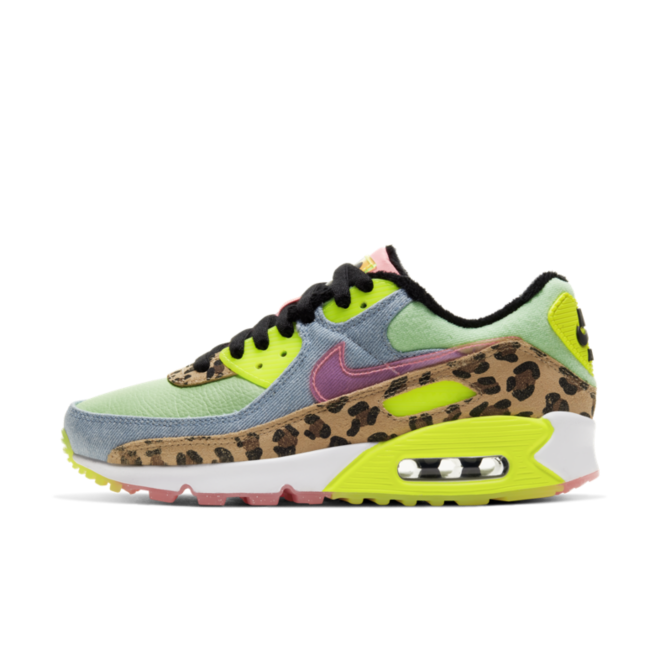 Are you looking for the Nike Air Max 90, but not in this colorway? No problem! Click here for an overview of Nike Air Max 90 models. Follow us also on Instagram, there you will always get all new sneaker releases. So it's definitely worth a visit. Or if you just want to have an overview of all new releases then check our Release Calender.