Not everyone is a big fan of the Nike SNKRS app, because the chances of getting a W are slim, but we have good news for you. The annual SNKRS Day is upon us and that means restock time! What is SNKRS Day anyway? And why do we celebrate it?
Four years ago, Nike came up with an innovative app to make buying a new pair of sneakers easier. We are talking about the Nike SNKRS App. You can also use the app to learn about the rich history of certain models or follow specific ones. That's not all, as Nike releases special sneakers like the Air Jordan 1 High through raffles via the app. You sign up, you wait half an hour and you are told whether you have been selected or not. We know from experience that it is usually almost impossible to score a pair, because there are so many people participating. But nothing ventured, nothing gained!
Nike SNKRS Day
As we said, SNKRS Day returns every year to celebrate the existence of the SNKRS App. Last year, unfortunately, it did not take place in Europe, but this year SNKRS Day will only take place in the EU. The line-up looks promising so far, but nothing has been officially confirmed yet. Rumours have surfaced that the Off-White x Air Jordan 4 and Off-White x Air Jordan 5 will be restocking. Since 2021 is all about the Dunk, there will be several restocks of it as well. Of course, we can also expect some delicious Air Jordan 1's from recent times, like the 'Hyper Royal' or the exclusive Trophy Room collab.
In addition, there will be a few more sneakers that you will probably want to add to your collection! Check the picture below for an overview of all the expected sneakers. On Sunday the 8th of August 2021 the Nike SNKRS Day will take place. We at Sneakerjagers will keep you updated with all information regarding SNKRS Day, so follow us on all channels to not miss a thing!
---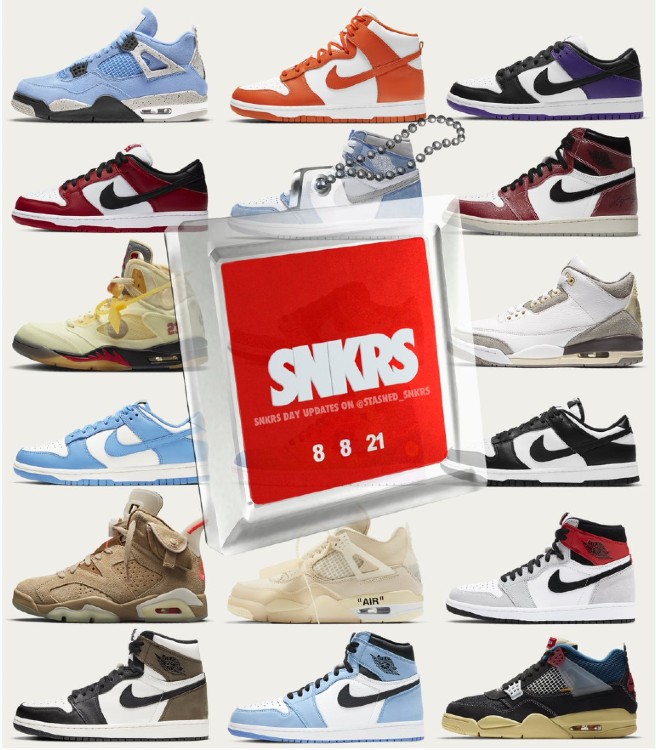 ---