Nike comes out with two new colorways for the ACG Air Mowabb. The 'Trail End Brown' makes its comeback and the 'Limestone' is released. Both pairs are expected to be released in 2021.
Nike ACG Air Mowabb
The ACG Air Mowabb comes with two new releases. The Nike Air Mowabb celebrates its thirty year anniversary this year and brings back a classic colorway for this. The sneaker is designed by Tinker Hatfield, who is also known for his multiple Jordan designs. Hatfield is also the mastermind behind the iconic Nike Air Max 1.
The ACG Air Mowabb takes its inspiration from two other Nike models, the 'Wildwood' and 'Air Huarache'. The model features a high collar and shares the same heel counter that the 'Air Huarache' has. The 'Tail End Brown' colorway is no stranger to Nike and made its debut in 1991.
Nike ACG Air Mowabb Tail End Brown l DC9554-201
The first colorway is the 'Tail End Brown'. The sneaker has a striking design and combines the colours purple and brown. The 'Prism Violet' colour is especially visible on the collar and the tongue. The brown shade can be found on the nose and the mudguards. The silhouette features a black speckled midsole, with orange details on the heel and lining.
The upper is mainly made of nubuck leather. On the nose, a small swoosh is stitched in black. On the heel are the letters 'ACG' in orange, which stands for 'All Conditions Gear'. Nike Air' is also printed on the heel clip in orange.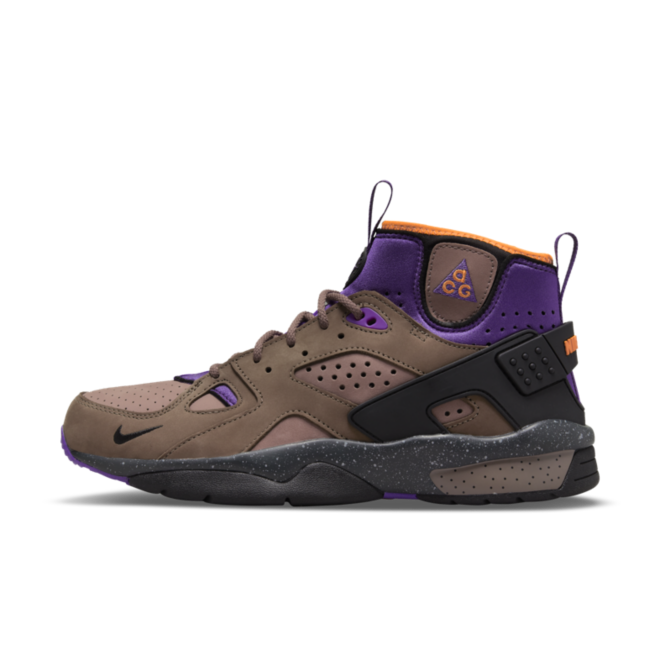 Nike ACG Air Mowabb Limestone l DM0840-200
In contrast to the 'Tail End Brown', the 'Limestone' colorway makes its debut. The pair has been given a light colour palette and combines beige tones with coral orange. The upper consists of a combination of neoprene, nubuck leather and synthetic material.
The upper and mudguards share the same beige colour. The lining and outsole are given the bright coral colour. The swoosh on the toe and the 'ACG' logo on the heel are both stitched in white. The 'Nike Air' branding on the heel clip is also white.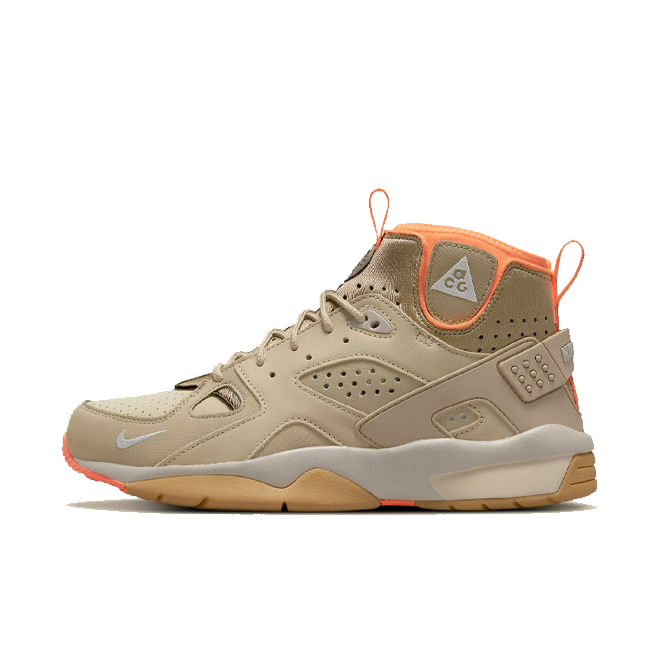 Both pairs have no official release date yet. However, the sneakers are expected to be released in 2021. Keep an eye on our release calendar and don't miss these releases. Also don't forget to follow us on Instagram, Twitter and Facebook and keep up to date with the latest news and models.