Yoooo hold on tight, because something special is coming towards you! The Nike SB Dunk Low J-Pack 'Chicago' is about to release and we have the first news about these jewels for you!
The Jordan Brand has worked with Nike SB many times in the past and has released many skate silhouettes that have worn some colorways of the most popular Jordan sneakers. Especially the flagship of Nike's skateboarding sub-label, the Dunk Low, got the honor to celebrate lots of of the most iconic Jordan colorways some time ago! Under the name 'J-Pack' or 'Jordan-Pack', there were sneakers released, which were also allowed to wear the popular 'Royal Blue' colorway from the Jordan 1.
And now, 15 years later, Nike continues the 'J-Pack' and offers us all THE Jordan colorway on a SB Dunk Low! The first Jordan colorway ever! Stay tuned and scroll down if you want to know more right away. But let's come to the release info first:
Release info
The Nike SB Dunk Low J-Pack 'Chicago' celebrates its release next month, on September 1st, 2020. At 09:00 am you can try your luck at Nike in the SNKRS app with 100€ on your account. Of course the sneakers will also be released at several selected retailers. You can find a daily updated list of all retailers by clicking on the button below. Check back often. In the next weeks there will be some more stores added here! ⬇️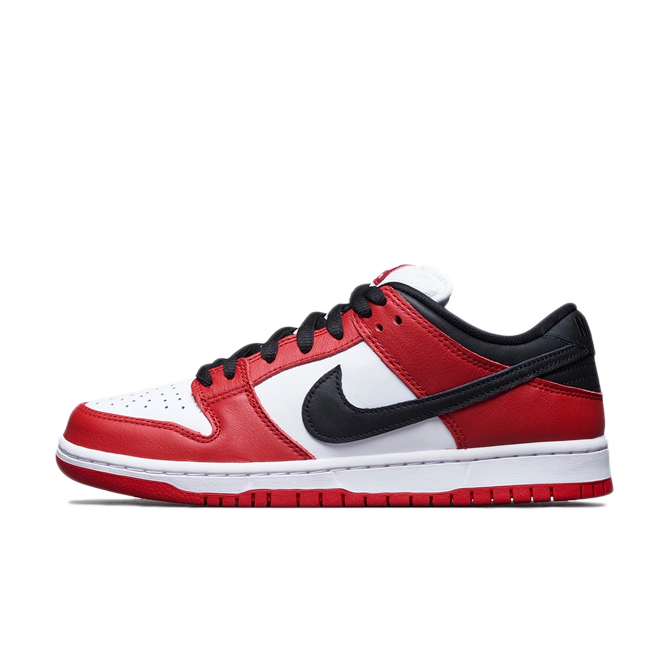 Michael Jordan & the Nike SB Dunk Low J-Pack 'Chicago'
Just wow! We actually get the Dunk Low in the OG Colorway of the very first Nike Air Jordan 1 High! The first signature sneaker in the history of the Jordan Brand in the 'Chicago' colorway still makes every collector's heart beat faster and everyone is eagerly awaiting the re-release of this model. But despite the current hype of the Jordan 1 silhouette, Nike seems to put a lot of effort into not releasing the OG colorway, yet. Could this be because Michael Jordan has started skateboarding?
Ha ha ha ha ha! Nice photo edit, huh? 😂
Of course, the legendary basketball player Michael Jordan, now almost 60 years old, did not suddenly start skateboarding. The Jordan Brand wants to enjoy the hype a little bit longer and that's why, in my opinion, the OG colorway on the AJ1 hasn't been brought back on purpose yet.
Well, while we are all still waiting for the Air Jordan 1 'Chicago', we can at least look forward to the Dunk Low in the Chicago Bulls look! And I think it's just as good as the Jordan 1! Let's take a closer look at this beautiful pair:
Nike SB Dunk Low J-Pack 'Chicago' - The details
As I mentioned before, we get the AJ1 'Chicago' Colorway on the popular Nike SB Dunk Low silhouette. Best of all: The sneaker comes with the exact same colorblocking as MJ's first signature basketball shoe, and even with a full smooth leather upper. 100% authentic to the original! On the overlays, as well as on the outsole, the shoes got the iconic 'Bulls'-Red. The white base + white midsole provide the necessary Jordan touch and contrast harmoniously with the swoosh, heel elements and laces, all in black! A pretty simple colorway with a lot of history in it! 💪🏼
A must-have! Do you agree? Trust me, you don't want to miss this. Our list of retailers that will sell the shoes is constantly being updated. Be sure to check our >>Release Calendar<< and/or our >>Sneaker News<< more often in the near future! Here we keep you up-to-date and let you know as soon as we have more info and pictures! ❤️