What's up Community, I hope your weekend was as outstanding as mine or even better, although I don't think that's possible😎. However a new week also means new releases again. This week we'll start of with the CONVERSE X FOG SKIDGRIP HI. After the three Chuck colorways the Fog essentials recently released, the next one is right behind it, only this time on a Skidgrip.
Here are the release infos real quick, before we go more into the details of the shoe
Release Info
Release date: 27 August 2020
Price: 120€
Retailer:BSTN, End 
You can find an always up to date store list here: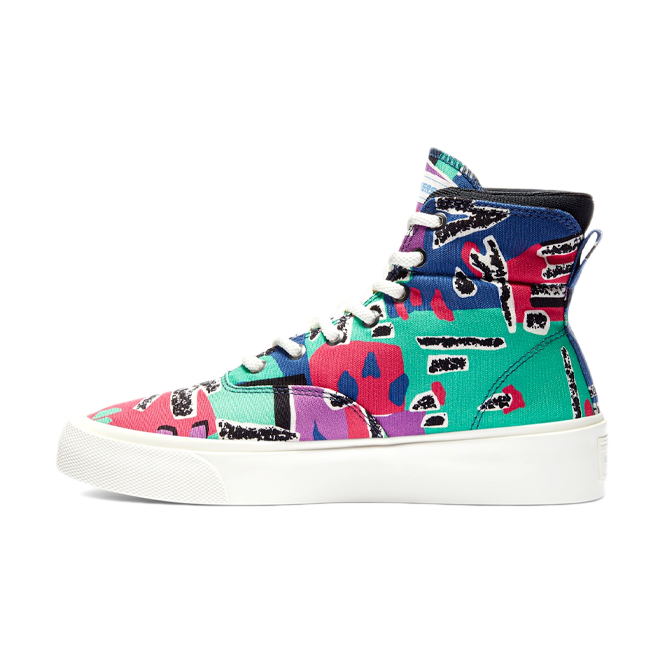 From the tennis court 🎾 onto Skateboards 🛹
110 years the Skidgrip has been around for now. Initially called Converse Circular Vamp Oxford (CVO), the shoe evolved over time from a tennis shoe around 1910, through the basketball courts, which it dominated in the 1920s, to a boat shoe in the 1960s, to a skate shoe in the 80s. After becoming a skate shoe Converse started with colorful prints on the Canvas Upper in 1986. With this in mind a high top version was launched was launched just a year later.
Fear of God founder Jerry Lorenzo bought one of these colorful Skidgrips in a mall in South Florida. As he says it was his favorite shoe for one summer. Jerry found exactly this sneaker a few years ago in a vintage store in Tokyo. Due to that, all the memories of that summer came back. It was this emotional connection ,that made him do a Converse Collab on this model.
Retro Florida Vibes 🏝 from Jerry Lorenzo's childhood in the design of the Converse X FOG Skidgrip HI
The main goal was to feel the same vibes, when looking at your shoes, as it was the end of the 80s. In Jerry Lorenzo's opinion this has been achieved. The silhouette is a mix of the OG Skidgrip and the Fear of God 101. The upper features a colorful print, like it was in the late 80's. All in all the Converse x FOG Skidgrip HI delivers a very nice comeback for the Skidgrip
What else has been released this week can be found in our release calendar and everything else about Sneaker can be found >>>>here<<<.