"Two things weighed on me. On the one hand, social expectations and customs were on my chest, and on the other hand, I didn't think I was beautiful myself. That wasn't me when I looked in the mirror. Today I am who I have always been. I can wear dresses and skirts if I want and equally loose T-shirts and baggy jeans if I want; I can play with make-up if I want."
Ashley doesn't fuss or dodge, on the contrary. She jumps straight into 2015, when she told her family and friends that she wanted to become a woman. At that time she was 25 years old and thought she had hidden her feminine side as a man well until then.
It's not a sad story, it's a good story. It doesn't always have to be sad. "We are not always traumatised, we are human beings. Just human beings. We want to live and we want to fight."
Ashley is now 31, a trans woman, lesbian and sneaker lover. I meet the Dutch woman, who comes from near Eindhoven, via Zoom.
When did you decide to become a woman?
In 2015, I first came out to my family and then told my friends that I wanted to become a woman. My family reacted very well, my mum was extremely supportive. They said they would be happy if I was happy.
With my friends, I had more reservations at first. I was in a group with almost exclusively male friends and always had the feeling that I had to be a 'real man' with them. But in the end I made a bigger deal of it myself than they did.
When did you know you were a woman?
To be honest, I knew that for a long time. I think it started when I was in eighth grade and about 12 years old. My classmates started to become more feminine, to simply puberty. I kind of made trouble because I was different and always jealous of the girls. But I was much too shy to tell anyone and rather thought I just had to stand my ground.
In fact, I asked my grandmother at the time what I had to do so that I could also wear a skirt. But she didn't go for it. She belonged to a different generation and the time was also different. We hardly had any role models, there were very few trans people in the public eye.
So when I was 14, I started to suppress my feelings. I drank and I smoked weed. Just to forget myself, me and the fact that I don't fit in here. In the expectations and in my body. In 2012, my grandparents died. It hit me so hard and suddenly all the feelings were back. Their death opened my eyes: life is short.
"Why should I live a life that others expect of me. It is my life. My choices. I don't have to live for someone else."
In 2013, I finally went to the hospital and spoke to a therapist. A year later they had a place for me and I started to become a woman.
I regret today that I wasn't honest with myself and the world sooner. If I had a time machine, I would definitely get in and speak the truth, even as a child. That's why I also share my story, to encourage others.
What happened then?
In 2015 I started taking hormones, in 2016 I had my gender reassignment surgery and then in 2017 I had my breast surgery. I also had my beard and arm hair removed with laser treatment and hair transplants because I was already a bit bald. I also took speech lessons so that my voice would sound more feminine.
"It was the scariest and most painful thing I've ever done. I also had complications because I wanted too much too fast. But here I am and I feel complete now. Now I am a normal woman."
The insurance company took over the operational costs, but I did not feel complete on my own. Everyone is different, so everyone goes his or her own way and therefore needs individual (financial) support. Gender reassignment yes, but only under the conditions of the insurance and under the conditions of the hospital.
Among other things, this is the problem of the monopoly position of the hospital in Amsterdam. It is the only one that performs gender reassignment surgery in the Netherlands and can therefore get away with too much. Many mistakes are covered up, because patients do not dare to say anything. They depend on the treatment and therefore don't want to risk anything, even if they are unhappy with some steps. Moreover, there is not a single trans person working in the department, because they would not make the right decisions, the hospital says.
The Dutch account @vugendermistreatment tells the stories of people who were treated but also mistreated there.
The waiting list has also increased from over ten months for Ashley to around 18 months. On the one hand, this is good news because more people are daring to be themselves, but this must also be followed by action. More hospitals, more therapists, more treatments. For this, too, she recommends a Dutch account @damnhoneyhetboek. It is very important to her to draw attention to these injustices.
You said that you used to feel the pressure of society as a heavy burden. How is that today?
I am very lucky because I have experienced nothing. No rejection, no ridicule, no hostility. People just looked at me a bit funny sometimes because they didn't understand. But unfortunately I also know some people who have experienced other things.
The way I am, I don't hurt anyone with that. Everyone should just be themselves and do their own thing. Let people live their own lives, it's none of your business and no one needs to have an opinion about the other person's decisions. Let's just let everyone be.
I worked in the fashion industry for a long time until just before my transition at Foot Locker. They would have supported me, but at the same time they would have been worried about me, that I could get hurt if I stood in the store and customers would insult me. Then I was unemployed for five months and worked on myself. Accepting myself, letting my feminine side out and finding it good. That was what I wanted, to stop hiding.
Today I am simply a woman. As soon as that was clearer, people could assess me better again and meet me more informally. In my Tinder profile I tried both: with and without the transgender association. When I later told my matches who I was, many were cool with it at first and then broke off contact. Somehow I also assumed at first that men wouldn't want me. I tried to date men, but then realised that I couldn't imagine anything in the long run. Today my profile says that I am transgender and I date women. My matches now don't make a fuss about it.
Let's move from the big love to the 'little' love, your love for sneakers. Tell me.
Yes, that also started when I was a child. At that time I lived with my grandparents, who only allowed me to wear sneakers for sports. They thought that sneakers were bad for the foot and therefore for development. This made my love a bit bitter, because everyone else was always allowed to wear the kicks. Nevertheless, I always wanted sneakers for my birthday and Christmas. Then, when I earned my own money, I wore nothing else. I even went to different cities looking for special sneakers.
My heart belongs to Nike, that's for sure. When I was little, a family friend worked at Nike and I used to get little gifts from him. Nike pins or something. My favourite models are the Jordan 1 Mid and High, AJ 4 and 5, Dunk Low and Dunk SB Low, the Air Max 1 and the Nike Huarache.
Nike Air Max 1 Premium 030 | 512033-030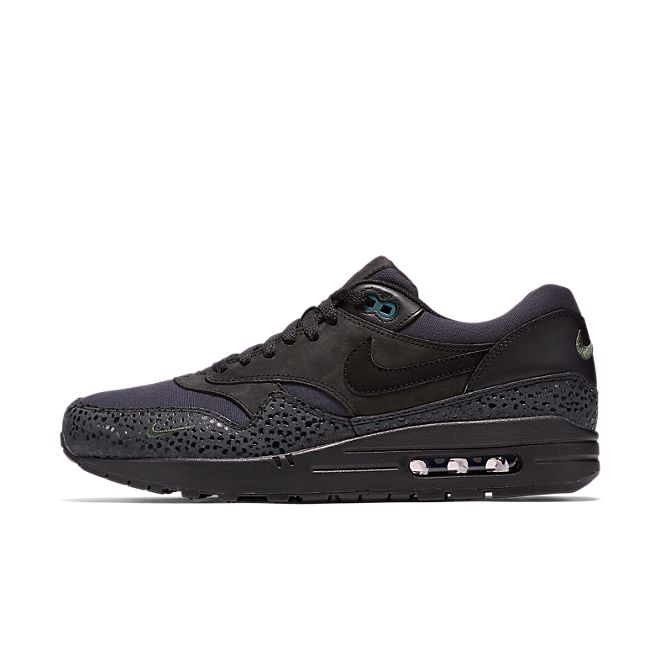 Air Max 1 Premium 'Strawberry Lemonade' | CJ0609-600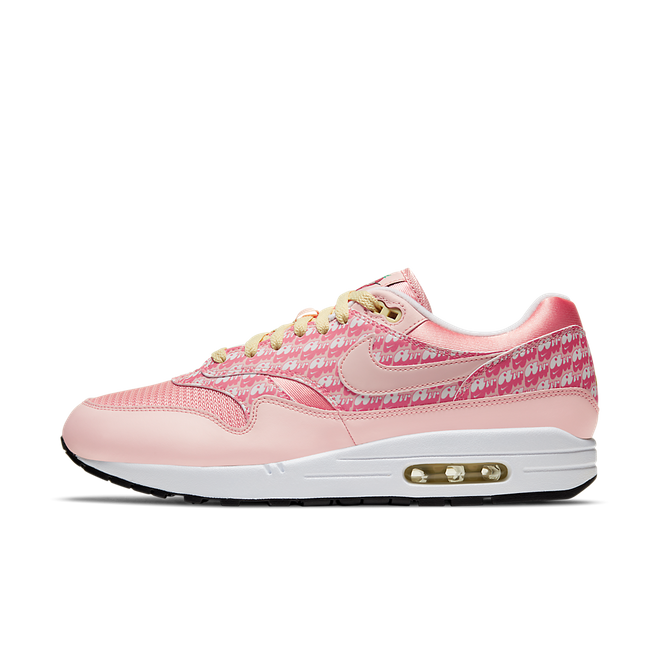 Nike Air Max 1 Premium 'Lemonade' | CJ0609-700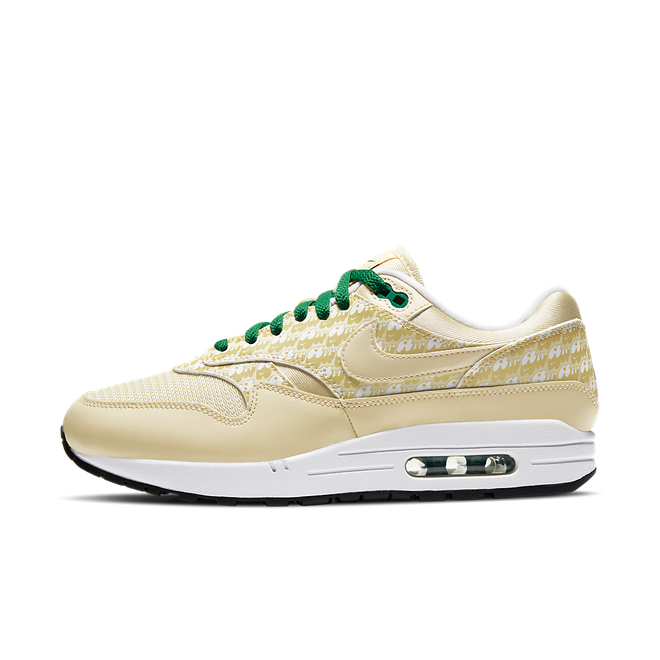 For my outfits, I like to put my shoes in the spotlight. This includes all sneakers, even the ones I bought when I was still a man. I especially love prints, but I have both dark and bright and eye-catching colorways. On my wishlist are the AM1 Elephant and the Dunk Elephant.
Just two days ago (that fits quite well now when I say my heart belongs to Nike) I bought my first pair of adidas. I was shopping and saw the Ozweego, but I put it away. But I couldn't get it out of my head, so I got it anyway. It reminds me a bit of the Yeezys, of which - even though I don't like Kanye - I still want to get a pair at some point.
Do you think the sneaker scene is inclusive (enough) or do you have a wish for improvement?
What I find really stupid are the WMNS releases, or rather the differentiation between mens and WMNS sizing and colours in general. If the brands want to set a big example, they could just do one sizing in the future. I know women with big feet and small feet and I know men with big feet and small feet.
Dear Ashley, thank you so much for the interview, your story and your honesty. All the best for you!