Adi Dassler's famous brand with the three stripes has been a big name in the sports world for years! With the top novelties in sports for women at adidas, we want to take you into this world today. We will introduce you to various products that support you during your training and that are optimally designed for different units. The adidas brand not only supports professionals like David Beckham, Lionel Messi or former tennis player Stan Smith, they are for all of us and inspire us with its sportswear.
The products we present you today, have something for every type of training! You can also shop for your favourite parts by clicking on the respective picture. Have fun browsing!
adidas 4D Run 1.0 Shoe
How could it be otherwise, I would like to start our selection with a shoe! The adidas 4D Run is the latest model in adidas sports footwear and comes with a special technology in the sole. It is designed with a 3D printer and its mesh structure provides optimal cushioning and support in the most important areas. We have selected a classic in white with black, but you can also find other colorways by clicking on the picture. The design of the sneaker is based on data collected over the years and makes the sports shoe an innovative companion, no matter for which training. Get the shoe here for €199,95/£169.95: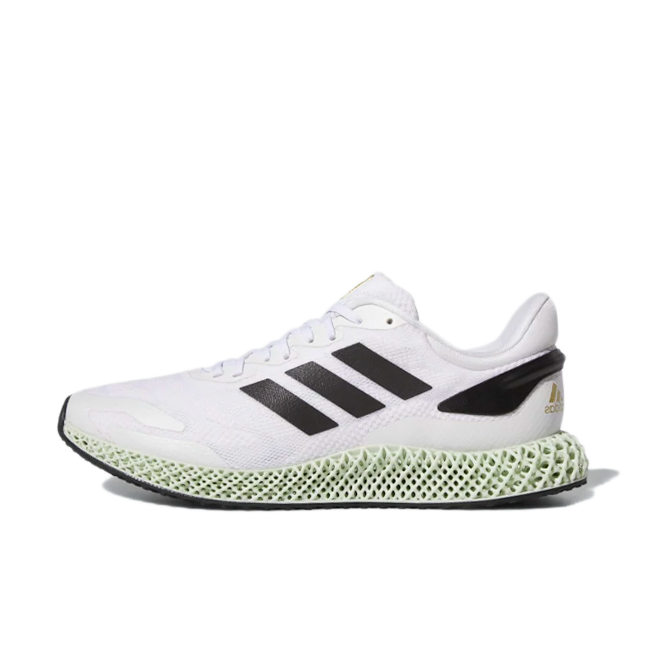 Feel Brilliant 7/8-Tight
Also a leggings may not be missing of course. No matter if you are doing yoga, train at the gym, at home or running, this tight is perfect for any kind of training. The figure-hugging cut and the fact that it goes along with every movement characterize these pants. They are also made of moisture-absorbing material and keep you cool and dry during every workout. The flat waistband makes a comfortable feel and the grey mottled trousers with three black stripes are also visually appealing. And the best: they are also made of recycled materials. For only €35,96/£30.36 the tight is yours, because it is currently on sale.
Don't Rest Alphaskin Sport Padded Sports Bra
This sports bra offers you good support and a comfortable fit. It also regulates the temperature and moisture perfectly thanks to the breathable Climacool technology. Alphaskin stands for complete freedom of movement and the mesh upper material also guarantees an airy wearing comfort. This bra is also good for the environment because it is made of recycled material as well. The right sports bra is essential for a good workout! This version is versatile and supports many different sports and exercises. The new part is already lowered and you only pay €24,47/£20.97.
Run T-Shirt
Also a chic and above all functional good sport shirt should not be missing in our selection. We have found this shirt among the adidas sports novelties for women. Light, loose in fit and super comfortable to wear due to its soft material. Whether for longer runs or strength workouts, this shirt with the well-known Climalite technology is the perfect companion. It is breathable and also an eye-catcher. Thanks to its color it fits to many of your sports outfits and it also has some reflectors in case you are running late again. €20,97/£17.47 and the style is yours. Just click on one of the pictures:
Badge of Sport Jacket
Whether after training, or during the bit fresher days, with this jacket you are well equipped. The hooded jacket has a high collar and is also made of a very soft material which makes it very comfortable to wear. At the back, the jacket has a pulling system, so you can adjust it the way you like it. Tighter when it's windy or looser when you want to throw it on quickly. The jacket will also help you train and it fits perfectly with the tight we have already introduced to you. €52,47/£44.07 cost you the all-rounder jacket:
Cloudfoam Plus Stripes Adilette
But the name adidas can do even more: Finally, we have an Adilette in ours, because that is also a must in the world of sports. Whether in the shower, after training or on the way there. And not to forget: Even in everyday life and especially now in summer you have a stylish friend, also independent from sports. But of course you can also use it for swimming, training or when you're recovering from sports with wellness! The Cloudfoam cushioning makes the Adilette a comfortable companion, which is pleasant to your feet. Relaxation and comfort and on top of that good style for only €27,97/£24.47:
That was our small selection of sports novelties for women from adidas. Was there something for you? If you haven't found what you're looking for, click on the button below to return to the adidas Sport women's page and see for yourself.
The Dassler brothers shoe factory paved the way and today adidas not only revolutionises the world of sport but also fashion. Keywords here are Kanye West, adidas Superstar or Pharrell Williams and many many more. Have a look at our Newsblog under the keyword adidas and you will get a lot of information about the brand with the three stripes!