Summer is approaching, the world is once again colored in the most beautiful tones and everything is brought back to life. ☀️ Exactly that's the way it's happening in the sneaker world and a really good example is the Tokyo Design Studio x New Balance 'R_C1300TF'! Not the lightest name, but the shoe definitely has it all.
Several collabs adorned the coolest silhouettes of New Balance in the last weeks and months. And what's more, with this gem, New Balance clearly proves once again that the brand has no problems dealing with the competition.
If you already know the beautiful couple and know that you absolutely have to have them, you can get the release information immediately. For all other interested sneakerlovers I have a short overview about the used materials and other details. There is also a short #TheCrew Background Check. And of course I have more pictures of the new New Balance Sneaker for you! ??
Release Infos
Tokyo Design Studio x New Balance 'R_C1300TF' is celebrating its release to coincide with the sneaker season, i.e. the mostly sunny days on which you hardly have to worry about your kicks. To be exact on April 25, 2020 at midnight. You can get the sneakers for €195 at selected retailers. By clicking on the button below, you will get directly to a list of all retailers. The list is updated daily, so check back often! ⬇️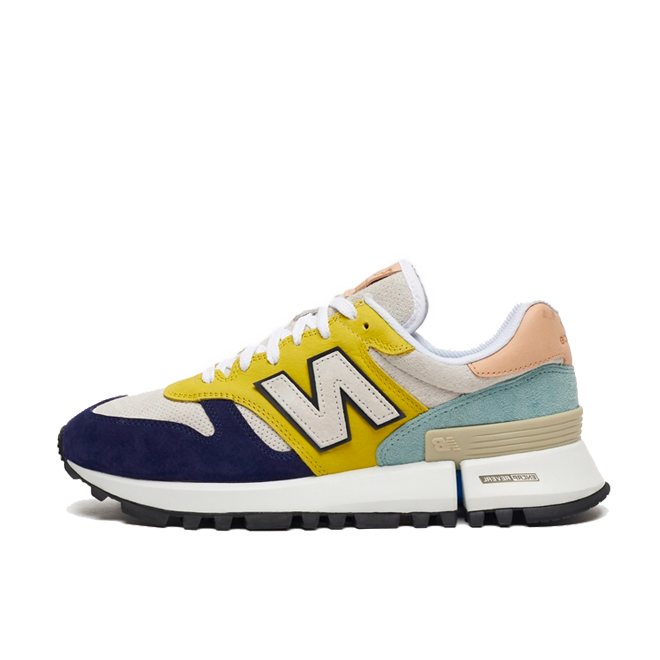 Tokyo Design Studio x New Balance 'R_C1300TF' - #TheCrew Background Check
You won't get an extremely far-fetched history lesson from me about New Balance and Tokyo Design Studios. No, I'm just giving you the facts about these two "collaborators" in a nutshell. Let's go:
Maybe some of you wonder why I already put the term "collaborators" in quotation marks above. If not, okay haha. But there was a reason for that. Because what is probably recognized here as two brands and is also represented by the typical "x", which normally separates two or more actors, does not describe a collab as you know it. Because Tokyo Design Studio is not a separate brand. Simply put, this name describes the New Balance Design Studio team from Tokyo, who had their fingers in the pie when designing this model.
"New Balance's Tokyo Design Studio is all about combining performance technology and contemporary design in a simple way that remains true to its sporting heritage."

END. Clothing
Tokyo Design Studio x New Balance 'R_C1300TF' - The details
First launched in 1985, the New Balance 1300 was a legendary running shoe, thanks to its lightweight, durable upper and extremely comfortable "Abzorb" midsole. Despite this, we all unfortunately did not have the pleasure of celebrating many releases of this silhouette in the near past. We cannot explain to you or to ourselves why the US sporting goods manufacturer has not given us any new color schemes for the New Balance 1300. But anyway, we are all the more pleased that it seems that things will be looking up again this year with the 1300! ??
Now we can even look forward to a modernised version of the Silhouette. New Balance's Tokyo Design Studio focused on incorporating high performance technology and contemporary design. The first step was to expand the stock of the standard version of the 1300. Instead of the conventional ENCAP midsole, no technology was spared here. Both shoes have been fitted with the modern, two-piece Abzorb and Encap midsole from New Balance! This means comfort at the highest level!
Now let's move on to the upper:
The color scheme of Tokyo Design Studio x New Balance 'R_C1300TF' shows an asymmetrical color scheme of the two shoes. In other words, both shoes basically have the same color blocks, but in different placement with a few exceptions. First, each shoe starts with a soft, oatmeal-colored mesh base, which is reinforced by a navy blue mudguard. From here on, each shoe is already changing into different colored quarter panels. The right one shines in a bright mustard yellow and the left one in light pastel green. On the heel and tongue labels a veg-tan leather was used to achieve a touch of luxury. A black insole with the Tokyo Design Studio branding completes the look.
More New Balance 1300!
In case you haven't noticed, the silhouette of the New Balance 1300 is currently a very popular one. Many collabs adorned the good shoes, and so did the well-known brand Levi Strauss & Co.
You haven't seen this collaboration? Well, hurry up. The shoe will even be released this weekend! With the following link you can read all about it in one of my last blogs: Levi's x New Balance M1300 'Orange Tab'.
Last but not least you get the pictures of the new Tokyo Design Studio x New Balance 'R_C1300TF' I promised you. Enjoy!