UPDATE April 17. 2020: Tomorrow the two beautiful Casablanca x New Balance 327 'Idéaliste' will celebrate their release! Quickly check our Release Calendar. There you'll find a list of retailers who will sell these gems. We wish you a lot of success in getting them and are looking forward to the release of this cool collab! By clicking on the button of the respective shoe you'll get directly to the retailers list. ⬇️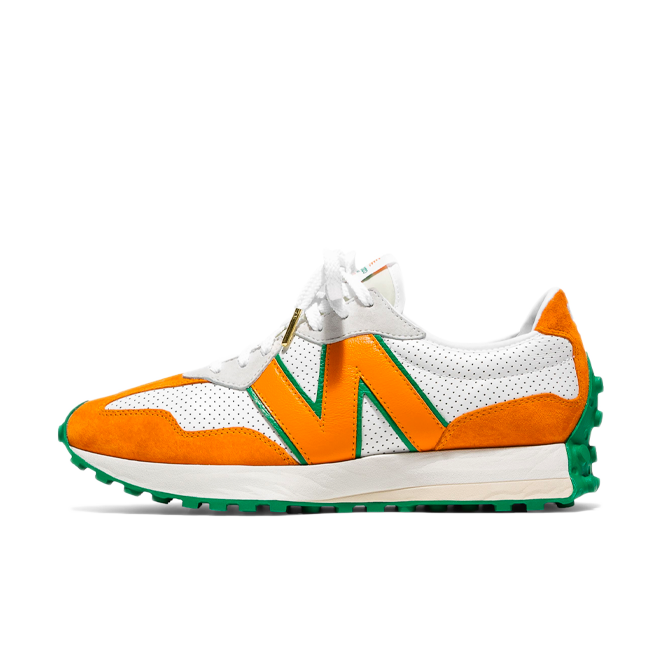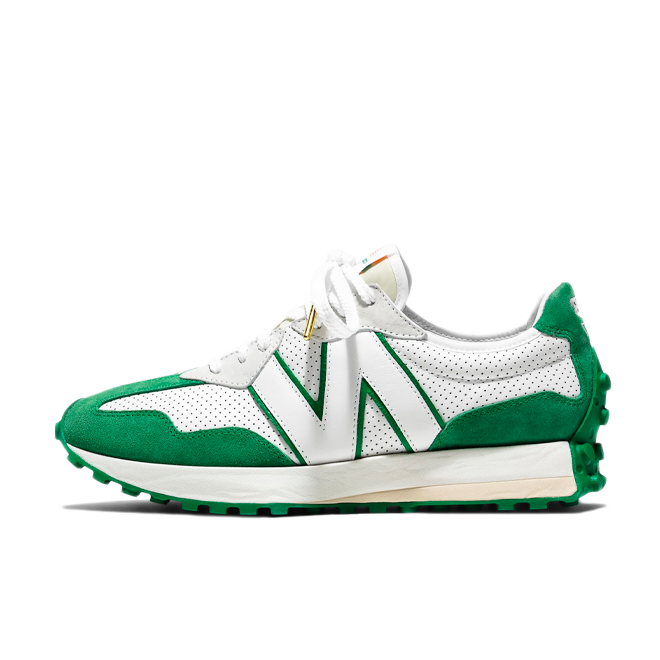 After the release of the two summer Casablanca x New Balance 327 'Idéaliste' was postponed due to current events around the world, we finally have a fixed date. The cooperation of the young Parisian fashion brand Casablanca and the well-known sportswear manufacturer New Balance. On a brand new silhouette, should celebrate its release already on April 4, 2020. But we were (unfortunately once again) put on hot coals and had to wait for a new date, the two beautiful 'Idéaliste'.
Luckily we all have the chance now to treat ourselves to the jewels of this collab just in time for the beginning of the warmer days! When…? Both the green and the orange Casablanca x New Balance 327 'Idéaliste' will be launched on April 18, 2020! Where…? Except for the information that the shoes will be released at selected retailers for €150 - ONLINE ONLY - there is no more available. But of course we will keep you up to date as always and you will be informed as soon as we know more. ??
If you are just getting interested in this collaboration and want to know more about it, you should read on now. Below I have some cool background info and of course pictures of these two gems.
Casablanca est. 2018
As you can see from the headline, the fashion brand Casablanca has not been around for that long. But the brand of founder & creative director Charaf Tajer has established itself very quickly in the fashion world. This is not least because he is the "partner in crime" of Stéphane Ashpool, the founder of the Parisian streetwear brand Pigalle. (Pigalle is known for its basketball inspired clothes and the coveted sneaker collaborations with Nike) Charaf Tajer has worked with Mr. Ashpool in the past and also with greats like Virgil Abloh. Having always had his fingers in the pie behind the scenes. Tajer catapulted his own menswear brand Casablanca straight into the world of high-end fashion in 2018. His collections then quickly found their way to the most famous fashion shows. And now a sneaker collaboration with New Balance is being considered. Nice!
"I just wanted to go fully in my direction, show who I am and fully show my aesthetic. That's why I created Casablanca."

Charaf Tajer (Founder of Casablanca)
One thing is particularly important to the native Moroccan: He wants to incorporate both his Moroccan and French roots. He describes his brand itself, additionally as an effortlessly cool menswear line that combines comfort and elegance with a touch of irreverence and humour. Charaf has definitely achieved this goal in this first, already released, "Só Alegria!" collection. It includes everything from printed button-ups, t-shirts, linen suits and terrycloth tracksuits.
My conclusion
Personally I am overwhelmed by these two shoes, although both present themselves in a rather plain colorway. My fascination may also be due to the fact that this is a completely new silhouette of New Balance. Or also because the whole vibe of the collection reminds me of a beautiful summer ?. I would like to chill out at the pool in Morocco with a fresh tangerine juice in the bright sunshine! ?
So, and while I continue to dream, you can get the latest info on other top sneakers. Check out our Newsblog and/or our Instagram profile. I hope you enjoyed my blog today and you are as hyped on these kicks as I am! Enjoy the rest of the sunny day and please stay at home on your balcony. Because the hot summer is approaching and we all want to go out and enjoy the weather with a clear conscience soon. ?