The new Air Jordan 7 PE 'Hare' release date is out! On April 8, 2020 at 09:00 a.m. it will be released and costs around €250. What can we expect and is the shoe the right one for you? You will find all these information here in this blog, so stay tuned. You can have a look at the retailers by checking the button below, if you already have informed yourself.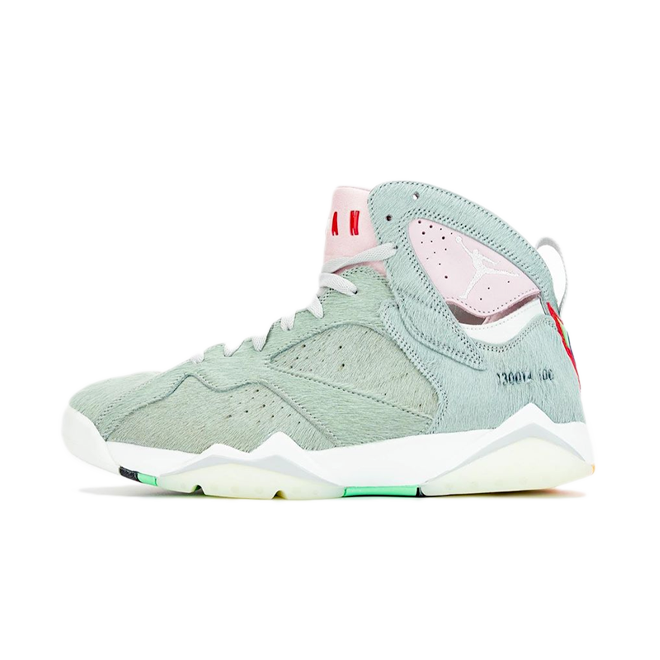 As you can see in the title, this Air Jordan 7 was inspired by Bugs Bunny. The Air Jordan 6 Retro 'Hare' is coming soon too. Yes, whoever thought so, was right - you can read more about it in Dina's blog 'The Air Jordan 6 Retro Hare is coming!' There you can get a closer look at the collab between Jordan and Bugs Bunny - keyword: The movie 'Space Jam'. But back to the new Air Jordan 7 'Hare'!
#TheCrew Background Check
The silhouette of the Air Jordan 7 series first appeared in 1992 and the Air Jordan 7 became famous because of Michael Jordan. He led the 'Dream Team' with this shoe to victory at the 1992 Barcelona Olympics. The design of the shoe was inspired by the famous rabbit 'Bugs Bunny', here is a little 'Easter Egg' for the Air Jordan 7 silhouette. Check out the video below!
And have you seen the music video? In the video you can see the two most famous 'MJs' and also the Air Jordan 7! Actually this is a really weird video, but hey, what can you find on the internet these days!
Hare 2.0 Air Jordan
As you already noticed in the beginning, the Jordan 7 'Hare' will be available for the retail price of €250 and the release date is set for April 8, 2020. Let's have a closer look at the shoe. It has a pink colored tongue and part of the ankle. The iconic 'Jumpman' icon is kept in white and the rest of the Jordan is covered with a grey/greenish fur except the sole. But most people will notice the numerical code '130014-100'. Most of you already know that this is the style code of the old Air Jordan 7 den 'OG Hare'. For all of you who want to know what 'OG' means. The term 'OG' stands for Original, the first release of the colorway from the shoe. That's it for the Air Jordan 7 PE 'Hare'! Below you'll find the pictures of the new Air Jordan 7! Enjoy!
If you don't like the Air Jordan 7 PE 'Hare' and you'd like to buy another sneaker - check our Release Calendar. Here you'll find the latest drops! Otherwise you can also check our Sneaker News page for something new, because we always keep you up to date! That's it folks!