"AIR"; a film about Nike, and Michael Jordan. I see we have your attention. It's about one man's gamble as he puts his reputation, and that of the company, on the line in the hopes of signing the superstar college player. The Warner Bros./Amazon Studios film takes us back to that period in 1984, when Nike Marketing Executive Sonny Vaccaro took a chance on Jordan who, at the time, had not yet set foot on an NBA court. It's a film both basketball fans and sneakerheads around the globe have been eagerly awaiting, but it's also a film with global appeal.
The All-Star cast of 'AIR'
Award-winning Director Ben Affleck stars as Nike founder Phil Knight. Alongside Affleck is a stellar cast including Matt Damon as Nike Marketing Exec Sonny Vaccaro, Jason Bateman as Director of Marketing Rob Strasser and Matthew Maher as sneaker designer Peter Moore. Chris Tucker also joins the cast as Howard White, who joined Nike in 1978 as a Field Representative and in 1984 played an integral part in bringing Jordan to the Beaverton brand.
Viola Davis and Julius Tennon are perfectly cast as Jordan's parents. It was a request from Jordan himself that Viola play his mother, and we see them bring their real-life dynamic as husband and wife to the big screen. And, although questions have been raised about the absence of Jordan himself from the film, Affleck had good reason to not saturate the film with his presence. He stated that with MJ being a global icon, it didn't make sense to bring him into the film, nor did it seem fitting to try to have an actor live up to the unfillable shoes of the man himself.
Jordan's humble beginnings
As the story goes, Michael Jordan, who didn't make his high school sophomore basketball team, still made his way through the ranks to dominate for the North Carolina Tar Heels, carrying them to become the 1982 NCAA champions. Come 1984, the Chicago Bulls were ready to pull the trigger, and nabbed the six-foot-six shooting guard as pick three in the first round of the 1984 NBA Draft. A signing that would bring the historic Bulls team great success in the years following.
Jordan began his career claiming Rookie of the Year in the 1984/85 season. He would then go on to successfully accumulate almost every accomplishment in the NBA, with six championships, five regular season MVPs and six Finals MVPs, to name a few.
Risk-taking
Before all this, although a great basketball player, he had not yet proved himself on the big stage; the NBA. Nike Exec Sonny Vaccaro knew Mike Jordan (as he was known back then) was the man to save the brand that had recently seen a slump in sales, as he had been keeping an eye on him as his college career progressed. As we now know, the right decision was made to sign Jordan, although both Nike founder Phil Knight and Jordan initially took some convincing.
When discussing who the brand should be signing that year Vaccaro simply said "Give it to Jordan". And they did. MJ would land a five-year deal consisting of $500,000/year, 5% royalties, and his own line of sneakers. Unfortunately for Nike, no one had the foresight to drop the percentage royalties promised to Jordan after any number of years, so as you can imagine, the Hall of Famer would end up doing quite well out of the deal.
Negotiations
Signing Jordan wasn't as simple as it sounds. He had worn Converse when playing for the North Carolina Tar Heels, and had always been a fan of adidas. He liked adidas so much that he even wore them in college practice when the team was sponsored by Converse. The problem for Jordan was, Converse said they already had future Hall of Famers Larry Bird, Dr J and Isiah Thomas and therefore, no room for Jordan. Spot-Bilt, (who would later become Saucony) matched Nike's offer, but were unable to match the $1m marketing spend promised by Nike.
adidas said they were concentrating all their efforts in Europe and didn't see the point in spending time and money on the US market. They didn't even make an offer. MJ even gave adidas a second chance, returning to them after receiving Nike's offer to see if they would match it. They didn't.
Mom to the rescue
So averse to signing with Nike, Jordan wasn't even going to entertain Nike's interest by agreeing to a meeting. Once his mother Deloris had convinced him to meet with Nike, they did everything they could to sign him, even playing a tape of his highlights to the Pointer Sisters song 'Jump', just to make the message clear that they were the brand for him. Fortunately for Nike, Deloris stepped in and insisted he take the deal. The meeting ended with Jordan's mother saying 'Don't worry, Michael will be wearing Nike.' His father agreed, telling his son he'd be a fool not to sign.
Jordan signed on the dotted line, and began his sneaker journey with the release of a Peter Moore designed shoe, the Jordan 1. Nike projected the sneaker line would bring them sales of $3 million in the first four years. In the first year alone, they took in $126 million. Before they knew it, Nike couldn't manufacture the sneakers quick enough to meet demand. And the rest is history.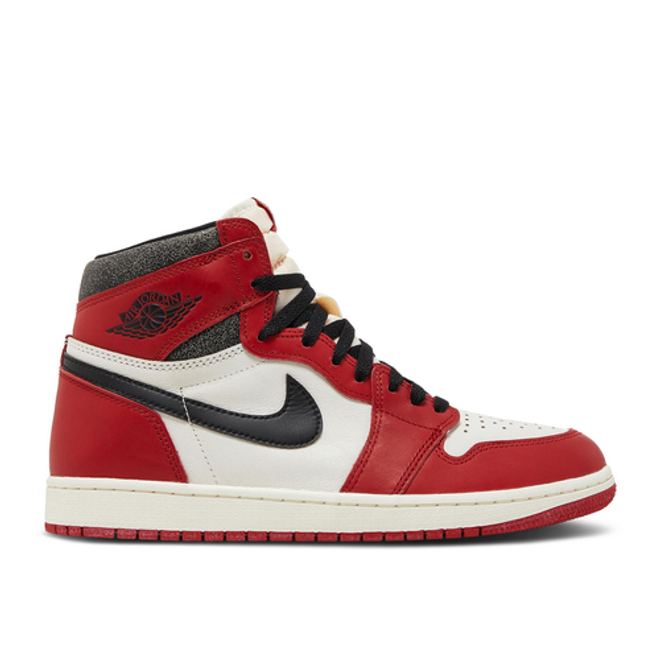 'AIR' hits cinemas from April 5, 2023 in the United States, and from April 13, 2023 in Europe. So lace those sneakers up and get in line.