Really we get another Nike 'garbage' sneaker… - this time it's the Air Jordan 1 High Zoom Crater! Before we start with the Kickz, I have to say something: Nike is currently releasing one sustainable shoe after another and here's an overview:
It all started with the Space Hippie Collection and then they dropped the 2nd Colorway of these series. But apparently this was not enough for Nike and more Colorways were released for the Space Hippie 01, 02, 03 and 04. Beside the Nike Air Force 1 Crater which was released as GS Release, comes now the Nike Canvas Pack - consisting of the Air Max 90, 2 Air Force 1s, an AM95, etc.
The latest trash release is the Nike VaporMax 2020 and now we're getting the Air Jordan 1 High Zoom Crater? Apparently Nike has a lot of garbage lying around 😅! But yeah, you do something good and we celebrate the sustainable kickz too! Oh yes, below you can find the button to the Kickz! If you click on it, you'll get to our Retailer List!
By the way: The Kickz will probably be released at Jordan and selected retailers. The release date is August 28, 2020 but the shoe will be later released at other retailers!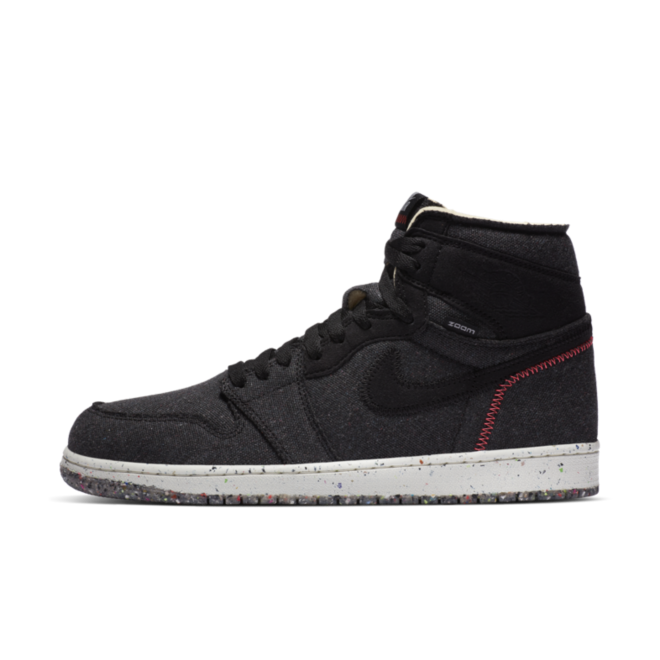 Sustainable Air Jordan 1 High Zoom?
In addition to the Air Jordan 1 release, it is also rumored that a Jordan Crater Slide is coming. However, no retailers have announced them yet, but yes now to the AJ1!
Inspired by life on Mars' this AJ1 was created! These kickz come in a black Colorway or to be more precise, in a 'Black/Wolf Grey-Flash Crimson' color. The Kickz scores with recycled polyester and the synthetic suede upper. Also, the now infamous Nike Foam sole is integrated - the sole is made of other recycled Nike Kickz. Like the Off-White x Air Jordan 1, the Heel/Anchor Collar has an exposed foam.
That reminds me! Do you know why this AJ1 model's name include 'Zoom'? The AJ1 Zoom have a better cushioning compared to the normal AJ1s. Yes, that's it for the Kickz. Images of the Air Jordan 1 High Zoom Space Hippie can be found below! Let's Go!