*ring* *ring* *ring* 'Kanye West just called, the adidas Yeezy Basketball 'Quantum' is about to drop and will soon storm the NBA court! Before we get into the nice story, you'll get the facts where and when you can crop the shoe!
The new adidas Yeezy Basketball 'Quantum' will be available on May 15, 2020 at 08:00 am for €223 at certain retailers! You will also find the nice kickz on the adidas App soon! So keep an eye on the app or just click on the button below and set a 'Release Alert'! Just leave your email and as soon as the shoe drops, we will send you a nice reminder!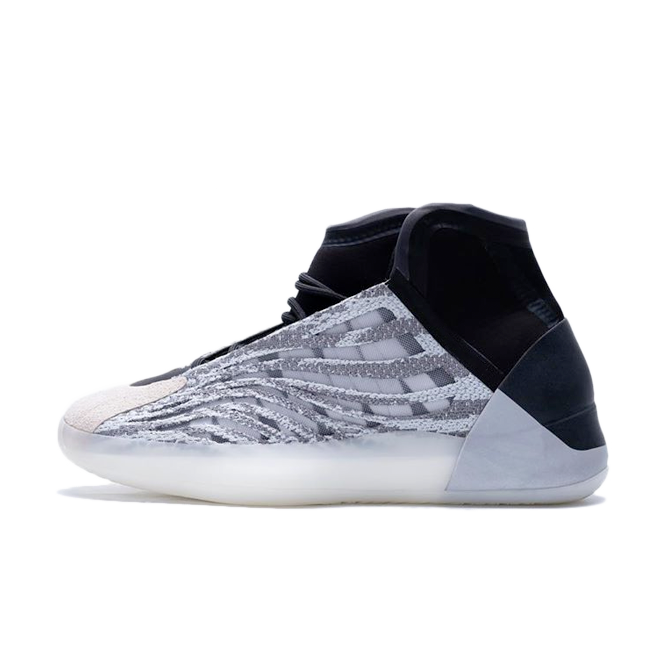 The not 'Basketball' Yeezy
Dear community don't be confused, this Yeezy isn't quite the same than the adidas Yeezy 'Quantum'! Where the two models differ, you'll find out in the next chapter! Otherwise you can read more about the release of the Yeezy 'Quantum' lifestyle model here.
Back to the not 'basketball' model - the sneaker was already released on February 15! Kanye came up with something very fancy, because the boy released the 'Quantum' lifestyle model in Chicago! What is so special about Chicago? It's not the place, but the way he released the nice kickz! Kanye West had his Yeezy amphibian vehicles cruising through the city in a nice way. The people only got the shoe by exchanging their own shoes for the Yeezy! But not everyone got the shoe, because not all sneakers were taken, but only certain models. IG Post about the event can be found down below!
By the way: The Quantum release took place at the 'All Star Weekend'! You also want to hear more from Kanye West? Then take a look at 'Kanye West Yeezy Story Triology' here!
Yeezy 'QNTM' or BSKTBL 'Quantum'?
Kanye has already scored with his adidas Yeezy Boost 350 V2 series and created a huge hype! Both models look confusingly similar. The upper is made of adidas famous primeknit with a zebra like-print pattern. Both shoes also benefit from the adidas Boost sole, which cushions everything and a plastic cage! The two shoes differ in the cage! In the BSKTBL 'Quantum' model the color of the plastic cage is 'milkier'! Pics of both models can be found below (left: Lifestyle model and right: BSKTBL model)
By the way: Do you want to know more about the outstanding adidas Boost? Then read Josy's exquisite blog 'adidas Ultraboost - The technology behind the shoe'!
Solo pics from the Lifestyle model
That's it for the Yeezy 'Quantum' if you're not a fan of the model after all, then take a look at our Newsblog! There we always cover the latest sneakers and you will surely find something for sure!