Stüssy was originally founded in California as a surf brand by Shawn Stüssy, who started putting his signature on surfboards. He later expanded to T-shirts and other garments and soon attracted the attention of international skaters, musicians and artists. Today, in Europe too, Stüssy is an indispensable player in the streetwear scene. Below you can find the 10 best and most popular Stüssy items available on StockX.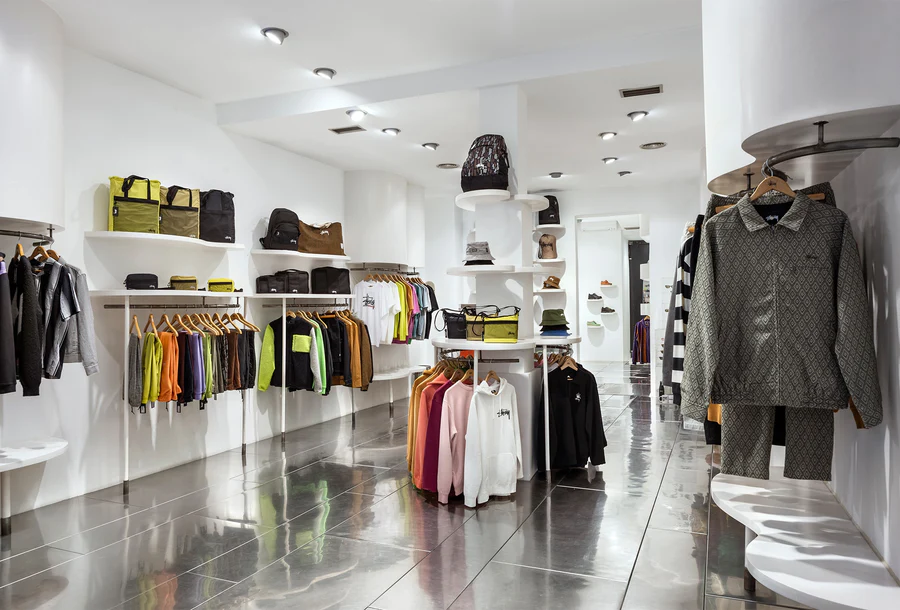 Stüssy x Nike Air Force 1 Mid 'Fossil'
The first item on our list is from one of the many successful collaborations between Stüssy and Nike. Together, these brands have released various sneakers, garments and accessories, resulting in the most exclusive items, such as the Stüssy x Nike Air Force 1 Mid 'Fossil'.
This sneaker is inspired by the 2020 Stüssy x Nike Air Force 1 Low 'Fossil'. But this time, the neutral-tinged design is presented in a mid-top format. Furthermore, it features a hemp-like woven upper with embroidered Swooshes and an alternative, long-haired textile on the heel tabs. The design is completed with metallic designs on the heel, double tongue labels and a double perforated "S" Stüssy logo on the toe cap.
Stüssy 8 Ball Beach Shell Jacket 'Greyscale'
With the rise of TikTok, we are increasingly seeing the most unexpected items go viral and sell out before we can blink. For while plenty of 8 Ball T-shirts and pullovers were available on the website, and the 8 Ball Beach Shell Jacket 'Greyscale' sold out within minutes.
The design consists of simple colourblocking, with both the 8 Ball motif on the front and back. It also features a shock cord hood and slanted pockets with snap closure.
Stüssy Basic Cuff Beanie 'Black'
Stüssy is second to none when it comes to relaxed skate style. This Basic Cuff Beanie is a good example of that. A true classic with the Stüssy signature on the brim. Whether you're heading to the skate park or taking a long walk, the Stüssy Basic Cuff Beanie 'Black' is ideal to wear when it gets cold.
Stüssy Pro 8-Ball x Converse One Star 'Pro Ox 'Stüssy 8-Ball 'Green Flash'
Not only with Nike, Stüssy has also had several successful collaborations with Converse. Surely the most popular item from this series of collaborations is the Stüssy Pro 8-Ball x Converse One Star 'Green Flash'. The design of this striking sneaker consists of a bright yellow-green textured suede upper. The vibrant base is complemented by contrasting black laces and Stüssy's 8-Ball design on the side. More branding is visible through the All Star tongue with a "Stüssy aesthetic".
Stüssy 8 Ball Sherpa Reversible Jacket 'Natural'
Another must have that has led to millions of likes, hundreds of thousands of views and tens of thousands of comments on TikTok, are Stüssy's 8 Ball Sherpa Reversible Jackets. Made of soft, high-quality fleece, this jacket gets you through the cold days warm and stylish. The classic 8 Ball design adds a cool vintage touch to any outfit. The comfortable, oversized fit and full zip makes it a perfect item for everyday wear.
In addition to 'Natural', this Stüssy item is available at StockX in the 'Green' and 'Orange' colorway.
Stüssy x Nike Benassi 'Off Noir'
The Stüssy x Nike Benassi 'Off Noir' is part of a great collection between the two streetwear brands. This item is another classic slip-on in the familiar black and white colorway. The iconic Stüssy logo is printed in white on the synthetic leather strap. Furthermore, the strap is finished with soft jersey for a comfortable fit.
The contoured footbed, supported by a Phylon foam midsole for lightweight cushioning, provides extra comfort. You'll also find minimalist Nike logos on the footbed, for a clean look.
Stüssy x Nike Air Penny 2 'Black'
Nike debuted the Air Penny II during the 1996-97 NBA season as the second model in Penny Hardaway's line. In 2022, this sneaker made a comeback. The Air Penny 2 silhouette combines a retro look with dynamic overlays on the upper.
In addition to the black version, it is available in the 'Fossil', 'Vivid Green Black' and 'Rattan' colorway.
Stüssy Fuzzy Dice Tee 'Black'
Besides the iconic 8 Ball, the dice design should definitely not missed from this top 10 list! This Stüssy item features a small white Stüssy logo on the left chest. This logo can be found larger on the back, combined with the signature Fuzzy Dice design. It is made of soft cotton and has a relaxed, breathable fit.
Stüssy x Nike Air Max 2013 'Fossil'
The 'Fossil' colorway is a recurring feature when looking at Stüssy's sneaker collection. Not only is this very popular with the Air Force 1 Low and Mid, it is also sought after among Air Max enthusiasts.
The Nike Air Max 2013 Stüssy Fossil features a mesh upper with woven overlays, frayed textile Swooshes at the side. The Stüssy branding on the forefoot serves as a nod to previous Air Zoom Spiridon and Air Force 1 collaborations. The vintage touch completes the design.
Stüssy x Nike Sweatpants 'Grey'
We close the list with these grey sweatpants, with which Stüssy puts a contemporary spin on classic sportswear. Thanks to its unrivalled comfort, it quickly became an essential within the streetwear collection. The Stüssy x Nike Sweatpants Grey is made of a combination of cotton and polyester.
In addition, the product features the collaboration logo between the two popular companies, with the Nike logo above that of Stüssy. The logo is below the left front pocket and is embroidered in black. The logo spreads all over the left pocket.
Of course, many more sneakers, garments and accessories by Stüssy can be found at StockX in all kinds of colorways. So be sure to check out StockX's website to score your new favourite item!