[Update: 13.Juli 2020] This year was THE year for the Nike Dunk Low Sp silhouettes and the Nike Dunk Low SP Lemon Wash are coming! The pair should be released this year. Yep, dear community, the Nike Dunk Low SP Lemon Wash is expected to be released this fall 2020! Be curious, because this Nike Dunk Low is completely different from the other Dunks! Why? You'll find out when the light comes on… or something! So let's go!
By the way: These Nike Dunk Lows have already reserved a place in our Release Calendar. There you can also find the retailer list and you can give away a 'Cop & Drop' there! That simply means, if you want to buy these Nike Dunk Lows or not. Enough talk - below you'll find the button to our release calendar which will lead you to these nice kickz!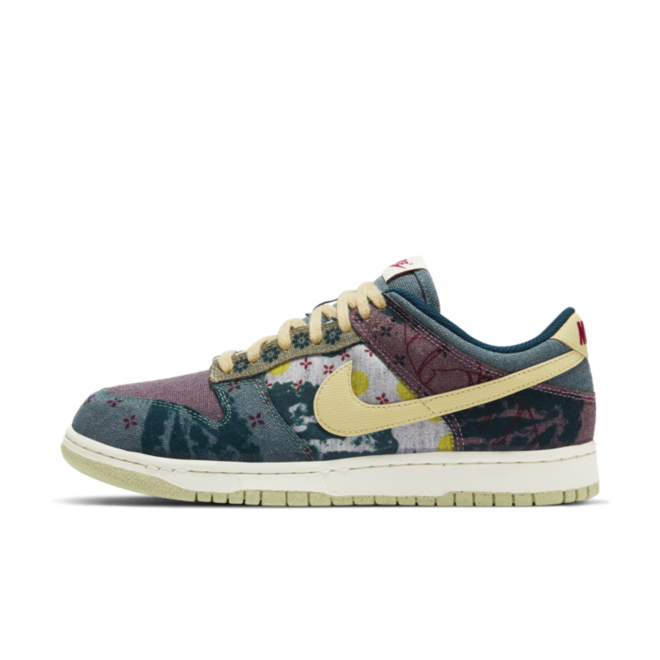 Nike and sustainability!
Did you know that Nike products become more sustainable? Not long ago, a month ago to be exact, the Space Hippie Line came out. Yep, the name is spacy, but the kickz that came out were really from outer space! However, Nike has come up with something nice about the pairs, because they are sustainable! But wait dear community, if you want to know more, then have a look at the following blogs:
And have you already clicked on one of the buttons above? Because our Bro @maren has done a really good job! You don't even need 3 minutes to read and then you know about the Nike sustainability program and you know what the Nike Space Hippies look like! Shout out to my Bro. Let's go!
By the way: There is a second Nike Space Hippie Drop! The new pack will be released on July 16th. You can find more information here 'The new Space Hippie Pack with a new Colorway!'
The 'sustainable' Nike Dunk Low
The reason you're here is because of the Nike Dunk Low. Nike continues the popular Space Hippie Collection and gives this Nike Sb Dunk Low silhouettes a 'grind rubber sole' instead of the normal 'rubber outsole'. So only the sole of this Nike Sb Dunk Low 'Lemon Wash', or to be more precise the 'Multi-Color/ Midnight Turquoise/ Cardinal Red/ Lemon Wash' is sustainable. The sole is made of the famous 'Crater foam', which is made of recycled plastic from 'old' Nike shoe models, among others. Crazy! Below we have a few more pics of the shoe for you!
If you don't like the Nike Dunk Low silhouettes, Nike will soon release the Nike Air Force 1 Crater! Like this model, only the outsole is sustainable! Where can you find the pair? Just click on this text to get to the Nike Air Force 1 Crater! Let's Go!
Also take a look at our Sneaker News! There you will find the latest and hottest sneaker news! Enjoy!