Love is Love, it's as simple as that. No matter what area of life we apply the motto to, it makes it better. Because when we love what we do, we are good at it. When we are passionate about something, we feel fulfilled.
Puck Baars also loves. The 24-year-old communication and multimedia design student lives in Arnhem. She is passionate about sneakers, really good food with a nice drink, travelling and sports. She has played hockey all her life and recently became a footballer.
We interviewed her about her love of sneakers and her personality in general.
Puck, tell me:
SJ: How did your passion for sneakers start?
PB: My whole family was into sneakers, so it kind of came naturally. At school I was always the only one with colour-coordinated caps, sneakers and clothes. After that, it became a passion.
SJ: What was your first pair?
PB: I always had Vans and Nike Blazers, but my first real pair of shoes that no one else had were the adidas Forum Mid 'Hellboy 2'. They are bright red with gold and went so well with my red New Era cap.
SJ: How did you know you had fallen in love with sneakers?
PB: When I sorted my sneakers by colour, hahaha, that's when I knew. I always wore matching shoes with everything I wore.
SJ: What is your best or funniest sneaker story?
PB: When I was little, I could choose my sneakers. I guess when I was younger, 40% of my shoes were too big. But I wanted them so much that I preferred to trip over my own feet rather than choose other kicks that were available in my size.
SJ: What is your absolute favourite sneaker?
PB: Since I wear insoles, walk a bit funny and have two different sizes, it's hard to find the perfect shoe. The Air Force 1s were always the ones that fit. Now I've found a new shoe that fits me just as well: It's the Nike Blazer High. That's why I bought the 'All Hallows Eve' Blazer and I'm in love with them.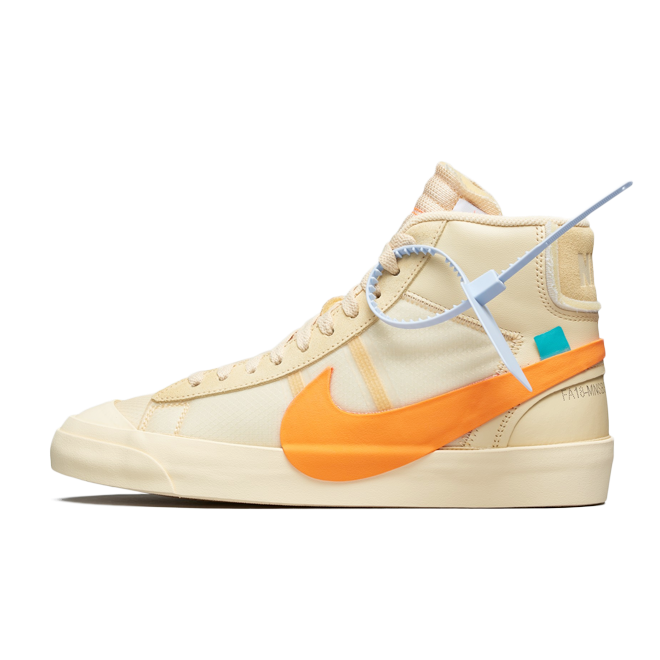 SJ: How has your passion for sports, hockey and now football, influenced your love of sneakers?
PB: I think my sneaker style has evolved more towards sports shoes. In my opinion, hockey players don't have as distinct a sneaker style as football players. When you see players going to the stadium at football games, they always want to draw attention to their outfit, and cool kicks are of course an important part of that.
SJ: How can you express yourself with sneakers, on and offline?
PB: I don't have a very active Instagram. I wear sneakers for me and I don't care if I get 20 or 2000 likes.
Still, feel free to check out her Instagram here: @hetispuck.
I think all my Instagram photos are with plain white Air Forces at the moment, haha, even though I have a closet full of shoes. Sneakers are something you can choose depending on your personality. Right now I'm really into the kicks made from waste like the Space Hippie's which are made from recycled material. I love the ocean and travelling, and you can see that plastic has just ruined a lot of the most beautiful places in the world.
Love is Love: This is how Puck celebrates Pride 2021
SJ: How did you fall in love with your girlfriend?
PB: We both swiped right on the app that everyone knows, haha, and everything just worked out after that.
SJ: Does she support your sneaker 'addiction' or does she not understand the 'obsession'?
PB: She has her own sneaker collection, so she adds to my obsession. Unfortunately, we are not the same size. She has really small feet, so just my toes fit in.
SJ: How did you celebrate Pride Week 2021?
PB: We went to a little 'party' because of the new COVID rules. It was fun, but it's not the Pride we're used to.
SJ: What do you like about Pride Week and what do you think is missing?
PB: What I like about Pride Week is that I don't have to pay attention to what other people on the street think about me being gay. You sort of know what other people's views are. Right now I would say I don't miss much. Still, I think Pride has become more of a party for some people. As 'normal life' goes on they don't invest in the gay community, some may not even accept it. They only like Pride because they have an excuse to celebrate. This is something I 'miss' about Pride Week.
SJ: How 'colourful' is the sneaker industry? What aspects do you like for the LGBTQ community and what do we all need to work on as a community?
PB: I think the sneaker industry is becoming more and more colourful, you see a lot more personalities who are into sneakers. The pride aspect of the sneaker industry is not always as honest as it should be I think. You always get the feeling that some brands and big companies do it more for marketing reasons than they really care about the LGBTQ community. However, the positive thing is that Pride now has a broader platform and more and more industries are paying attention to the movement.
Puck, thank you very much for your honesty and the interview. We wish you all the best!