The road to sustainability. In this series, we talk about sustainability in the sneaker industry. What alternatives are there and to what extent do sneakers pose a problem to the environment? In this first part, we talk to Pim Roggeveen and Lorenzo van Galen of WEAR. At WEAR you can have your sneakers cleaned and they sell refurbished sneakers. In this way they give sneakers a second life.
The Story of WEAR
It all started in 2019. Pim and Lorenzo got to know each other at network organisation R'damse Nieuwe. Here the two started a podcast and there was an instant click. "When we came to Woei one day asking if we could clean our sneakers somewhere, we didn't really get an answer to this," Pim explains. "That's how the idea came to us to do something with this."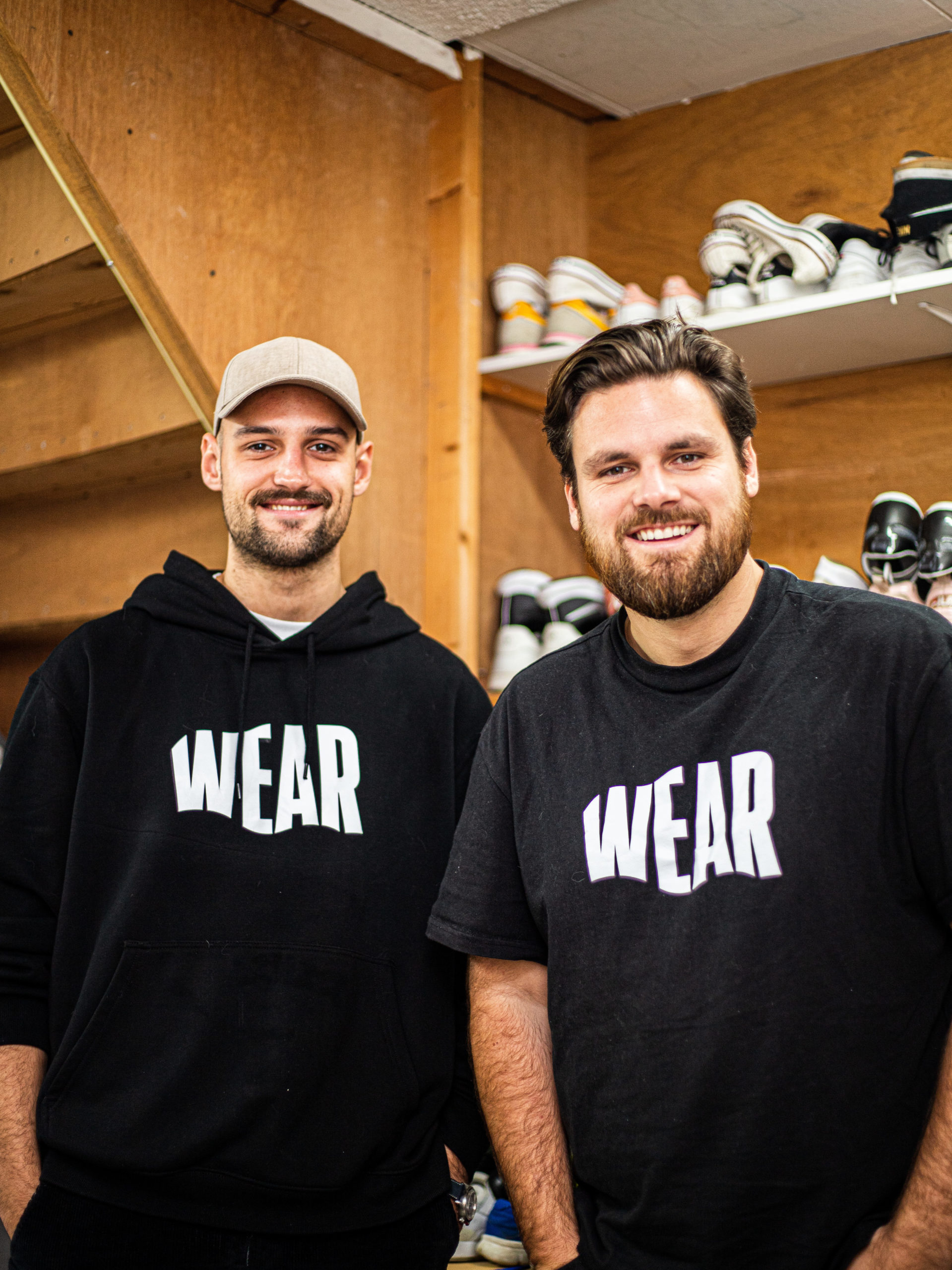 WEAR is a store in Rotterdam that is committed to sustainability and inclusiveness. Together with colleague Tugrul Ata, they clean customers' sneakers and give worn pairs a new life. The (worn) sneakers that they collect at WEAR undergo an extensive cleaning process and are then offered for sale again completely 'fresh'. WEAR also offers cleaning services and you can bring in your favourite pair for just €10.
In addition to sustainability, WEAR is also involved in social issues. "When we started WEAR, we already knew Heilige Boontjes very well," says Pim. Heilige Boontjes is an organisation that trains young people with a distance to the labour market to participate in society again. They wanted to do the same at WEAR, but with sneaker cleaning. "Sneaker cleaning is fairly accessible and relatively easy to learn. So we combined this," says Pim.
In June 2020, Pim and Lorenzo locked themselves in a meeting room at The Student Hotel and came up with a business plan in a short space of time. After presenting this idea to several organisations and people, WEAR was eventually born.
"We want to become the first purpose-driven sneaker store in the world," says Lorenzo. "For us it's not only about sustainability, but also about social impact." So a combination of both.
Sustainability in the world of sneakers
It has been known for some time that sneakers are not very sustainable. The term Fast Fashion has become a bigger problem in recent years and concerns the accelerated production process of clothing and sneakers. "The Fast Fashion market is more polluting than aviation and shipping together, I think that outlines the problem," says Lorenzo.
"All these big companies have become very good at optimising the supply chain. Brands like H&M and Zara can sign something on a Monday and it will be in the shop by Friday," Lorenzo says.
This is also the case with sneakers. Every week, dozens of sneakers are dropped and are put on the market at a rapid pace. "We need to make a switch," says Pim. Currently, brands such as Nike, adidas and Veja have various sustainability projects. For example, Nike has its 'Move To Zero' campaign and adidas is working with nature organisation Parley.
"This is a step in the right direction, but of course it is fundamentally unsustainable to keep producing new sneakers," says Pim. "This is where we offer an alternative."
No goat-wool sneakers
The demand for sustainability and transparency in the sneaker world is increasing these days. Consumers realise that sustainability is becoming an increasingly important part of the trainer industry and brands also offer more alternatives. A positive thing, but the term 'sustainable' is not always received with open arms.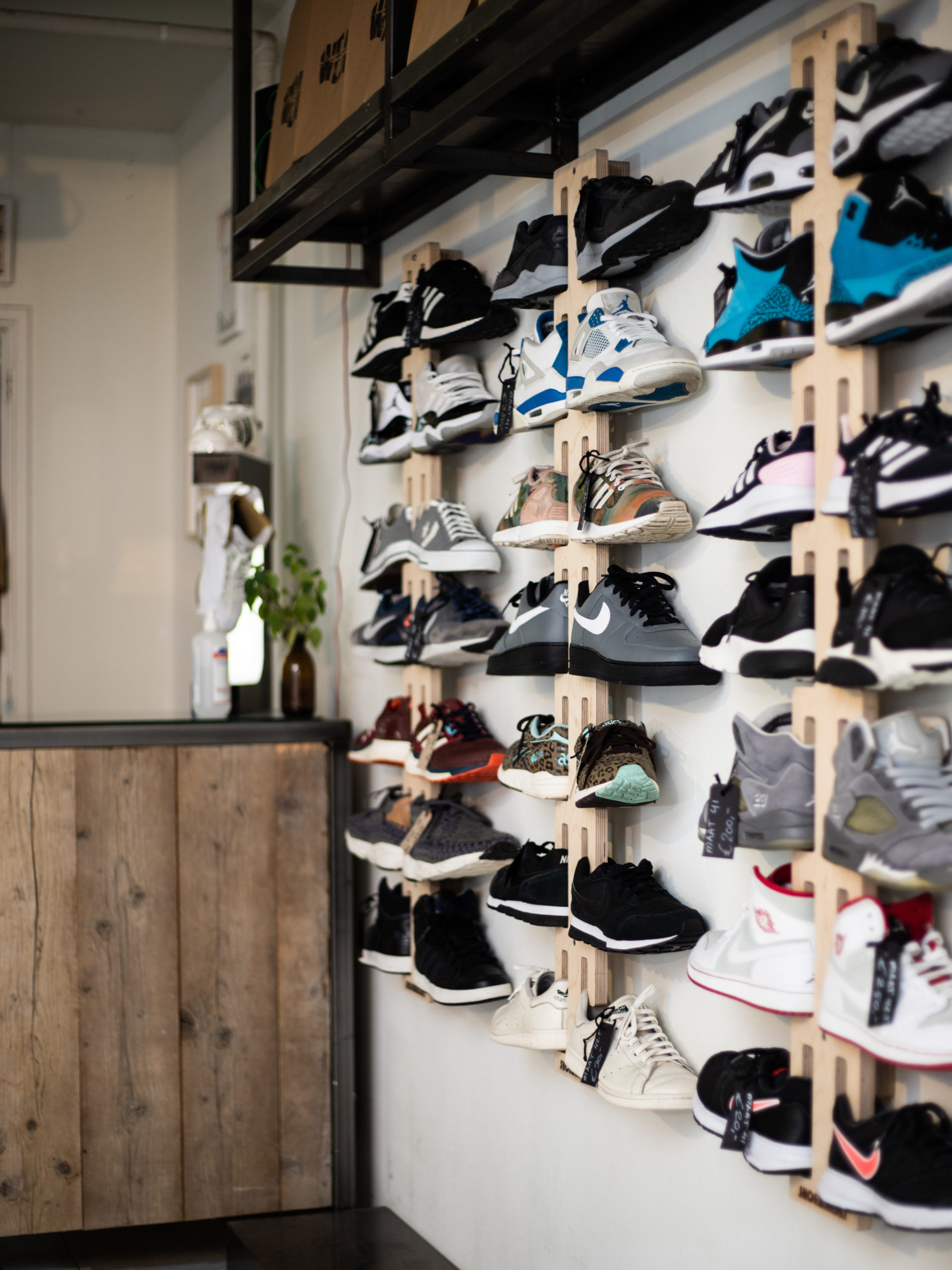 Lorenzo explains: "You have to bring it in such a way that the product is just really cool at first." Here he cites the Nike Space Hippie. "This is a super cool concept, but initially it is just a design. I'm very curious to see if that sticks in that corner for the next five years or if we'll see an Air Max 1 made from recycled materials on the market in the future."
Pim also thinks that the sustainability of the sneaker industry cannot be solved with goat woollen sneakers: "First of all, the product just has to be very fat. In addition, the production process is very important and its effect on the environment. But this is only rule number two.
Lorenzo and Pim see the sneaker scene changing and think this is a positive thing. They do think, however, that the big sprint will only really come in 2030. "The lawsuit that Milieudefensie won against Shell is a good example of change," says Pim.
In 2021, there are already a number of sustainable sneakers available and this is going in the right direction. "Adopting this kind of transition just takes a very long time," Lorenzo adds. "If we start seeing a Yeezy 350 with recycled cotton and this is then adopted by a Patta release or a Nike University Blue colorway, this will start rolling."
The WEAR mission
What makes WEAR so interesting is that they are agile as a company. "We are agile and that is interesting," Lorenzo explains. "We hope to take a step in the right direction with WEAR, but we also see that there is still a lot to learn. We are no saints ourselves (pun intended). We try to introduce people to sustainability in a fun way."
Making sneakers sustainable is a bit more complex than clothing and there are a lot of different factors involved. Nevertheless, Lorenzo thinks that WEAR hits the right note. "With WEAR, I think we are the first to present sustainable sneakers in this way. If we can scale this up, then it will be really interesting."
"Plus, we're not idealists," adds Pim. "We have a very different mind-set. We understand how the market works and how consumers think." At WEAR, they don't want to impose the sustainability story or forbid you to buy new sneakers. "It just has to look fucking fat at the base. You want to go to WEAR because you think it's fat, that's just the basis for us," says Pim.
From earnings model to service model
WEAR is less than a year old and has already achieved a lot in the past few months. The thousandth sneaker has already been cleared and the two have big plans for the future. "We want to make an impact on a larger scale," says Pim. For example, they want to expand the company in the future and open multiple locations. "Next year we will open a new location where we want to bring in more people," says Lorenzo.
"We want to do cool stuff, make noise and draw more attention to our ideas," says Lorenzo.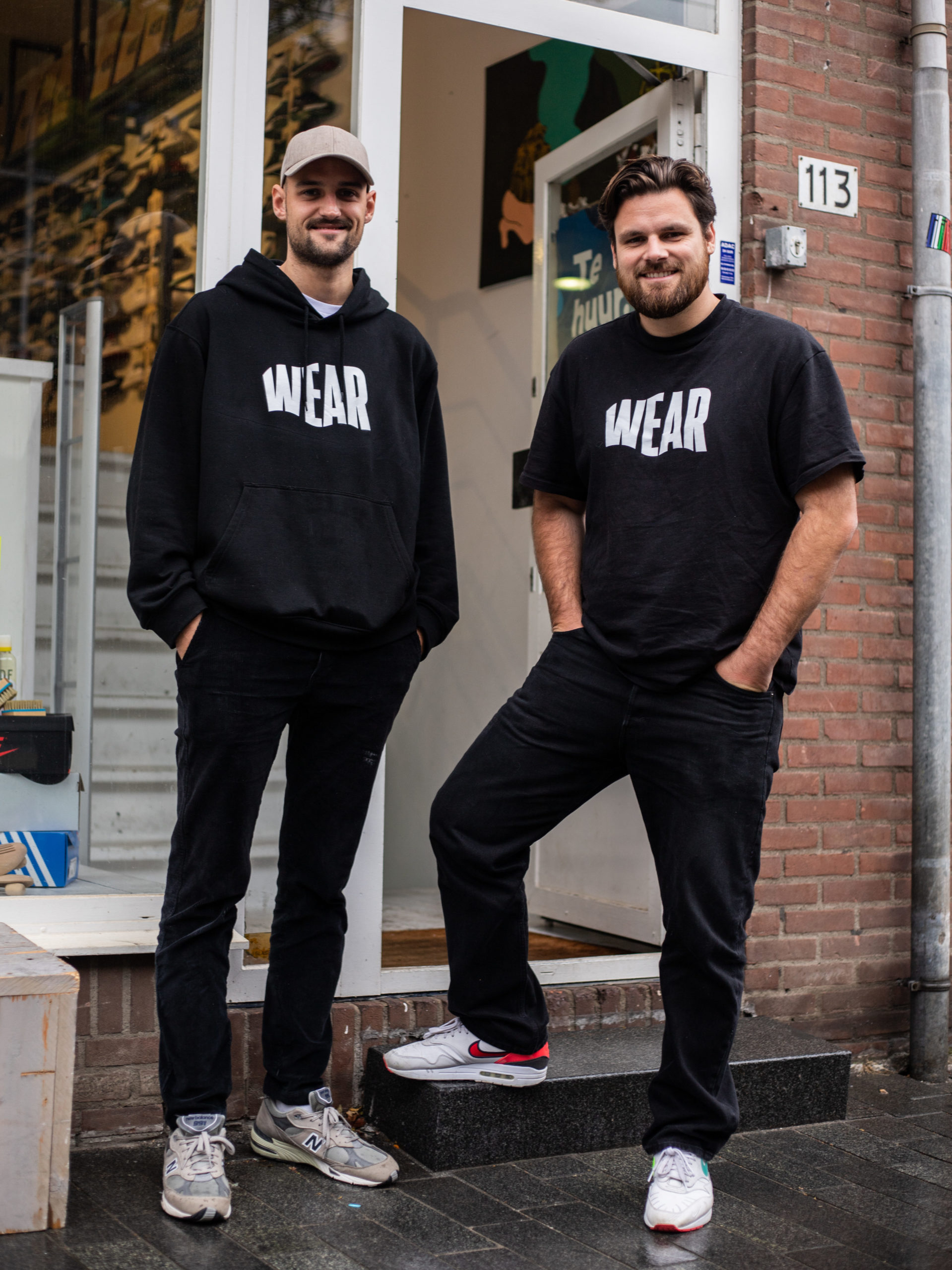 Pim and Lorenzo have learned a lot in a short time and have now entered the next phase. "Let's now professionalise our acquired knowledge and put it down. And then see where this takes us," says Lorenzo. "When that's around, we could possibly go to Amsterdam or a Berlin. That is the ambition." In addition, WEAR is currently working on several projects and they are not standing still for the time being.