On 13 September 2021, the Met Gala 2021 was held. The Met Gala is an annual event that raises money for the Metropolitan Museum of Art in New York City. This is also where the event is held annually. The event brings the most iconic and striking looks year after year and so it is this year.
Met Gala 2021
This year's theme: 'In America: A Lexicon of Fashion'. The theme embraces everything that American fashion has to offer. A broad concept and therefore a lot of freedom in the outfit choices of the biggest stars. From Kim Kardashian to Frank Ocean and Billie Eilish, this year's theme is all about the best. Here is an overview of the most striking outfits of the gala.
Rihanna and ASAP Rocky
This power couple had perhaps the most striking looks of the night. Both Rihanna and ASAP Rocky are known for their stylish and wild fashion choices and they did not disappoint us this year either. Rihanna wore a black oversized dress by Balenciaga with ruffles and a beanie. Bulgari diamonds (267 carats) can be spotted under the beanie. ASAP Rocky was seen in a laced cape by ERL.
Pharrell Williams and Helen Match
Pharrel Williams and wife Helen Match arrived in an all-black leather outfit by Chanel Westernwear. Matching cowboy boots with gold noses and a bolo tie with silver jewellery completed the outfit.
Kid Cudi
Kid Cudi also attended this year's Met Gala. With his bright green hair, black make-up eyes and navy blue teddy jumper, he was unmissable on the red carpet. Not to mention the $1 million KAWS x Ben Baller chain.
Kendall Jenner
The naked dress is back. The 'naked dress' is a term that recurs at every Met Gala. Think of Beyoncé's dress at the Met Gala in 2015 or Kim Kardashian's in 2019. Kendall Jenner walked in a Givenchy see-through dress dipped in crystals this year. Sister Kylie Jenner was not in attendance this year.
Kim Kardashian
Kim Kardashian's outfits are a big topic of conversation at the Met Gala year after year. This year is no exception. The reality star walked the red carpet in an all-black Balenciaga dress. The dress not only covered her entire body, but her face was not visible either.
Billie Eilish
Another surprise of the evening; Billie Eilish's outfit. The singer-songwriter, who has previously appeared on the red carpet in baggy outfits and trouser suits, wore an extravagant ballroom dress to this gala. The dress was inspired by Marilyn Monroe's style and Billie's blonde bob fitted well with it. The peach-coloured dress had a long slouch behind it.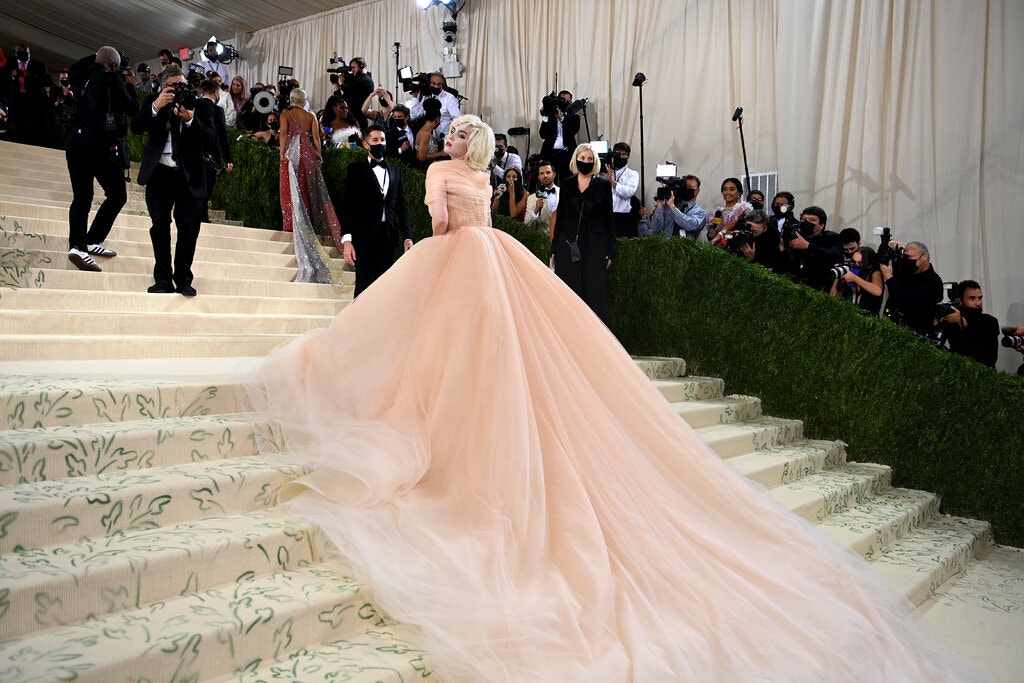 Frank Ocean
The outfit of rapper and singer-songwriter Frank Ocean was typical for the artist. The outfit consisted of a three-piece Prada suit with a white T-shirt underneath. In addition to Homer's eye-catching chain necklace, Frank Ocean had another eye-catching accessory with him. The rapper walked down the runway with a bright green robot baby under his arm. The baby could move and matched well with Frank Ocean's bright green hair.
Timothée Chalamet
Actor Timothée Chalamet attended this year's Met Gala and also co-hosted. The actor shows his interest in streetwear in his everyday outfits and attended this year's gala in his Converse trainers and sweatpants. His outfit consisted of a satin blazer and white sweatpants by designer Haider Ackermann. Underneath, he wore a pair of white High Top Chucks.
Virgil Abloh
Off-White and Louis Vuitton designer Virgil Abloh wore a white suit this year with the word "Modernism" painted in blue on the jacket. The white suit was teamed with a pair of sneakers, statement sunglasses and a hat with rabbit ears.
Lil Nas X
The rapper Lil Nas X has been in the spotlight a lot in the past year with his wild music videos and his sneaker 'Satan Shoes', which featured blood drops. At the Met Gala, Lil Nas X again grabbed the spotlight when he appeared on the runway in three different Versace looks. The outfit started with a royal gold cape. Under the cape, the rapper wore a gold armour that was shaped to his body. When the armour also came off, Lil Nas X wore a shimmering body suit with glitter all over the outfit.
Winnie Harlow
Model Winnie Harlow wore a mesh bodysuit by Iris van Herpen. The bodysuit had a black and white print and had a flowy cape that draped over the entire outfit. The dynamic print in combination with the loose-fitting cape, made it a special outfit.
Justin Bieber and Hailey Bieber
The Biebers came to the red carpet in black this year. Hailey Bieber dried a black fitted dress by Saint Laurent with black sunglasses. Justin Bieber arrived in his own street style brand 'Drew House'. His suit consisted of a short blazer with wide trousers underneath. This combined with a pair of white sneakers and a 'Drew' suitcase made it a basic but stylish outfit.
Evan Mock
Actor and skateboarder Evan Mock, known from the Gossip Girl series, was new to the Met Gala red carpet this year. He made his debut wearing a leather mask with silver spikes on the top. The mask covered his entire face and had silver eyeholes. In addition, the actor wore a suit with shorts by Tom Browne.
Serena Williams
Tennis star Serena Williams wore a striking outfit to the Met Gala. She combined a white lace bodysuit with a bright pink feather cape by Gucci. The bodysuit had pink stars and silver accents. The feather cape had an ombre effect and went from light pink to black.
Iman
Super model Iman had perhaps the most extravagant outfit of the evening. Iman wore a gold jumpsuit with a feathered overskirt in shades of gold and silver. On her head, she wore a matching headpiece with the gold-coloured feathers. The entire outfit was designed by Harris Reed and is definitely one for the books.
Apart from these special outfits, there were a whole host of other outfits worth seeing. The Met Gala 2021 will be repeated in 2022 with the same theme. For now, the outfits from this past edition will keep us busy for a while.
If you don't want to miss any of this news, follow us on Instagram, Facebook and Twitter. And if you're curious about the next sneaker releases, keep an eye on the release calendar.