Are you a sea type or a mountain type? I can't decide, because both have their own attraction and characteristics. In the first Lockdown, I noticed how good it is to spend time in nature. Yes, that sounds like an absolute cliché, but it's true. Simply because I can also spend time with myself or my friends. And of course there's the physical activity, which makes you sleep better in the evening. That's why we have hiking boots and equipment for all your planned outdoor activities.
Sneakers For Hiking
It sounds strange at first, but a lot has changed in this area. Hiking boots no longer have to be clunky, heavy lumps of leather. Today we wear sporty, lightweight sneakers or, for example, vegan hiking boots.
For example, this adidas Terrex Free Hiker Primeblue Hiking. The brand developed this shoe with a focus on ultimate comfort, even on long tours. The sustainable Primeknit upper wraps around your feet like socks and fits naturally with every step. In addition, the Torsion Bar ensures optimised freedom of movement for the forefoot and rearfoot.
You get optimal grip on any terrain with the Continental™ rubber outsole and a responsive midsole.
The BOOST damping returns your energy directly. The more you give, the more you get.
The shoe is made durable by its abrasion-resistant, welded-on reinforcements and the pre-shaped toe cap.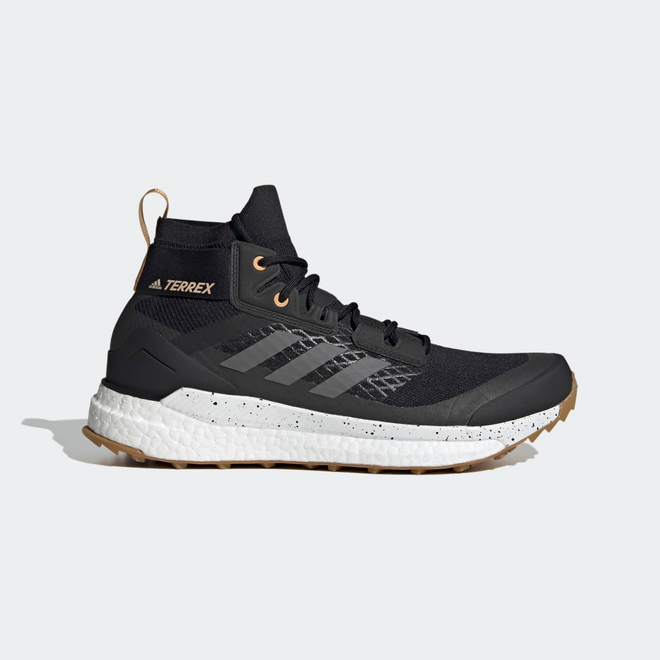 Of course, the sneakers are also available in womens sizing, just click on the pictures!
Also recommended are the adidas Terrex Voyager. These kicks are also ultra light and perfect for your next adventure during the summer months. Trail running shoes inspired this model, which is why it comes with an innovative elasticated lacing system.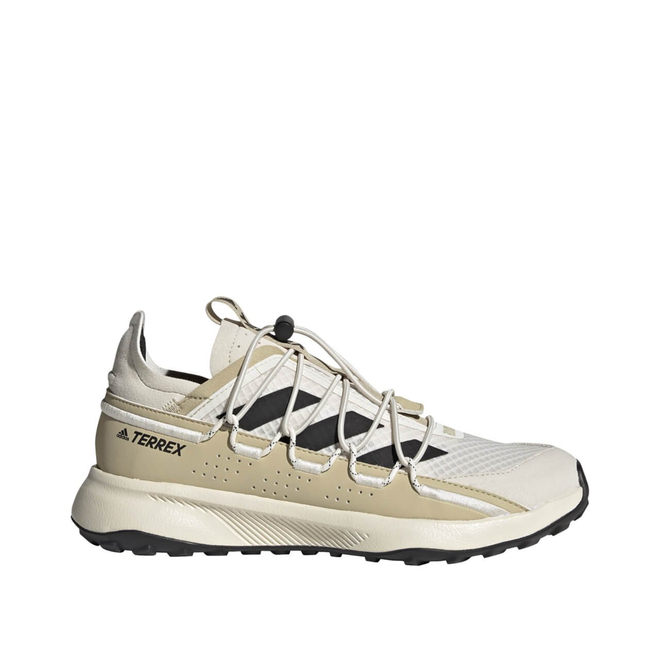 Are the hiking boots also vegan?
Hiking boots go hand in hand with leather, but as we said, a lot has happened in the industry and research on vegan leather variants. We can't say for sure that the hiking boots mentioned above are vegan, because of course it depends on every detail. Even the adhesive used may contain animal protein.
Nevertheless, you no longer have to do without performance if you choose vegan hiking shoes. Leather adapts to the foot, synthetics don't, but synthetic shoes or those made of artificial leather are much easier to clean and don't need such intensive care. Check out the LOWA brand, which has even launched its own product line.
Suitable equipment
If there's one activity that really requires gear, it's hiking, because the weather can change within minutes in the mountains. Therefore, you need to wear the right outfit.
Outfit for you:
Outfit for Him:
Trudging up the mountain is really strenuous enough, so you should really make sure that your equipment is light and multifunctional.