The way to a man's heart is through his stomach, so how could you resist this crisp Nike Air Max 90 'Bacon'. To celebrate Air Max Day on 26 March 2021, Nike is re-releasing the delicious classic: "This prime cut has been aged sinced 2004 and will be served on Air Max Day." This shoe also crowns Sneakerjager's '10 Days of Air Max 2021', which is why we're presenting the appetiser to you once again!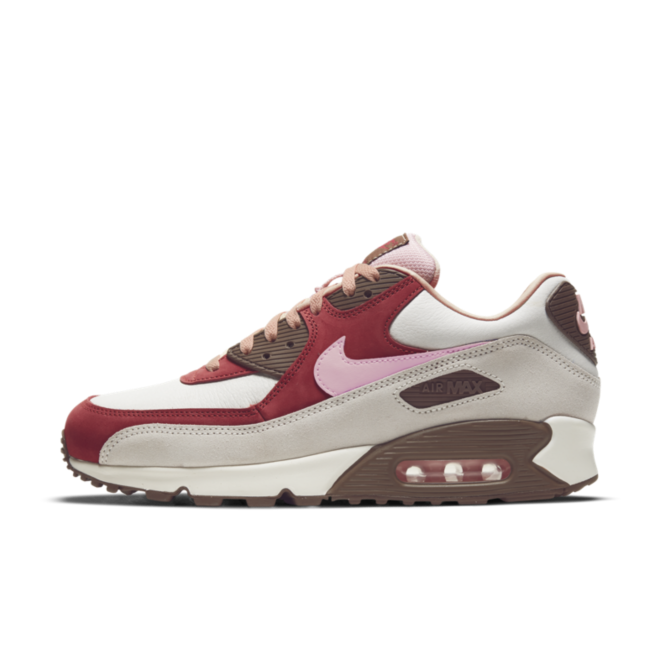 Dave's Quality Meat
Um den Colorway aber richtig verstehen zu können, werfen wir einen kurzen Blick auf die Entstehungsgeschichte.
Dave Ortiz is an artist who founded a skateboard company called Zoo York with his friends in New York in the 90s. Their studio was located in the Meatpacking District and directly above a shop called 'Dave's Quality Veal'. At one point he says to himself, "That would be a really cool, really cheesy name for a shop. I should open one."
When they sold Zoo York, Ortiz bet a friend that he could take the weirdest, craziest name and make it the coolest brand ever. The bet was a dollar, if only we had bid! Dave's Quality Meats was born. 'Meat' was chosen by the graffiti artist because, along with a chicken leg, it was his tag in the graffiti scene.
His thing has always been 'function before fashion!' If he was going to be in the studio all day, he had to wear comfortable shoes. That's why he chose the AM90 for his collaboration with Nike, which he designed in 2004. At the time, dark colours were in, he wanted something different and pondered for a long time: 'My whole fucking store is a joke. Let me think outside of the box.'
Alluding to his day and his shop, and also due to time pressure, he then suddenly came up with: bacon. He bought four packets of it and stared at the many slices of bacon for hours. The Nike Air Max 90 'Bacon' was born.
A delicious muse
Shortly after submitting the design to Nike, Ortiz was nervous: 'Would people think that's funny or would they think it's corny?' At that point, his goal was still for ten people to like the shoe so that it would be a personal success for the artist. He gave them encouragement himself: 'Everybody loves bacon. Who's gonna hate on it?'
And how right he was… Who could resist the appetising design? That's why it was also reissued for this year's Air Max Day! If you place the kicks side by side as Ortiz shows, you can clearly recognise the breakfast classic:
Let us know if you were lucky enough to grab this Air Max Day treat! Tag us on Instagram showing off your new kicks!