Hey dear sneakerheads, we present the new and so ingenious Air Jordan Aerospace 720 'Black'. The shoe will be available from March 25, 2020 at 9:00 am for €200. If you are interested in the type of sneaker, stay tuned, because this is the place for you!
The Jordan Brand has come up with something completely new for 2020 and with the Air Jordan Aerospace 720 'Black' it provides us with a popular lifestyle silhouette in a new style. It is particularly striking due to the futuristic design. In addition, the Jordan scores with comfort at the highest level.
Great things can be expected from the Air Jordan Aerospace 720 'Black'! While the upper of the sneaker convinces with the unmistakable Jordan style, the 720 Air element provides a lot more air and also over the entire outsole. The goal and result was and is: A very special springy, padded and very soft feeling.
Here is an insight into the Air Jordan Aerospace 720 'Black'
We present the Air Jordan in a simple, black leather and textile upper. The blue highlights and the tabs on the tongue and heel complete the look and only look perfect.
Are you ready for the Air Jordan Aerospase 720 'Black'? Here you can see it in all its glory: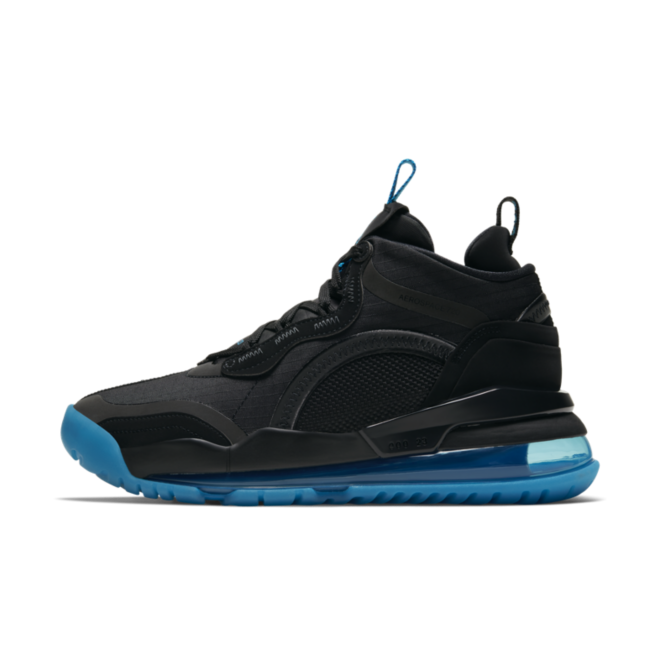 In order to always be up to date with the latest sneakers, you have come to the right place, especially with our Release Calendar. In addition, we always keep you informed on our Newsblog about the latest stories, campaigns and trends relating to the world of sneakers. And if you are just looking for new sneakers, check our Sneaker Collection out! If you have tips and tricks or would like to hear about a specific topic from us, please let us know via Instagram. We are always happy to research the coolest trends for you and give you information about outfits that match your favorite shoe. Have fun!