What's behind the Japanese brand with the French name? Everyone knows the clothes and the famous Chucks with the heart, but do you know exactly what 'COMME des GARÇONS' means? Today we're going to take a look at the company and a few must-have products.
The COMME des GARÇONS Background Story
The French name translates to "like boys" and suggests that purely men's fashion is offered. But the Japanese company is also known for women's fashion and does not specify a focus.
Japanese fashion designer Rei Kawakubo founded the company in Tokyo in 1969 and created a brand that is now internationally renowned for high-end clothing, accessories and perfume.
COMME des GARÇONS PLAY Collection
The COMME des GARÇONS PLAY collection first appeared on the market in 2002 and presents high-quality clothes designed for everyday wear. The collection became famous for the red heart with the eyes, which was designed by the Polish artist Filip Pagowski.
PLAY's many collaborations also attracted a lot of attention. One of the best-known collaboos was with the US sportswear company Converse. The result is a Chuck Taylor All Star in low and high, in different colorways and designs.
Comme des Garçons Play X Converse Chuck 70 High 'White' | 150205C
One of the most coveted collaborative sneakers is the Comme des Garcons Play X Converse Chuck 70 High 'White'. This classic canvas sneaker has been restocked several times due to the high number of sales.
I own this sneaker in my collection and just love the minimalist design with the heart on the side.
Especially with the white colorway, you can tell it's a collabo sneaker from afar because of the bold red heart.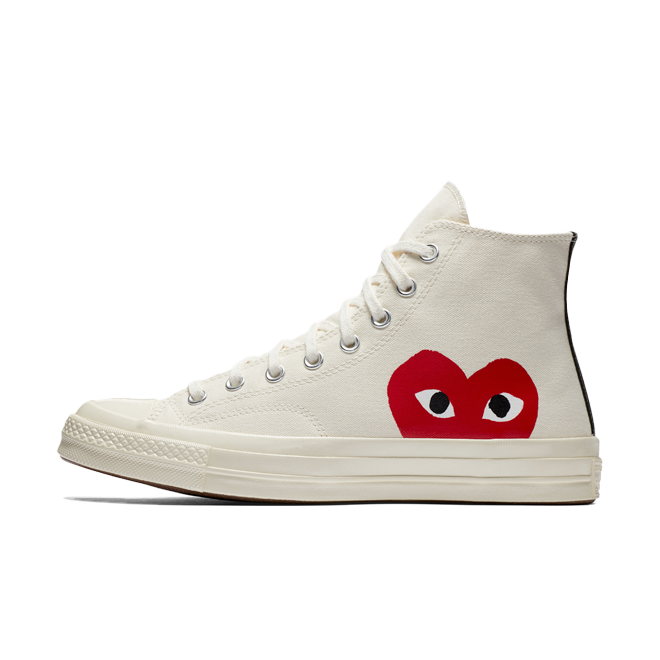 ---
Comme des Garçons X Converse Chuck 70 High 'Steel Gray' | 171847C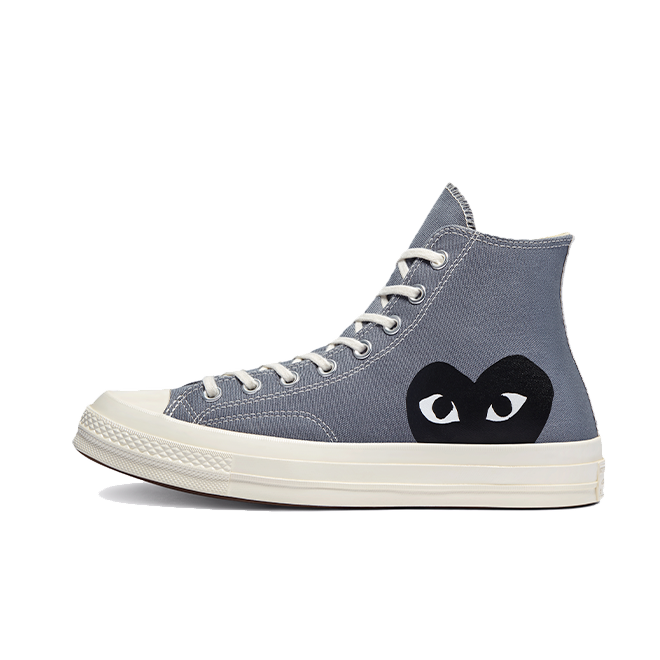 ---
Comme des Garçons X Converse Chuck 70 'White' | 162975C
If you don't like high top sneakers then the low versions might be interesting for you. The Comme des Garcon X Converse Chuck 70 'White' could be just the pair for you. A low Chuck 70 with multiple hearts on the side, or even the look with the big branding: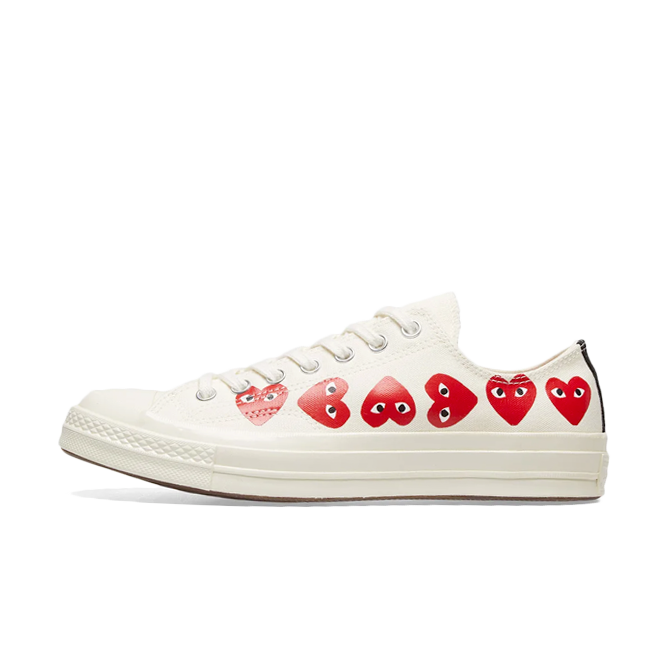 ---
Why should I definitely buy these sneakers?
Why do I love the shoes from these two brands so much and why should you definitely buy some?
Answering these questions is very easy for me personally. Starting with the name "COMME des GARÇONS", I associate the pronunciation of these three words directly with luxury, exclusivity and elegance. Typical adjectives that one could also easily associate with France, after all, the name is also French. It also makes me incredibly proud to own a luxury product like this - from an internationally renowned fashion company.
Another point is the logo! I think the heart looks just unbelievably good. This bold red on the white background stands out immediately and people often ask: "What kind of Chuck is that?" A normal white Chuck is cool, but with this heart, the shoe is just perfect for me.
My last point relates to the meaning of the heart. The general symbol heart stands for love, openness and joy. Values that play a big role especially in today's time (2021) and which I fully support.
If my three arguments have also convinced you, then strike now and get one of the popular articles for your collection. It's worth it! What's also worth checking out is our Instagram account where we also inform you about many other sneakers. You should also keep an eye on our release calendar.