Many brands are becoming more sustainable these days. More and more you see the use of recycled materials, with a green mark indicating the climate-friendliness of a product. ASICS also has a sustainable category that you can click on when you want to filter your product search. So we asked ourselves: how sustainable is ASICS really?
A look at the history of ASICS
Anima Sana In Corpore Sano - that is what the ASICS brand stands for. The expression comes from the Roman satirist Juvenal and means: "One must live for a healthy mind in a healthy body". And that is exactly what ASICS has been doing since it was founded in 1949.
Kihachiro Onitsuka founded the brand after returning from war, with the goal of encouraging young people to become healthy through sports.
It all started in the spring of 1950, when players from leading basketball clubs of the time were given prototypes of the first ASICS model to test. The most important thing, of course, was performance when stopping, turning and sprinting. Onitsuka got the inspiration for developing the shoe from seeing an octopus soaked in vinegar. The suction cup basketball shoes were then made.
In contrast, the 1960 MAGIC RUNNER was developed for marathon runners. At that time, it was natural for athletes to have blisters on their feet. Therefore, the brand developed a new type of ventilation system modelled on air-cooled motorbikes. This included holes near the toes and on the sides of the shoe.
In 1986, the first GEL-based shoe was launched with the silicone cushioning material cushioning the foot on impact. The GEL could be found in two models of running shoes, the GT-II and the FREAKS. It also continued to evolve into one of the fundamental functional materials ASICS associates with today.
Some facts about the sneaker industry
It is estimated that the sneaker and fashion industry is responsible for 6% of Europe's total carbon footprint. If the industry continues like this, the climate impact is expected to increase by another 49% by 2030.
The core of the industry, in short, is its reliance on common plastics. 99% of plastics come from fossil fuels - and these fuels are the main source of carbon emissions. 91% of all plastics worldwide are not recycled after their production and end up in landfills or in the ocean.
In short: Lack of sustainability in the sneaker and fashion industry is an industry-wide problem, and therefore industry-wide solutions are needed. But what is ASICS doing about it?
ASICS and sustainability?
ASICS says:
"Since our establishment in 1949, our goal has been to help people achieve a healthy mind in a healthy body. But for a healthy mind in a healthy body, we need a healthy earth to walk on."

ASICS
Therefore, the brand sets itself a number of goals. The most important: reduce CO2 emissions, use recycled materials and consume fewer resources. That is why ASICS has developed a recycling concept:
1. Produce items that use fewer resources and are easier to recycle.
2. Use recycled, bio-based and water-saving options.
3. Using renewable energy and producing efficiently and cleanly.
4. Constant quality improvement so that our products last even longer.
5. Take items back for reuse.
In addition, the brand promises itself and its customers to reduce net CO2 emissions to zero by 2050. Other interim targets for the future are summarised as follows:
2030: 63% CO2 reduction from direct operations and supply chains compared to 2015
2030: 100% renewable electricity in company facilities
2030: Commitment to 100% recycled polyester production
Materials used at ASICS
Polyester
Let us first clarify why the fabric is so harmful to the environment. Polyester is a synthetic fibre made from petroleum-based products. Because of its durability, elasticity and water-repellent properties, polyester is a good material for sportswear. However, because polyester is made from non-renewable resources and its production involves high carbon emissions, it has a negative impact on the environment.
ASICS has also realised this and has therefore committed to replacing all new polyester in clothing and shoe covers with recycled polyester by 2030. The brand uses recycled polyester from PET bottles or textiles.
Cotton
Cotton is known to consume a large amount of water and a large amount of chemicals (pesticides and fertilisers) before harvesting. Therefore, alternatives or at least more sustainable cultivation should be resorted to for this material too.
In 2018, the brand made a group-wide commitment to source more sustainable cotton. Consequently, ASICS has committed to sourcing sustainable cotton for 100% of their apparel products and accessories by 2025. Specifically, this means cotton that is Global Organic Textile Standard (GOTS) certified, Fairtrade certified, Global Recycle Standard (GRS) compliant and traded under a CmiA licence. 
Leather
You probably know why leather is not really eco-friendly: Processing animal hides into leather that is further processed into a finished product is neither easy nor animal-friendly. Chemicals and water are used during the labour-intensive process, which not only harms the animals but also the environment.
ASICS is not stopping using leather, but at least it is already using more sustainable leather. That is why ASICS joined the Leather Working Group (LWG) back in 2018. The LWG is an organisation of leather manufacturers that promotes environmentally friendly business practices. Although the LWG focuses on environmental sustainability, the organisation also supports ethical business practices in tanneries.
ASICS also uses recycled leather, which is leather made from natural leather waste and polyester fibres.
Soles
ASICS is best known for its sneakers and running shoes. That is why the company uses cellulose nanofibres (CNF) for shoe soles. CNF consists of extremely fine fibres whose size is measured in nanometres. They are one-fifth the weight of steel but five times stronger.
CNF can be extracted from almost all types of plant biomass, making this material a very abundant and renewable resource.
Launched in 2018, the GEL-KAYANO 25 running shoe the world's first running shoe with CNF.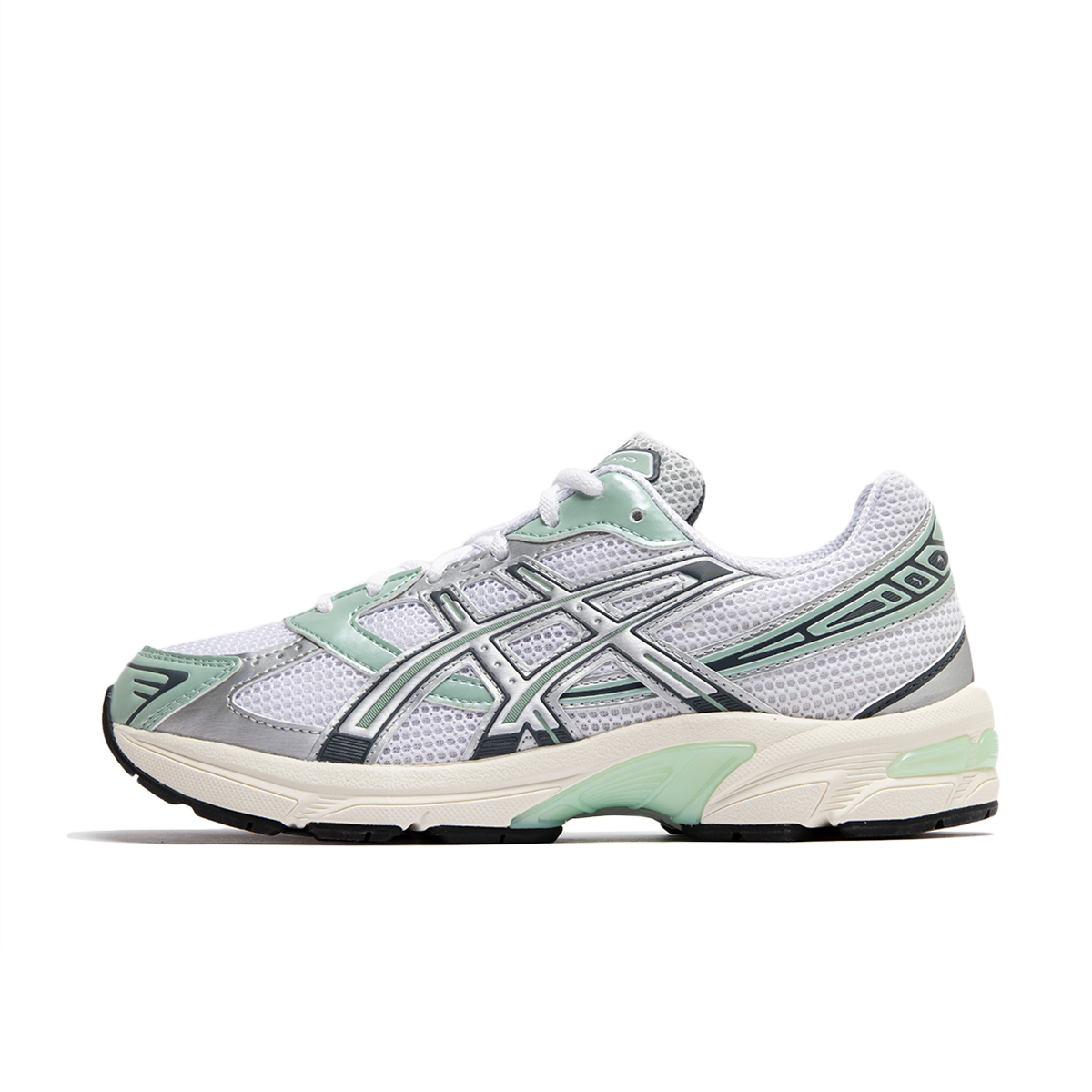 ASICS strives to take care of the planet and the environment. To this end, ASICS sustainability is one of the key issues. The brand reduces its environmental impact, including in the value chain. They have a clearly defined roadmap for 2050 and are committed to steadily increasing the use of sustainable materials.
Check out ASCIS' website for sustainable products or more info. Read more about sustainability via Sneakerjagers Sustainable.