Hey Sunshine! ? For a long time it was really difficult for women to establish themselves in the sneaker scene. Actually, it is still not the standard that a woman is called 'Sneaker Head'. Nevertheless some women have managed to become part of the scene. Today everything revolves around women sneaker collabs. At the moment there are not very many of them, but we want to present to you THE sneaker collaborations of women that women should not miss.
You want to learn more about women as 'Sneaker Head'? Then this is the right blog post for you. I also introduced you to collaborations last week - what is it anyway? - you can find out in this blog post.
Okay, that's enough self-advertisement. Now we come to our real topic - the women sneaker collabs. Have you heard of any? If not, then that's no big deal, that's why you have us! Because in our WMNS Club everything revolves around us women - from woman to woman. Spread love girls and support each other, because that's the only way we can prevail in this male-dominated scene! ??
Women sneaker collabs - good to know
There are not so many special things to know about women collaborations. Unfortunately there are still relatively few, but they are on the rise! However, I can tell you that there are often not only sneaker collaborations by women, but many of them create their own collections directly with brands like PUMA, adidas, Reebok and Nike.
Do you know which shoe models designers like to immortalize themselves on? Nike! Whether Air Force, Air Max 90 or other popular models from Nike, they're probably the most suitable. I now present three collaborations of women who have all immortalized themselves on an Air Jordan. After that, there are two examples of entire collections as a collaboration with a brand.
Collabs on the Air Jordan
Before we take off, I would like to take a brief look at the Air Jordan. The Jordan brand is part of Nike. I can't tell you how Nike found out about Michael Jordan back then, but they definitely made a really sick deal with him, but you can read all about the deal between Nike and MJ in the blog post from Le. Anyway, the first Jordan was released in 1984 and since then he is hyped in the whole sneaker scene. Maybe that's also the reason why there are often really nice collabs on him.
With a sneaker head, a Jordan is an absolute must-have. The high top Sneaker is also not only one of the sneaker trends 2020, but has also been at the top in the past years. If you don't want to miss any more release information about the models, then you are best off in our Release Calendar. And now we come to our women sneaker collabs - have fun! ??
Melody Ehsani x Air Jordan
Melody Ehsani - she is a designer from Los Angeles and part of the first collab on 'Women's Air Jordan OG'. You could also call this collaboration the 'Cherry Collab', haha. ? Because the upper of the sneaker is completely in black. But there is the odd cherry red detail. And the day down at the laces even shows us two cherries. What do you think about that?
Add the cherry outfit and the day can start. So for my taste this might be a bit too much cherry in one pile, but that's up to everybody. But back to the sneaker. This one was released on March 19, 2020. But don't worry, if you are really in love with the shoe now, you can still buy it (for the resell price). Click on the picture to go directly to the nice collab:
Aleali May x Air Jordan
Aleali May - is a model and influencer in the US. She is so well known in the scene that she even sits in the front row of Virgil Abloh's fashion show. You can find a video on YouTube - feel free to watch it:
And Ms. May has also immortalized herself on the silhouette of the Air Jordan 1. In the colors black, grey and silver the sneaker is rather plain, but still somehow a real eye-catcher. It was already launched in 2017 and sold out within seconds. But for a very high resell price the sneaker is still available. On her Instagram post you can also see more collabs of the young woman!
Serena Williams x Air Jordan
Serena Williams - she is probably the most successful tennis player since 1968, and she has taken on the odd Air Jordan silhouette, too. To bring a little bit of variety into the game, I would like to introduce the NikeCourt Flare AJ1, which she designed together with Nike. The silhouette of this sneaker is special, but still inspired by the Air Jordan 1. The shoe is pink and black and therefore colored like Serena's outfit 2016 on the tennis court in New York.
The sneaker then appeared on the market on January 30, 2017 for €160. Why did she choose an Air Jordan? Well, long before, this sneaker was her absolute favorite! And now look at the kickz itself:
Women's collabs - the collections
There are many collections. In most cases they contain sportswear, i.e. sports bras, shirts, sports leggings or similar. In some cases, the collections also include sneakers, as in the two collections we have selected for you:
Selena Gomez x PUMA
Very popular is for example the collab between Selena Gomez and PUMA. The singer and actress became famous for series like 'The Wizards of Waverly Place'. She often appeared in the media in connection with her ex-boyfriend Justin Bieber. Her collection includes sneakers, track pants, track jackets, shorts and shirts.
Here we have of course selected a sneaker from the collection for you: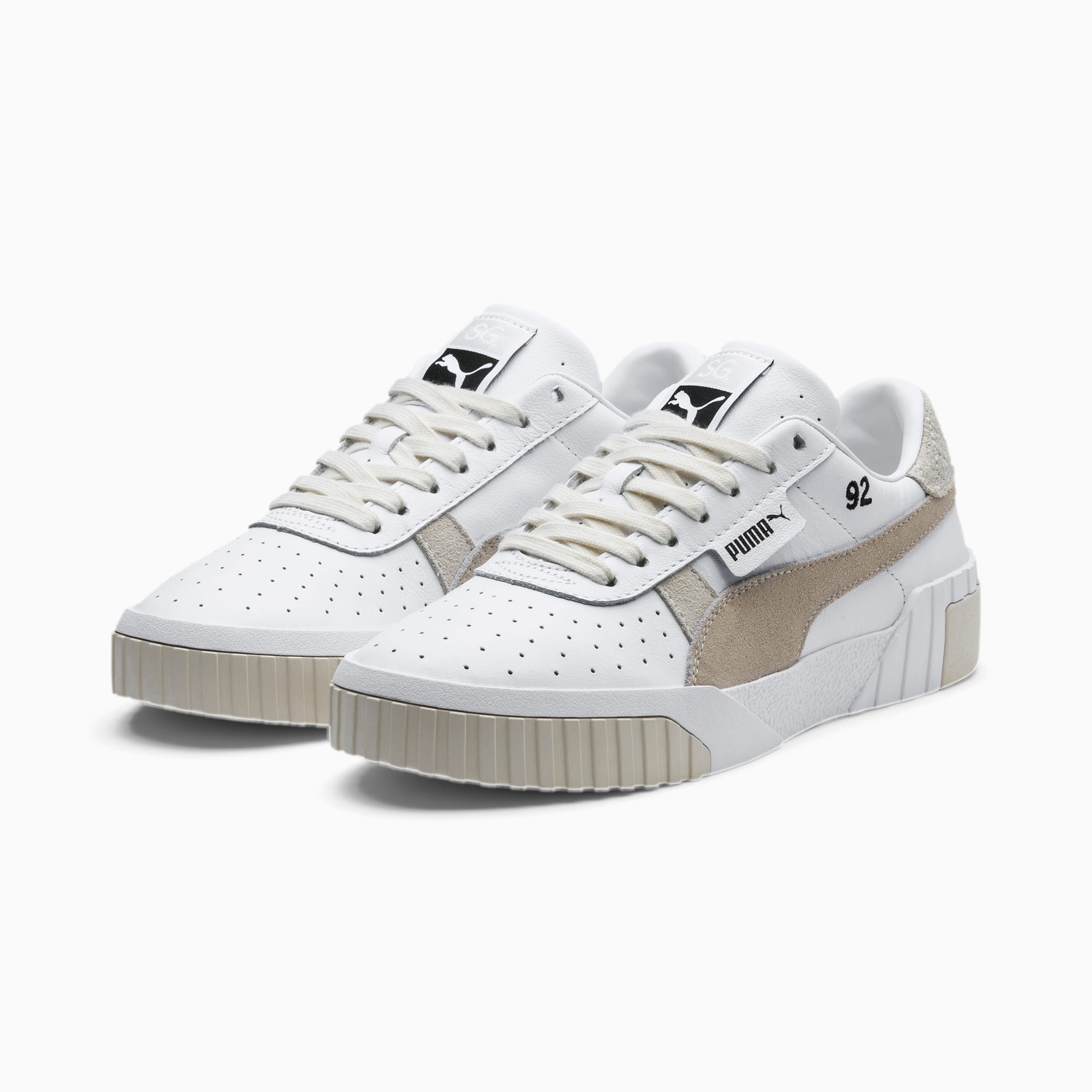 Gigi Hadid x Reebok
The model Gigi Hadid is well known all over the world and has certainly walked the catwalk everywhere. Together with Reebok she has also designed a sports collection for women. You can find shirts, tracksuit bottoms and above all sneakers here. Just have a look at the collection:
Of course we also have a sneaker from Gigi's collection for you and it is even in sale right now:
Soooo girls, that's it from me again today. I hope you enjoyed the blog post and that you won't be undermined by the men in the sneaker scene. Do you already know the ASICS Gel Lyte III? On this shoe there are also one or the other cool collab - just have a look here.