In the last few weeks, the Jordan Brand has released a new shoe. We've already recently seen the Jordan 1 High 'University Blue' and the Jordan 4 'Taupe Haze' and we're convinced of the hype again with the next upcoming release. It's about the Air Jordan 1 High OG 'Patina', which will be released in March 2021.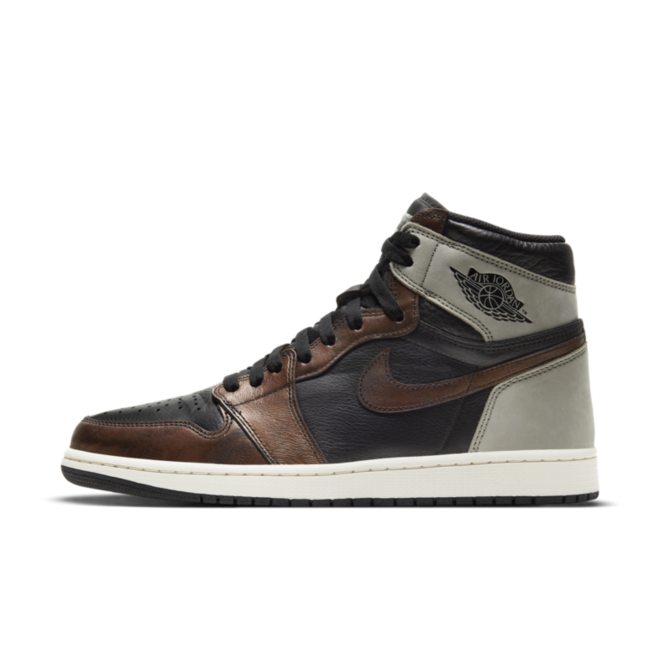 The Details of the Air Jordan 1 High OG 'Patina'
If you take a closer look at the shoe, you will immediately notice the somewhat unusual look of the Jordan. The front and middle part of the sneaker is brown with a simple black leather background. This gives the whole thing a somewhat rustic look.
The back part and the heel are in a so-called mint grey. The brown parts of the shoe catch the eye with the shiny metallic look. Take a look for yourself below and get an impression.
When is the shoe coming out?
Originally, the shoe was supposed to be released at the beginning of March, but as you can see, the release has been postponed. Currently, we can assume a release date of either 13 March or 25 March. However, this has not yet been officially confirmed. We will send you a reminder on Instagram before the release and as soon as we know the exact date, you will find it in our release calendar. The shoe will probably be available for purchase via Raffle at the typical retailers. Cost: €160.
We have the impression that the innovative Jordan Brand is trying to set new standards with this shoe. The exact concept behind the rustic-looking shoe has not yet been revealed, but the materials have been used well. Some Jordan fans will have noticed the Nike Air tongue label. In this case, the logo is recognisably embroidered and not attached like on the other models. We have seen this in the past, for example, on the Air Jordan 1 'Bio Hack' from 2020.
The rusty look of the overlays gives the kicks a retro look, which will boost the current trend. In addition, the different colours are nicely combined and especially with the clean mid sole, the kicks provide a nice vintage look. The combination of grey and black also reminds us of the Air Jordan 1 Shadow 2.0, which we are expecting in May this year.
If you don't want to miss out on the release of the Air Jordan 1 High OG 'Patina' or news about the upcoming Nike Air Max Day, check out our Sneaker News regularly. We keep you up to date with leaks, information and releases from the sneaker scene.