The popular silhouette of the Air Max Triax is back! You can expect a very special Colorway. From a runner to a daily companion - a style that has been convincing for years: The Nike Air Max Triax 96 SP 'Camo' will be released on March 19, 2020 at 09:00 am and is available for €149. With this sneaker you will get a really special style in your house! We are going to tell you in this blog the reasons why the new style is so special and what the Triax silhouette is all about. As always, you can get nice pictures and all information about the purchase here!
Your #TheCrew Background Check
The silhouette of the Nike Triax 96 first appeared during the 1996 Olympics. 24 years later, the 90s Runner has established itself for a long time in street style and inspires fans with its good and clean appearance. Retro is currently the word in the sneaker scene. Our Nike Air Max Triax 96 SP 'Camo' is already part of the trend. The sneaker inspires with its unchanged form and its good functionality.
Visually, the visible Air Element from Nike should not be missing. The classic, striking appearance and the comfortable wearing comfort still make this sneaker a great choice today! The models, that have been released lately, come mainly in a 2-color print. Our new Triax on the other hand impresses with an all over print in camouflage look. We will tell you what else the new sneaker is all about:
Details: The Nike Air Max Triax 96 SP 'Camo'
Altogether the new Triax comes with all the features we have known and loved for years. Among them are the round laces, the air unit and the reflectors at the heel are multicolored. Special about the Nike Air Max Triax 96 SP 'Camo' are the all over print and the ripstop upper. But also a lot of little details give the look a very special touch. For example the shoe tongues, which have two different patches in yellow.
The camouflage pattern and the matching green rubber outsole make the special style perfect. The whole thing is rounded off by the one or other black element. You can buy the sneaker from March 19, 2020 at 09:00 am. For €149 the new Triax can already be yours! With a click on the button or the pictures, you can set a release alarm. Here you can get all information about the purchase.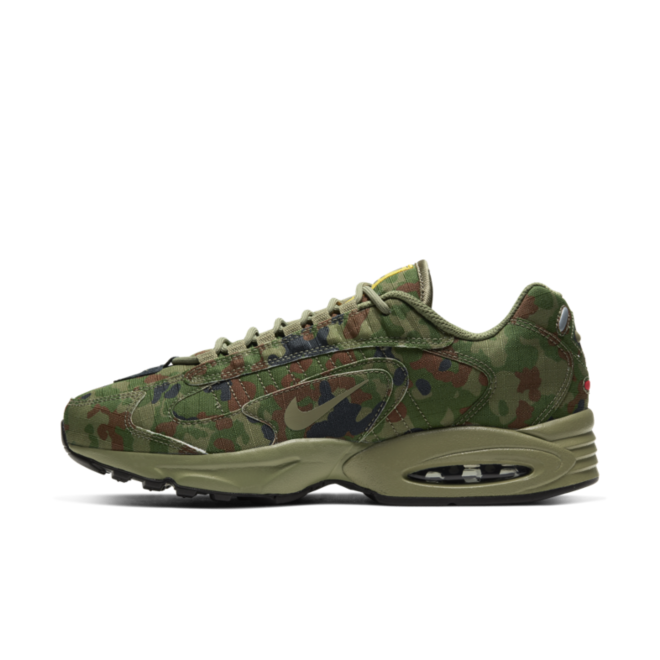 If you prefer the well known colorways, then have a look at our selection of Nike Triax Sneakers. Here you will surely find what you are looking for! In our Newsblog we have daily blogs like this one, interesting facts and exciting stories about the sneaker scene for you. And to make sure you don't miss any style, we will keep you up to date on all new sneakers in our Release Calendar!