The Nike Air Max 90 has had a successful Birhtday year 2020 and there are also many new colorways ready to be dropped in 2021. Now it looks like the Air Max 90 has been given a major makeover that is all about St Patrick's Day.
St Patrick's Day takes place on 17 March 2021 and is one of Ireland's bank holidays. It commemorates the country's patron saint, St. Patrick. Green is the colour associated with the holiday. Everyone dresses in green and you can even buy green beer on St Patrick's Day. The holiday is now celebrated all over the world. This is not the first time we have seen an Air Max 90 that is all about St. Patrick's Day. In 2007, we also saw an Air Max 90 and it was very well received. Nowadays, you can even pay a few hundred euros for a pair at StockX.
Nike Air Max 90 'St. Patrick's Day'
When we turn our attention to the Air Max 90, we see an upper that features a base of white mesh. On top of this, there are all kinds of overlays that are processed in different shades of green. On the forefoot is a green leather overlay that continues to the back through the sneaker.
The mudguard has been given a four-leaf clover pattern, as in Celtic culture, which is mainly found in Ireland, people have believed in the luck of the four-leaf clover since the middle ages and there are different explanations for this. There is a story that a druid used four-leaf clovers for his magic potions. There is also the myth that four-leaf clovers help protect against evil.
The upper also features light green details, such as on the eyestays and on the heeltab. The Swooshes on the sides are processed in white colours. Under the upper, there is a white midsole, while a light green colour is used around the Air Unit. Underneath the Air Unit runs a green rubber outsole that completes the sneaker.
A release date has not been announced yet, but we expect the Nike Air Max 90 'St Patricks Day' to drop sometime in mid-March, as St. Patrick's Day takes place on March 17. We also expect an Air Force 1 in this style. Check out our Sneaker News for more infos soon!
Until then, keep an eye on the Sneakerjagers release calendar to get the latest release news! Scroll down for pictures.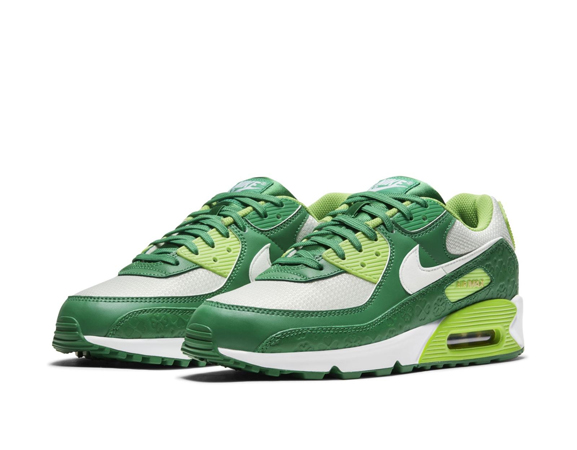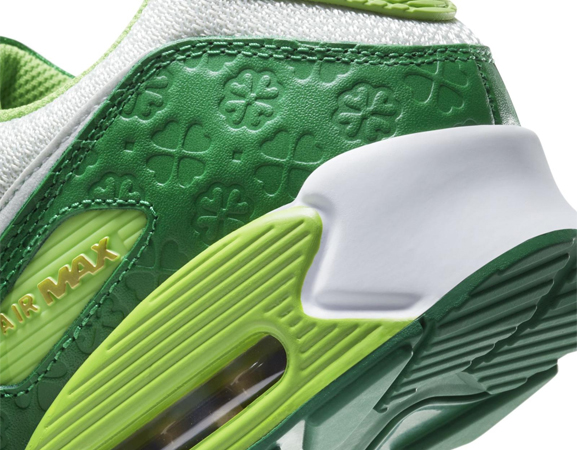 ---