Yoo Sneaker Lovers! Easter is just around the corner and Nike presents us a sneaker, which is freshly peeled from the production and will soon be available in our living rooms. We are talking about the Nike Air Max 90 'Easter'. Looking for eggs was yesterday and the Easter Bunny doesn't bother us when we see this new beauty from Nike. ?
If you are too old to look for eggs and don't feel like searching or you want to have a pair of cool sneakers instead of stupid eggs, without having to leave the house, then watch out. The Nike Air Max 90 'Easter' will be released on April 3, 2020 at 9:00 am at selected retailers as usual. This nice pair will cost you €150 and will be a little bit more expensive than the Air Force 1 from the same pack. Of course you will pay a little bit more for air bubble and the aesthetics. If you want to know where you can get the new sneaker, ceck the button below to get a list of all retailers. ⬇️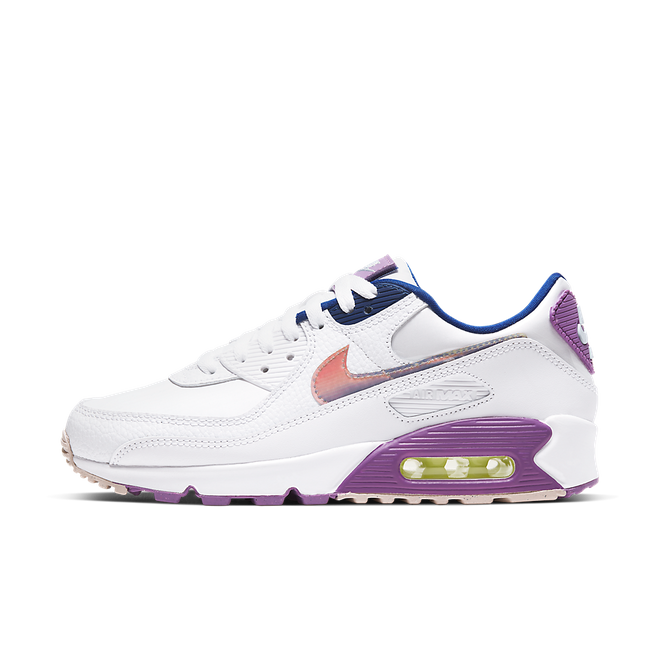 You might not only be interested in the fact that this silhouette celebrates its 30th birthday this year, but small and nice details are hidden in the new Nike Air Max 90 from the Easter Pack! ? For more see below. But now first to the more or less obvious details. Let's go!
Nike Air Max 90 'Easter' - The details
I'm sure you can't hear it anymore, but I just want to point it out again: The Air Max 90 is celebrating its 30th anniversary this year. That's why Nike is throwing us one 90 after another. But the US sporting goods manufacturer is not running out of ideas and well thought-out designs. The new Air Max 90 'Easter' is no different. At first glance, the shoe has a pretty simple design. White leather upper with purple accents. But a closer look reveals that the shoe is relatively colorful in detail. The air unit has been given the neon green volt color and the lining and the upper eyelet area are in navy blue. A first feature that makes this model stand out from the rest is the swoosh. It shines in shimmering colors and gives the shoe a cool, special addition to the look.
The Easter-Egg in the Easter-Pack
As promised, I will of course show you the little surprises Nike has hidden in this shoe. In fact, an Easter egg was even hidden here. Even four of them are hidden in this new sneaker. Have a look at the picture below, maybe you will find them yourself. ?
Found it? Sure, you found two of the cracked egg graphics on the insole, but where are the other two? If you take a closer look you should see that the logo patch on the right tongue seems to be badly sewn on to the upper right corner. But in fact, the patch is removable, and underneath it there's another cracked egg. One on each shoe.
If you're now interested in what the Air Force 1 from the pack of the same name looks like, check out Le's blog now! ➡️ Nike Air Force 1 'Easter' - Easter on Air?
Here are some more pictures of the Nike Air Max 90 'Easter':
If you haven't clicked to the blog of Air Force 1 'Easter' yet, you have done something wrong haha. Here again the link ➡️ Nike Air Force 1 'Easter' - Easter on Air?
Apart from that I thank you for always reading until the end. If you want to read more of my blogs, then have a look here: Kevin's blogs. Feel free to browse our Newsblog for other interesting news or check out the latest sneaker releases in our Release Calendar.