Wearing the most popular and rare Nike Jordan, Dunk or Air Max makes you feel unique. But wearing a sneaker with a personal touch still gives you that extra special feeling. That's why today we discuss how you too can experience the feeling of self-actualisation with Nike Custom!
Show your creativity with Nike Custom
Customising your Nike sneakers doesn't have to be difficult at all. You just need to know the simple steps to follow and the supplies you need.
That's why we've made a handy step-by-step plan and a shopping list for you below!
In addition, would you like some inspiration? Then after reading the step-by-step plan and the design stuff, also check out the examples we have selected from great artists!
The Nike Custom roadmap
Sneakerjagers' Nike Custom roadmap explains how to personalise your sneakers in six easy steps. Check it out quickly below!
Step 1: Buy a Nike sneaker
No doubt you've already completed this step, but we'd still like to repeat it. Beforehand, you need to buy a (white) Nike Air Force, Dunk, Air Jordan or Air Max. Haven't done so yet? Then use our sneaker search engine to do so easily and always at the best price!
And if you are still waiting for your sneaners to be delivered, start setting up your workshop! It's also wise to start thinking about your colour palette. After all, what a shame if you notice halfway through that the colours don't match well...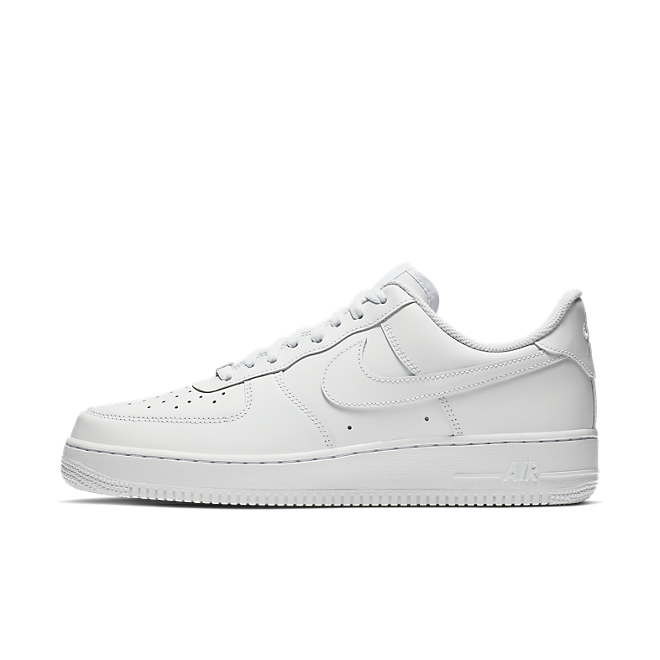 Step 2: Clean your shoes
A very important first step that should not be forgotten is to clean your sneakers. After all, you want your design to last longer than a rain shower.
To clean, first remove the laces from your shoes. Next, grab the acetone to deglaze the leather. You can compare this to 'deglazing'. So you're basically just removing the factory finish from the leather uppers. Since this is so important, be sure to use the acetone generously.
Step 3: Tape the edges
To achieve the best and tightest result, it is wise to tape off the areas you are not going to paint. Take the tape and press it firmly on the ends of your drawing areas. So if you do intend to colour everything, you can skip this step if necessary.
Then take a knife and cut the tape into the desired shapes. Take care! The blade can be sharp and you don't want to damage the shoe. So be careful and take your time.
Step 4: Paint the sneakers
The most fun part of Nike Custom has arrived: painting your shoes! For this, grab the acrylic paint and paint away! Be aware that that thin layers of paint give the best results.
Step 5: Let the paint dry
Even though we fully understand that you are immensely proud of your design and would love to rock it right away, it is important to let the paint dry first. Allow at least 24 hours for this!
Once it has dried, apply another coat of Matte Acrylic Finisher over the paint before removing the tape. Suede doesn't need a matt lacquer finish and you can therefore skip these areas.
Step 6: Show off!
It's finally here, you can wear your Custom Nikes out proudly!
Design gear for Nike Custom
To customise your sneakers, you first need some products, namely:
Acetone (tip: any nail polish remover that contains acetone is also suitable)
Cotton pads
Tape (painter's tape, vinyl tape, duct tape, whatever you like or have around the house)
Knife
Acrylic paint (for leather)
Matt Acrylic Finisher
You can often buy these products online or find them in various mall shops.
Nike Custom creations by big artists
We fully understand that it can be difficult to create something that hasn't been made before. But on the other hand, we can also use all the inspiration on the internet! That is why we have listed some designers and their cool designs for you.
Chick Makes Custom Kicks (@chickmakescustomkicks)
From children to adults, Chick Makes Custom Kicks makes the most beautiful custom sneakers for everyone. On her Instagram account, we see several custom Air Forces, Dunks and Air Max passing by. We can also see that animal prints are especially popular in the designs.
The Dutch Sneaker (@thedutchsneaker)
The coolest custom designs on the Nike Air Max can be seen at The Dutch Sneaker. He has given several well-known colourways a personal touch. For example, check out the Nike Air Max 1 SP x Concepts 'Heavy' below!
Lorenzo G Federici (@lorenz.og)
From New Balance 2002R to Nike Air Jordan 4, Lorenzo G Federici gives all kinds of sneakers a unique design with patented colourschemes. This has led to the most unusual designs and exclusive releases. Perhaps a bit difficult to imitate directly, but definitely worth taking inspiration from!
Huy Le (@chefhuyle)
If you think you already have an exclusive item with a Nike Air Jordan x Travis Scott, Huy Le takes it to the next level! He has already transformed several Jordans and Dunks into the most amazing and unique designs.
Dillon DeJesus (@dejesuscustomfootwear)
From sneakers to football boots, Dillon DeJesus has managed to create a great Nike Custom creation for each model. So we find Jordan Brand x Travis Scott designs on football shoes, anime on Air Jordans and basketball teams on Air Forces.
Dillon also capitalises on the trend we are seeing at the moment, which is cartoon sneakers. These sneakers, as the name suggests, consist of cartoon and sketch theme customs.
Fresco (fresco402)
Fresco uses his creativity to pay tribute to great artists, athletes and anime characters. Among others, we find names like LeBron James, Nipsey Hussle and Goku. For customisation, he mainly uses the Nike Air Force 1 and Air Jordan 1.
Nike By You
With Nike By You, you become the designer. This gives you the opportunity to customise a Nike sneaker like no one has seen before. So you can completely let your imagination run wild!
The Nike By You steps
Nike makes adding your own magic touch very easy with their co-creation service. In doing so, you will go through the following roadmap:
Step 1: Choose a Nike Custom sneaker
In the first step, you can choose the sneaker you want. You can choose from the Nike Air Force 1 High, Air Force 1 Low, Dunk, Blazer Mid '77' and Air Max, among others.
Step 2: Customise your sneaker
Have you managed to choose a sneaker? Then now it's time to customise your shoe! Personally, we think this is the most fun part. This is where you can play endlessly with your creative mind!
Some sneakers even let you customise up to 15 parts to your liking! From the Swoosh to the tongue and from the laces to the soles. Don't worry if you don't know all the sneaker parts by heart. The tool makes it easy for you by highlighting the selected areas when you click on them. That way, you immediately know what you're working on.
Moreover, you can choose from dozens of different colours and you can choose from different materials such as canvas and leather.
Step 3: Complete the order
Are you happy with the design of your Nike By You sneaker? Then it only remains to choose the right size and order the shoes. Next, the shoe will be made especially for you. So you have something truly unique and have just designed your very own sneaker!
Stap 4: Show off!
You are now the proud owner of your own customized Nike sneaker! Because this is a custom-made product, delivery may take a little longer. Therefore, please allow two to five weeks at the latest.
Nike By You examples
We fully understand that the many options within the Nike By You programme may leave you wondering where to start. Therefore, we have created a number of designs for your inspiration!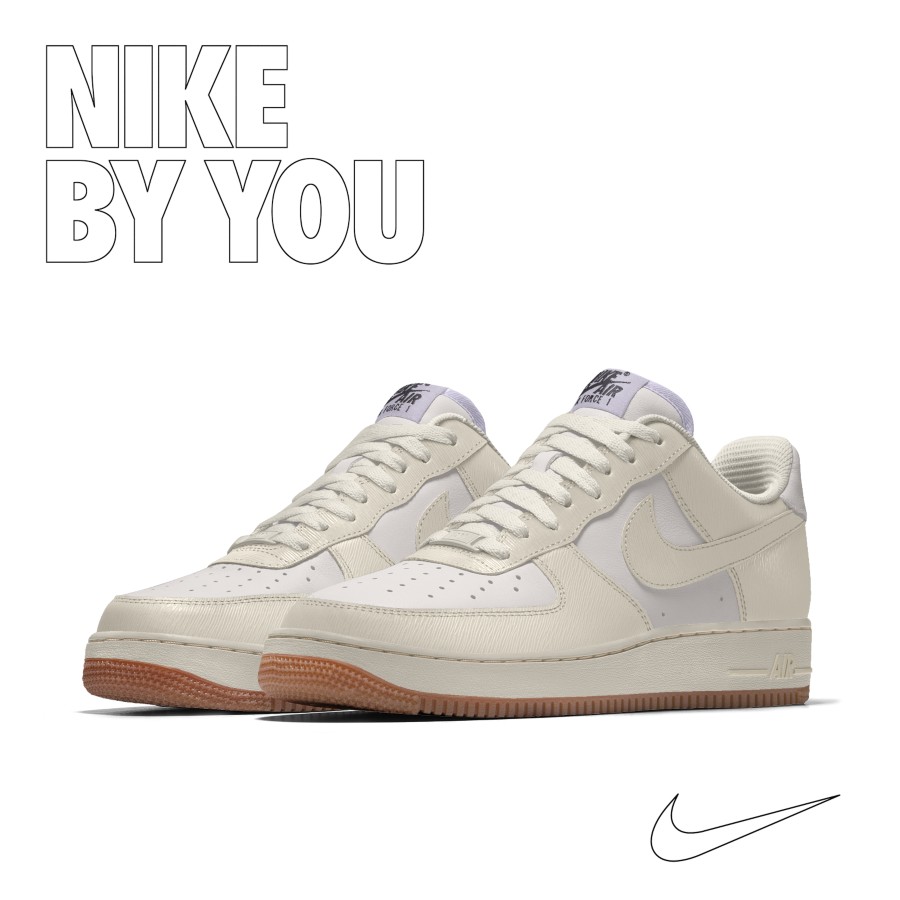 Here we see a mix of smooth leather and ribbed leather in white and sail, with a dark blue Nike logo on the heel. For the outsole, we chose gomruber. This gives the shoe a subtly retro look, but keeps it stylish enough for a summer party or even a summer wedding!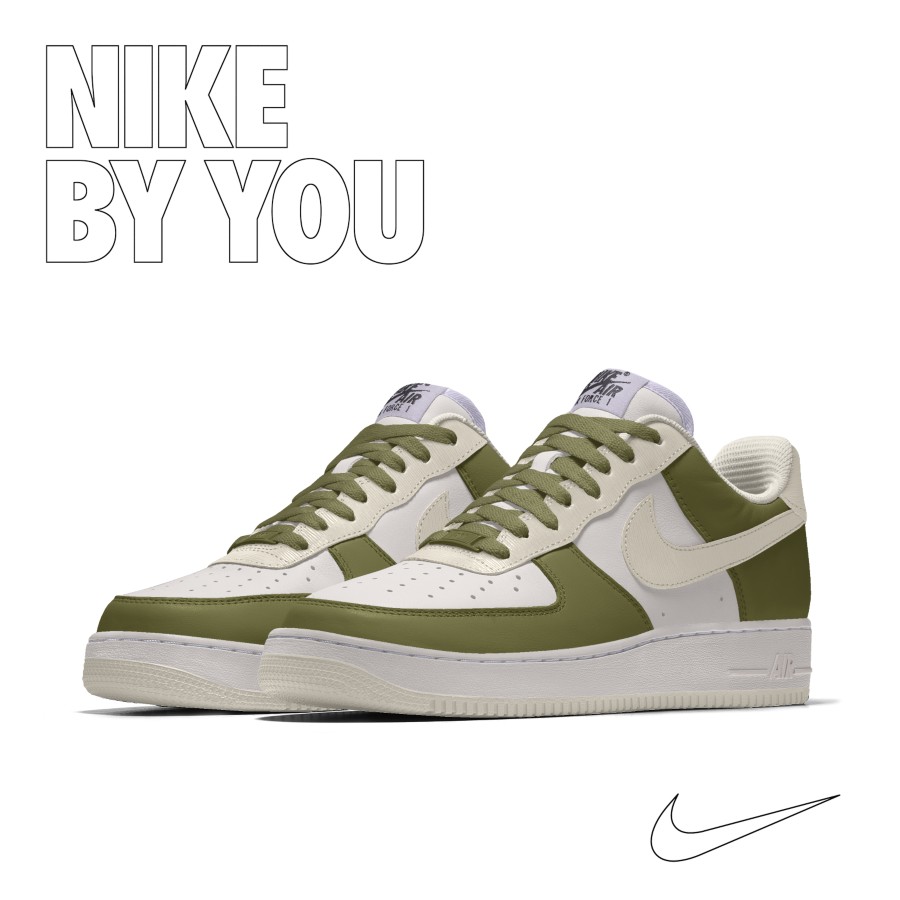 Again, we opted for a mix of smooth leather and ribbed leather in white and sail, but accented with olive green. We are convinced that the sneakers enhance a matched outfit as much as they can complement bold outfits with prints and multiple colours.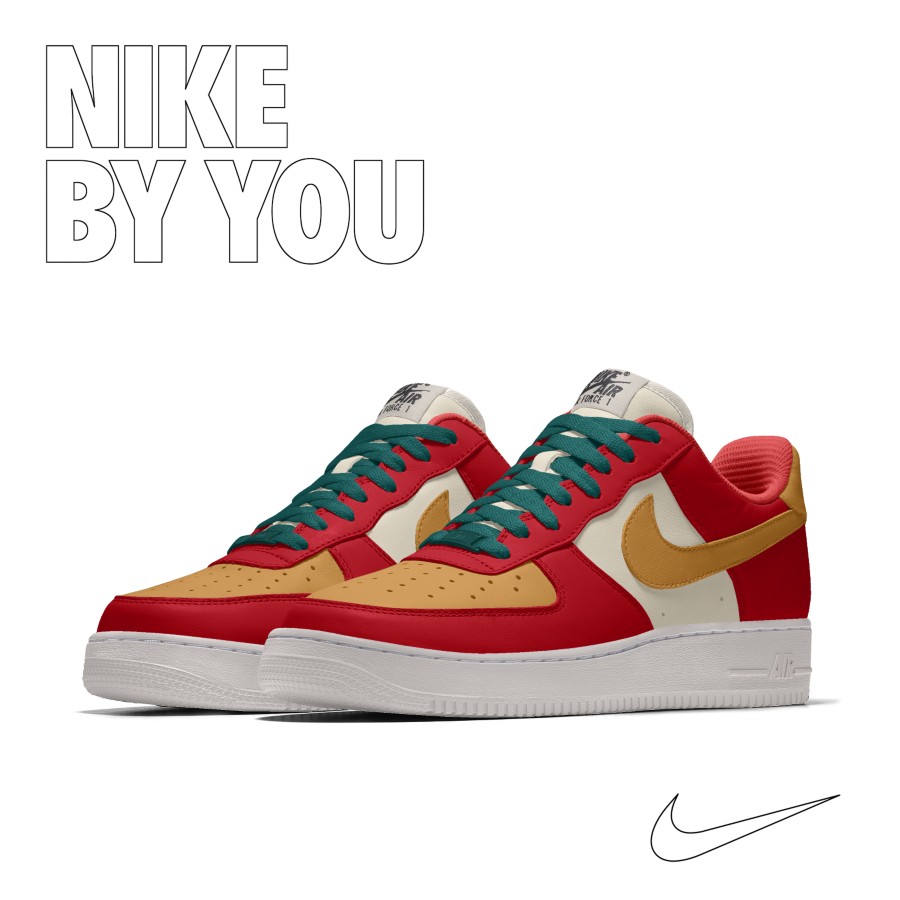 Spain is the land of joie de vivre, good food, sangria and temper. And we've merged that into the design of this Nike By You sneaker. Perfect for summer holidays and enjoying a cerveza!
Nike By You & Nike Custom FAQ
How long does a Nike By You order take?
A Nike By You order will be delivered within two to five weeks. Once you have added the sneaker to your shopping basket, you will be given an estimated delivery date at checkout.
What do you need to customise shoes?
To customise shoes, you will need the following items: acetone, cotton pads, tape, a knife, acrylic paint and matt acrylic finisher. Optionally, you can use a pencil to draw your design first before painting.
Can I return Nike By You sneakers?
Yes, Nike By You sneakers can also be returned. In fact, this is also covered by Nike's return policy.
We hope we've given you enough information so that you too can start customising your sneakers! Have you created a unique design? Then be sure to share your design with us via our official Instagram account! We are curious to hear about your creativity!