We have already seen a couple of drops this year from the Nike Space Hippie, with the original release of four models (the aptly named 01, 02, 03 and 04 variants) on June 11, and a second drop on July 16 of the first three models in a different colorway.
Now, from December 10, we see a third drop from Nike for the Space Hippie 04, with two new colorways for the ladies - Mystic Navy and Cactus Flower.
The Nike 'Move To Zero' Campaign
We previously wrote about Nike's move towards sustainability in the sneaker world here, where we covered their first steps on the path to raising awareness for climate protection.
They've worked their socks off this year to produce a huge range of sustainable footwear (and clothing). Some of which are these sneakers made of recycled materials -
Clothing labelled 'Sustainable Materials' on Nike's website are made from at least 55% recycled content. Shoes with the same label consist at least up to 20% out of recycled content by weight.
Nike have a big goal of reducing CO2 emissions and waste to zero, to protect the future not only of the planet, but of sports and their athletes.
'If there is no planet, there is no sport.' - Nike
Although a global corporation the size of Nike cannot make changes happen overnight, the work they've put into sustainability is definitely a step in the right direction.
As of 2020, all of Nike's AirMI facilities in North America are powered by 100% renewable wind energy. And, by using recycled polyester, Nike have lowered carbon emissions by up to 30%. By using recycled nylon yarn, they have reduced their carbon emissions by up to 50% compared to virgin nylon.
Choosing the right materials
By reusing existing materials such as plastics and textiles, Nike have already significantly reduced their emissions.
Flyknit - each shoe upper made from Flyknit contains 6–7 plastic bottles.
Flyleather - just like natural leather, made by binding at least 50% recycled leather fibres with synthetic fibres.
Nike Air - Nike Air soles are composed of at least 50% recycled manufacturing waste.
Recycled Polyester - made from plastic bottles which are cleaned, shredded into flakes, converted into pellets and then spun into a high-quality yarn.
Organic Cotton - all cotton used across the product line is certified organic, recycled or Better Cotton sourced.
Recycled Nylon - transformed from a variety of materials, the nylon is cleaned, sorted and converted into flakes, before undergoing a chemical or mechanical recycling process.
Circularity
Circularity is the idea of creating products that last longer, and re-using or recycling them at the end of their life-cycle - completing the circle.
'At Nike, we believe in the unlimited potential of athletes. We have an obligation to consider the complete design solution, inclusive of how we source it, make it, use it, return it, and, ultimately, how we reimagine it.' - John Hoke, Chief Design Officer Nike.
Nike have created a list of principles on which their designs are based. Everything from material choices and waste avoidance, to refurbishment and circular packaging.
You can read about their principles in much more detail here.
Life on Mars
What has David Bowie got to do with the Nike Space Hippie? Well ... nothing to be honest, but I could NOT resist the opportunity to include this absolute legend of a song 😉
The Space Hippie was inspired by life on Mars, where materials are scarce, there is no resupply mission. All you have to use is a bunch of scraps and space junk!
With this 'Trash Transformed' collection, Nike tries to raise awareness for climate protection. The shoes have been produced via sustainable methods, and are made from recycled materials and reusable waste.
The upper is based on Flyknit and made from plastic bottles, T-shirts and yarn waste. The midsole of the sneakers is made of recycled foam, which is both sustainable and comfortable. The inner sole is made of foam left over from recycled ZoomX parts.
Even the box they come in changed to a single shoebox made from re-purposed material and printed on with plant-based ink!
The Space Hippie 04 has the most lightweight silhouette in the group, and also the lowest carbon footprint.
Nike WMNS Space Hippie 04 'Mystic Navy' | CD3476-400
The Mystic Navy colorway sports a gorgeous deep blue colour, with the overall body of the sneaker a darker, almost grey blue. The sole is a nice baby blue with those distinctive embedded flecks. The strap on the heel and the laces are the navy of its namesake. The swoosh is made from a collection of small white stitches, all coming together to give the shoe a very distinctive look.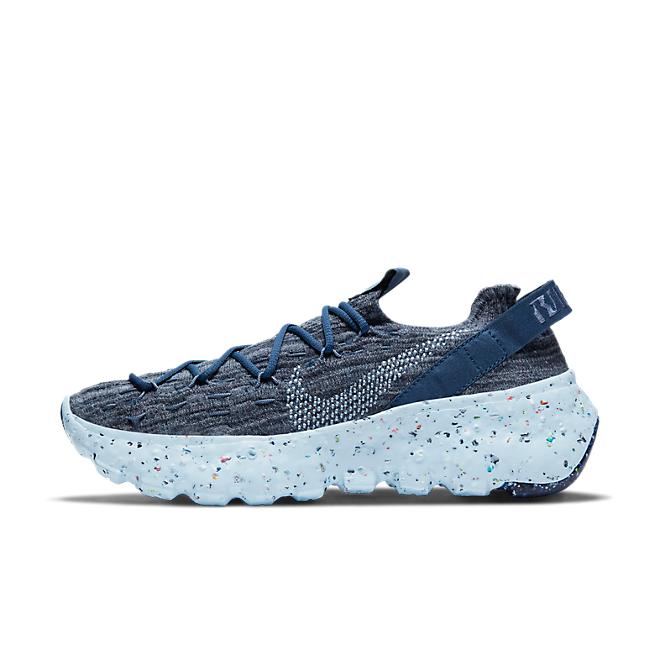 Nike WMNS Space Hippie 04 'Cactus Flower' | CD3476-500
The Cactus Flower looks more rustic than its partner, as the purple colour really shows off the weave of the rough-looking fabric. The lighter pink on the in-step of the shoe gives it a more patchwork look. The heel-strap is a lovely dark maroon colour and the laces a royal purple. Lastly the sneaker has been nicely rounded off with a white sole to show off those flecks.
Both sneakers feature Nike's sustainable logo just on the inside of the shoe. They have also proudly emblazoned their brand on the heel-straps.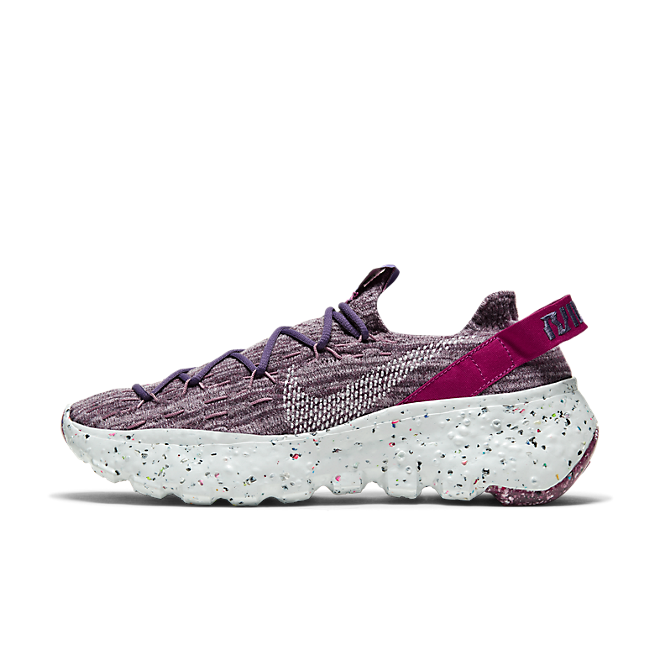 The Nike Space Hippie 04 Mystic Navy and Cactus Flower are available now via Nike from £125.
Make sure you stay up to date with the latest sneaker releases by keeping an eye on our release calendar. Follow our Instagram account for more sneaker news!