Last week the Nike Air Force 1 '07 'Stencil' dropped through Nike and several other selected Nike-retailers including Size?. The sneaker has the name 'Stencil' for a reason. The Air Force 1 comes with a stencil with which you can make your own swoosh in different sizes. So you can customise the sneaker yourself!
Ever since the sneaker came out in 1982, the Air Force 1 is indispensable. With its arrival the sneaker has changed a lot in the design of the basketball shoe. It was the first basketball shoe with Nike Air. Both in the hall and on the street the shoe was worn a lot. The Nike Air Force is now a real street icon. Over the years the Air Force has been given several styles and models.
Nike Air Force 1 '07 'Stencil' | DC1162-100
The Nike Air Force 1 '07 'Stencil' colorway has been kept very quiet and clean. The upper has white drum leather. Also the swoosh is made of leather and has a beige 'Light Bone' colour. Nike used an orange colour for details on the front of the sneaker, where the outlines of the swoosh are and an orange swoosh on the surf. A stencil is included with the sneakers, with which you can draw a stencil of the swoosh on the sneaker. Let your creativity loose on the stencil, which has three sizes of 'mini swooshes' on it. Take another good look at the sneaker at the bottom of this blog!
So the sneaker is already available. All sizes are still available at Size?. Read more blogs by Sneakerjagers about new releases, background stories and deals. Follow us on Instagram for even more sneaker content.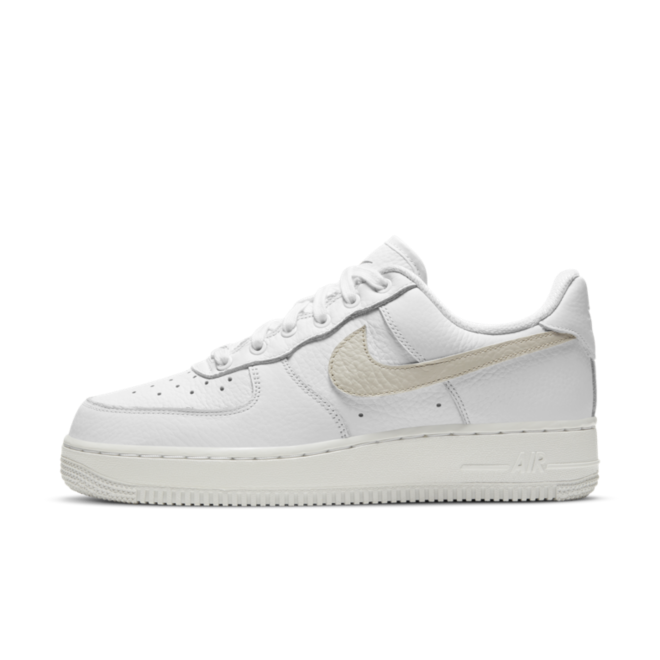 Enough text, now its time for the real treat, the pictures of the super nice Air Force 1 '07 Stencil! Enjoy!