Already released at some retailers and a much sought-after pair of sneakers: The Nike SB Dunk Low Pro 'ACG'! Yes, we are getting a new colorway on one of the most popular silhouettes of this year! Awesome colors and a mottled sole make this sneaker a real eyecatcher. But there is much more behind it!
The colour scheme here was inspired by a hiking shoe! "WHAT!? Hiking shoes as inspiration for a skateboarding silhouette?" - Sounds strange at first, but there's something really good in there for us! We'll give you all the background info and more pictures of the nice Kickz, but first to the release info:
Release Infos
The fresh Nike SB Dunk Low Pro 'ACG' has already been released at some retailers via online raffle. Now we all have another chance to get the shoes at Nike itself. On Thursday, August 20th, 2020 the kickz will be online at Nike at 09:00 am on time. So make sure you have 100€ on your account and try your luck! Click on the button below to get to our release calendar, where you can see immediately, if other retailers besides Nike will join. We will keep you up to date! ⬇️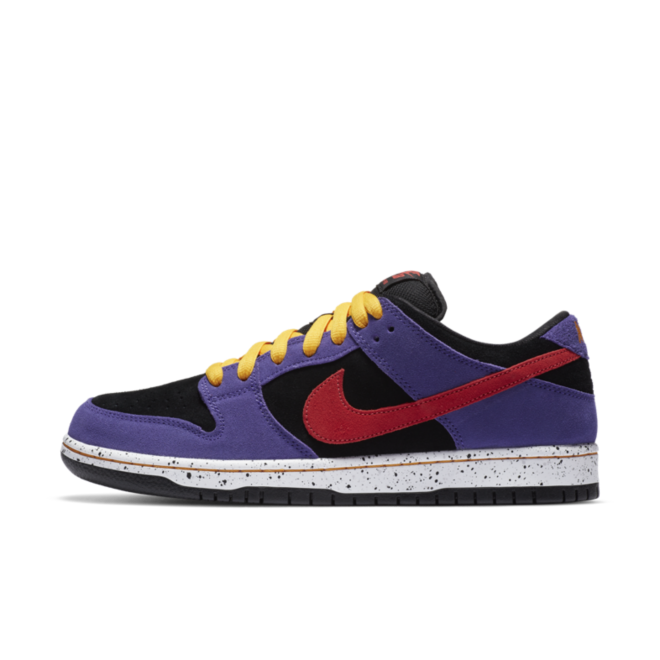 Nike All Conditions Gear
That's what the acronym "ACG" means when written out. With this product line from Nike, the brand focuses on products where the main interest is functionality. This is why collections are launched at regular intervals, ranging from waterproof clothing to breathable vests and hiking shoes. The special feature here is that the designs of the functional garments very often look like streetwear. Therefore there are enough people who rock Nike ACG in everyday life.
The inspiration of the Nike SB Dunk Low Pro 'ACG':
The Nike ACG Terra is the shoe from which the complete design of the upcoming Nike SB Dunk Low Pro 'ACG' originates. Whether it's the paint splashes on the outsole, or the yellow laces…all in the ACG Terra design! Here you can see it in comparison:
Nike SB Dunk Low Pro 'ACG' - the details
Let's start, as so often, with the upper: The SB Sneaker has got a high quality looking suede on the black base, the purple overlays and the red swoosh. A full suede upper! Another eye-catching highlight is of course the midsole. It comes in white, with lots of black splashes of color on it. The outsole harmonizes with the base and also comes in black. The yellow laces give the whole design the final 'ACG' touch and round off the design nicely.
My conclusion
A must-have for every dunk collector and everyone who needs a nice sneaker with a nice colorway to go with his baggy pants. In my opinion, the kickz or silhouette in general should not be worn with skinny jeans. But this is just my personal opinion. Do whatever you want, or as Nike would probably tell you at this moment: "Just do it!"
You want more pictures? - You get more pictures! Have fun and good luck with the release. Your Kev from the SJ-Crew! ❤️