CLOT and Sacai have teamed up with Nike for a new LDWaffle. The Clot x Sacai x Nike LDWaffle 'Kiss of Death 2' will be released in October 2021.
CLOT x Sacai x Nike LDWaffle 'Kiss of Death 2' | DH3114-001
The LDWaffle has been given a makeover. The Nike model has appeared in several collaborations with CLOT and Sacai. On 24 August 2021, the LDWaffle was released in collaboration with the two brands. The 'Orange Blaze' was an orange-coloured pair with the familiar midsole protruding slightly at the heel.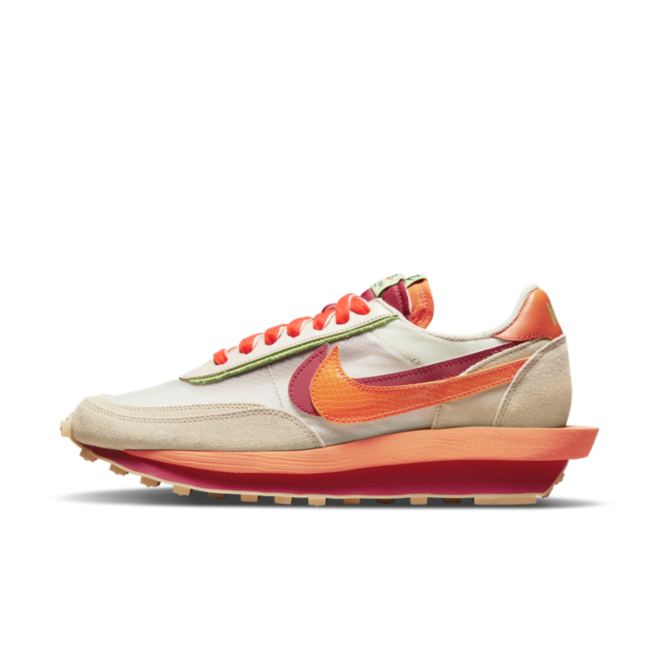 The LDWaffle silhouette is also used in the new collaboration between Sacai, CLOT and Nike. The 'Kiss of Death 2' has a mesh upper and a double tongue. The colorway of the sneaker consists mainly of different shades of grey with hints of navy blue. The colour green is also used in the details on the heel and the tongue.
This colorway takes its inspiration from the Nike Air Max 1 'Kiss of Death' which was released in 2013. This model in collaboration with CLOT shares the same grey tones and navy accents. Also, the toe cap is mesh and see through, just like the LDWaffle.
The sole of the LDWaffle is the eye-catcher of this model. The midsole consists of a double sole. The most striking is the white speckled sole that continues at the heel. Underneath is a navy blue-coloured sole with a matt finish. The outsole is a coarse gum sole. Furthermore, the sneaker has a double swoosh.
Nike has not yet given an official comment on the release of this model. However, Edison Chen, co-founder of CLOT, has confirmed that the sneaker will be released on 7 October 2021. Keep an eye on our release calendar to not miss out on the latest drops. Also follow us on Instagram, Twitter and Facebook and stay informed about the latest updates.